If you have been eating all fried and unhealthy food during this lockdown then stop this right away! We understand that sitting at home is making you feel lethargic and bored but you have to get your act together as this is going to take a toll on your body. Some times a little cheating is fine but your health is foremost and we need our immunity to be truly strong in the current scenario. With the National Health Week going on, which began on April 6 and ends on April 12, let's add some healthy salads to our diet. Here are a few recipes from the house of Del Monte, that you can easily make at home.
Caesar Salad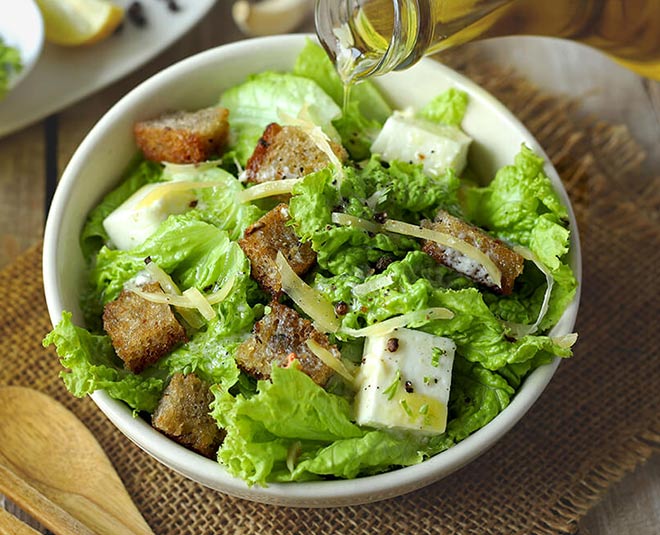 Ingredients
2 cups lettuce
¼ cup cheese cut into cubes
1 1/2 cup bread croutons
½ cup mayonnaise
¼ cup extra virgin olive oil
1 tbsp lemon juice
1 tbsp minced garlic
1 tbsp Worcestershire sauce
½ tbsp mustard paste
Salt to taste
Method
First, make the bread croutons by removing the sides of the bread slices.
Cut the bread slices into equal size small cubes and brush them with butter.
Bake at 175 degrees Celsius until browned and then let cool.
To make the salad dressing, combine the mayonnaise, garlic, the sauce, mustard paste and lemon juice in a glass bowl.
Whisk it all to combine properly.
Now pour the Olive Oil and don't stop whisking it and then season with salt and pepper.
Arrange the lettuce leaves in a salad bowl and add bread croutons and cheese cubes.
Pour dressing over the salad.
Sprinkle some cheese shavings if you like.
Serve with toasted bread on the side.
Don't Miss: #21DayChallenge: Bring Out Your Inner Chef & Cook These 21 Tasty Immunity Boosting Recipes Each Day
Orange Cranberry Salad With Rockets and Almonds
Ingredients
2 oranges
½ cup dried cranberries
1 onion
¾ cup rocket leaves
1/3 cup almonds
Some mint leaves
Some salt and black pepper
½ tsp basil leaves
Method
First add orange slices, sliced almonds, lemon juice, dried basil, cranberries, onion rings, salt and pepper to a large bowl.
Now toss the ingredients in the bowl and throw in the rocket leaves and gently mix.
Keep it in the fridge for an hour and then serve.
Corn Salad
Ingredients
250 gms of corn kernels
¼ chopped onion
¼ cup cherry tomato which needs to be cut into half
2 tbsp crumbled cheese
2 tbsp extra virgin olive oil
Salt & pepper as per taste
2 tbsp chopped parsley
1 lemon's juice
Don't Miss: 3 Easy Breakfast & Snacks Recipes That Can Be Prepared In 15 Minutes
Method
Prepare the salad dressing by combining lemon juice, parsley, olive oil, salt, and pepper and whisk properly.
Combine the corn kernels, tomato, and onion in a bowl.
Pour the dressing you made over the salad.
Add cheese and serve the corn salad.
Note: If there are some ingredients that you do not have considering this lockdown, you can substitute them with whatever you can buy like cranberries can be replaced with pomegranate as well.