While at home we tend to binge and that is exactly what we have been doing and will be at it if we do not control ourselves now, during this trying time of quarantine. We cannot be those "hathis" as referred to us post the lockdown in the memes doing the rounds on social media. And in this context I don't mean fat, I mean unhealthy! Chips, colas, fried food, chocolates are good but one piece is enough and we do not stop there. Simply because we have cravings which is natural and also that we want something to chomp on every now and then to kill time or take off the WFH (Work From Home) stress. So we at HerZindagi decided to help our readers cope with it in different ways every day and encourage you to take up a challenge until this lockdown lifts. In this article, I have put together a list which talks about food and recipes which are simple and can be made considering the limited ingredients we have due to the sudden hoarding some irresponsible citizens have been doing. They are all immunity-boosting recipes that are tasty as well. So let's get started and I would recommend that you try each day. Spice up the mundane time at home, bring out your inner chef and I can vouch that they all are yummy as I have myself tried making them at home in the past.
1. Switchel: Apple Cider Vinegar Water
This is a very energising, healthy and probiotic drink that has apple cider vinegar as the key ingredient as the name suggests. It helps in lowering blood sugar, builds healthy bacteria in the gut, it contributes in lowering cholesterol, controlling insulin and boosting our immunity. This drink is said to have originated in New England where it became a popular drink in the late 17th century. It was famous among thirsty and tired farmers during the harvesting time.
Total Time: 15 minutes
Servings 4 cups
Ingredients
4 slices ginger
3 ¾ cups water
2 tbsps apple cider vinegar
½ lemon
1 tbsp honey
Method
Boil the ginger pieces in a cup of water and set aside to cool.
Now take the ginger water, the apple cider vinegar and the 3 cups of water you are left with, juice of the lemon and if you want it sweet then put sugar or whatever you like as per taste.
Mix them all and store in a glass jar and let it chill in the fridge.
Have one glass a day & you are sorted.
2. Curtido: Salvadorian Slawn, Also Called 'Mulsu' in Kangra
Now, this is something my mother, a Himachali has been making from the beginning of her time and I just recently found out that it is also famous in Salvador (Brazil). It is made using simple ingredients like cabbage, carrots, onion, and oregano. It is super healthy and goes with any meal. We Himachalis have it with al rice dishes but there are no rules as such. This dish or sem-pickle is fresh, crunchy, healthy and so tasty! Also, it can be stored in the fridge for months at a stretch and it tastes better with each passing day but store it in a glass jar.
Total Time: 60 mins
Servings: 4 cups
Ingredients
1 medium green cabbage
1 medium onion
1 cup shredded carrot or very thin strands of it
1 tbsp oregano
1 ½ tbsp fine sea salt
1 green chilli chopped into small pieces (optional)
1 tbsp vinegar
Glass jar
Method
Keep a few cabbage leaves aside and chop the rest of it in a food processor.
Slice the onions into thin pieces.
Take a grater to grate the carrots into thin long strips.
Put all these ingredients into a bowl and let it sit for 30 minutes so that the vegetables and salt merge and vinegar enhances the taste. Then take a pestle and mix it all together.
Now take it all and store it in a glass jar but cover the dry cabbage with filtered water.
Leave on the counter of your kitchen for 3 days and make sure that the cabbage is covered in the liquid.
Then refrigerate and it can be stored in the fridge for months.
3. Kimchi: A Korean Must Have
This is a gluten-free recipe that is very good for the body. It has all the Korean flavours which includes garlic, ginger & chilies. It is probiotic, it energises the body and aids digestion. It even regulates blood sugar and lowers your cholesterol over time.
Total Time: 4 days
Servings: 8 cups
Ingredients
1 kg cabbage cut into 1-inch pieces
¼ cup sea salt
2 cups carrot cut into thin strips
5 spring onions cut into 1-inch pieces
1 tbsp fresh sliced ginger
6 garlic cloves
2 tbsp red pepper flakes
2 tbsp soy sauce
2 tsp sugar
Method
Keep aside 2 leaves of cabbage and refrigerate.
Cut remaining cabbage in a bowl and toss in the salt and mix.
Add cool water to cover the cabbage and stir.
Let it stay at room temperature for 6-8 hours and stir occasionally.
Now, drain the cabbage and keep the brine or the liquid that you see separate.
Now place the cabbage in a bowl and add the carrots and spring onions.
Next, take the garlic, ginger, onions, red pepper flakes, soy sauce and sugar and put it all in a food processor. Combine to make a paste.
Take the cabbage and apply the paste on it and mix and massage the vegetables and the red pepper until the leaves are well coated.
Now take the cabbage and place it in two jars but leave some spaces for the release of the juices.
Add the liquid or brine and make sure that the cabbage is covered.
Cover with a lid and let it sit for 3 days at room temperature. Occasionally, press down on the kimchi daily to keep it submerged.
After 3 days, your kimchi is ready.
4. Sweet potatoes or Jimikand (Yam) with mayonnaise, ginger and spring onions
Originally this dish needs sweet potatoes but you can use Yams, suran or jimikand here.
Total Time: 55 minutes
Servings: 6
Ingredients
2–3 yams sliced in half like potato wedges
1/2 cup Olive oil or coconut oil and even ghee can be used if you must
1 large finely diced onion
2 tsp minced ginger
Salt to taste
3 spring onions
mayonnaise
Method
Let the oven preheat while you cut the wedges and place on a butter paper and place on the tray. Brush with some olive oil.
Roast for 30-40 minutes until tender and then flip then slide, it should have some colour on the sides.
Now while this is roasting, make the onion and ginger butter by heating oil first.
Now add the onion and saute till golden and then add the ginger and saute.
Once they become a little crispy, place on a platter dish.
Once the potatoes are done, take some mayo and the mixture we made earlier and butter up the wedges and serve as a snack.
5. White Bean Dip
This is really easy and healthy.
Total Time: 15 min
Servings: 30
Ingredients
1 cup white rajma or kidney beans
1 clove garlic
1 1/2 tbsp virgin olive oil
4 sprigs of mint leaves
Salt and black pepper
3 tbsp finely chopped onions
Method
Make a smooth paste of all ingredients except onions and transfer in a bowl, season with the onions.
Serve on pieces of toast.
6. Coconut & banana smoothie
This creamy smoothie with all nutritious ingredients. It is high in fiber, antioxidants and vitamin C.
Total time: 5 minutes
Servings: 1
Ingredients
30 gms of g coconut milk mixed in 300 gms of yogurt
½ tsp ground turmeric
2 cm piece of fresh ginger
1 small ripe banana
1 tsp honey
1 tbsp oats
Juice of ½ a lemon
Method
Mix all ingredients in a blender, pour in a glass and serve.
7. Beet Hummus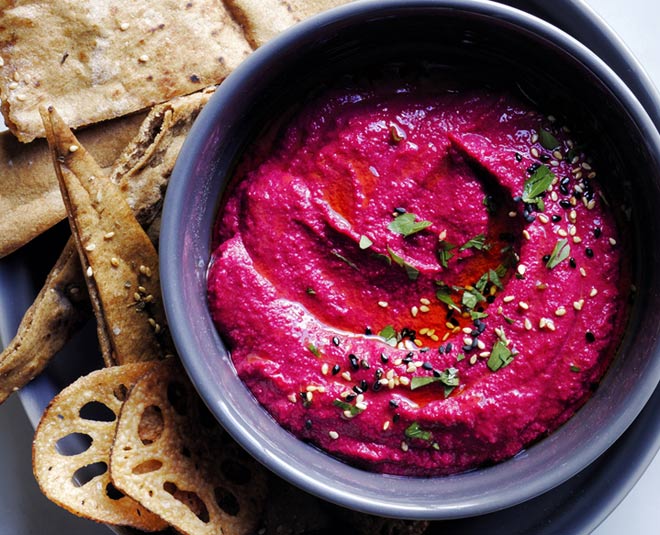 Total Time: 30 minutes
Servings: 2 cups
Ingredients
450 gms of cooked beetroot
2 tbsp sesame seed paste
5 tbsp lemon juice
1 small chopped clove garlic
1 tbsp ground cumin
1 tbsp lemon zest
Pinch of sea salt
Fresh ground pepper to taste
Method
Mix all the ingredients in the cooked and masked beetroot and serve in a bowl with crackers.
8. Carrot Soup
Total Time: 20 mins
Servings: 4
Ingredients
Half Onion peeled and chopped
One tbsp cooking oil
2 tbsp cleaned and chopped ginger
4 garlic cloves,
Pinch of termeric
2 cups carrot juice/ 2 cups vegetable/ chicken/ mutton stock
Half a kilo chopped carrots
200 ml coconut milk
Half a spoon lemon juice
Half a spoon curry powder
Half a spoon soya sauce
Salt to taste
Method
Heat oil, add onions, ginger, turmeric, add garlic.
Add carrot juice/ carrots ,stock. Bring to boil and simmer.
Let it cool and blend until smooth and velvety. Put it back in the pot and add lemon juice, soya sauce. Let it simmer.
Add coconut milk and stir.
Serve Hot
9. Chicken Fillets With Oregano & Almonds
Total Time: 25 minutes
Serves: 4
Ingredients
4 small chicken breast fillets cut into two thin fillets each
1 crushed garlic clove
1 tbsp oregano
2 tbsp olive oil
2 tbsp roughly chopped almonds
200ml dry white wine
2 bunches broccoli cut lengthwise
Method
Toss chicken with the oregano garlic, 1 tbsp olive oil, 1 tsp salt and ground black pepper.
Heat remaining oil in a large frypan over medium-high heat.
Cook the chicken each side and keep aside on a plate.
Now cook the almonds and for a few seconds until golden.
Add wine and bring to the boil.
Simmer for 2 minutes on low heat to reduce the sauce to half and add the chicken.
In another pan cook the broccoli in salted water in salted water and drain.
Toss with a little extra oil.
Serve chicken drizzled with sauce with the cooked broccoli on the side.
Don't Miss: Give Treat To Your Taste Buds With Delicious Besan & Palak Ki Sabji
10. Ginger Peanut Tofu Curry
Packed with proteins, this is really tasty and healthy. It has the goodness of ginger, nuts
Total time: 40 mins
Serving: 4-6.
Ingredients
500g firm tofu cubed
3 tbsp olive oil
3/4 tsp sea salt
1/2 tsp mustard seeds
1 roughly chopped large onion
3 finely chopped cloves garlic
1 thumb size grated piece ginger
A pinch of tsp turmeric
1 tsp cumin powder
1/4 tsp cayenne pepper
1/8 tsp cardamon powder
1/4 tsp ground black pepper
3 diced tomatoes
2 tbsp peanut butter
375ml vegetable stock
Shredded leaves of any green vegetable
Method
Set your oven to 220C.
Place the cut tofu for baking tossed with olive oil and salt.
Bake till golden brown.
Take a big saucepan and fry the mustard seeds in olive oil.
Add the onion and cook till soft.
Bring in the ginger, garlic, spices and remaining salt and saute.
Add the tomatoes and peanut butter and stir.
Bring to a boil and then lower to a simmer and then cook it without a lid for 10 minutes.
Stir in the tofu and spinach and cook till it becomes soft.
Season with salt and pepper.
Have it with rice or roti.
11. Pumpkin & Haldi soup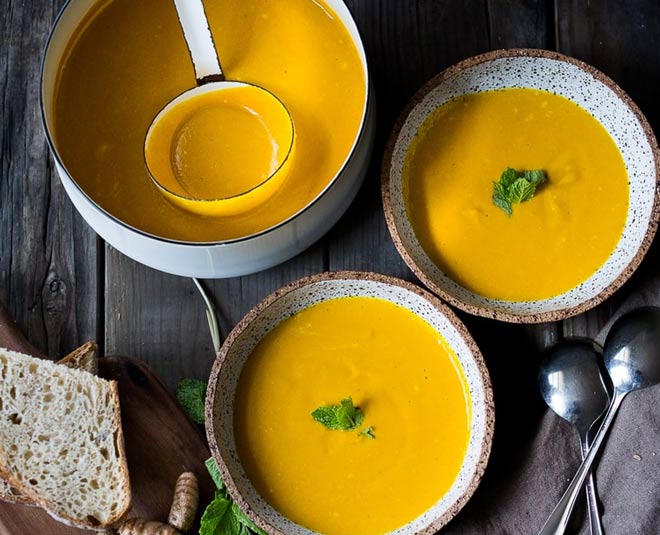 Ingredients
Total Time: 1 hour
Servings: 8
Ingredients
2 tbs ghee
1 large onion
1 tsp turmeric
4 cm piece fresh chopped ginger
2 cloves chopped garlic
¼ tsp chili flakes
1 kg chopped pumpkin
5 roughly chopped large carrots
1 tbsp peanut butter
1-litre vegetable stock
2 liters boiling water
Method
Saute onion, turmeric, ginger, garlic and chili flakes in a pot with heated ghee.
Add the chopped carrot and pumpkin and saute for 5-10 minutes till the pumpkin is cooked
Add the peanut butter and mix well.
Add the stock and boiling water to cover the pumpkin.
Cook on medium heat for 30 minutes.
Once it cooks blend the soup and serve.
12. Chana With Poached Eggs
Total time: 15 mins
Servings: 2
Ingredients
1 tbsp canola oil
Chopped coriander
400g can chickpeas or white chana in water
4 large eggs
2 chopped garlic cloves
1 yellow pepper diced
1 red chilli chopped
½ bunch spring onions
1 tsp cumin
1 tsp coriander
½ tsp turmeric
3 tomatoes cut into wedges
Method
Heat the oil and add the garlic, pepper, chilli and the whites from the spring onions, and fry for 5 mins over a medium-high heat.
Next, take a large pan of water on to boil.
Add the tomatoes, spices, and most of the coriander and the chickpeas and sauté in a pan and cook for 1-2 mins more.
Once the water is boiling, crack in your eggs and poach for 2 mins, and then remove with a spoon.
Stir the spring onion into the chickpeas, and crush few of the chickpeas with a fork or potato masher with a light hand.
Spoon the chickpea mixture onto plates, and season with coriander and top with the eggs.
Serve
13. Cauliflower, paneer & pea curry
Total Time: 55 minutes
Servings: 4
Ingredients
2 tbsp sunflower oil
225g cubed paneer
1 cauliflower
3 small sliced onions
2 crushed garlic cloves
2 tbsp tikka masala paste
500g carton tomato puree
200g peas
Chopped coriander
Method
Heat oil in a frying pan and fry the paneer until crisp.
Remove with a spoon and set aside.
Add a little bit more oil and the cauliflower to the pan, and cook for 10 mins.
Add the onions and cook for 5 mins until they soften.
Stir in the garlic and masala paste, then pour in the puree and 250ml water.
Bring to a simmer, then cover and cook for 20 mins.
Add the peas and crispy paneer to the pan and cook for 5 mins.
Add the coriander and then serve.
14. Low-Fat Dahi Chicken Recipe
Total Time: 1 hr 20 mins
Servings: 4
Ingredients
1/2 kg boneless chicken
2 1/2 cups yogurt
1 tsp cumin powder
1 tsp garlic paste
1/2 tsp red chilli powder
Pinch of haldi
1/4 tsp garam masala
1 slit green chilli
2 chopped onions
1 chopped tomato
Coriander leaves to garnish
2 tsp oil
1 tsp salt
Method
Take the yogurt and mix in the garlic paste, garam masala, cumin powder, haldi and red chilli powder.
Put the chicken into this and add the chilli, marinating it for 30 minutes.
Now heat oil in a pan and add onions and cook them until they are soft.
Add the tomatoes and cook for a minute and add all the chicken and marinade.
Cook till the gravy is of the consistency you like.
Garnish and enjoy it with roti or rice.
15. Lentil Dahl
Total Time: 25 minutes
Serving: 4
Ingredients
2 tbsp cooking oil
1 onion chopped
2 tsp cumin
2 tsp coriander
1 tsp turmeric
1 tbsp grated ginger
1 green/ red chilli deseeded and finely chopped
1 tomato finely chopped
6 curry leaves
1 tsp yellow mustard seeds
2 cloves finely chopped garlic
1 cup red lentil ( Malika masoor)
3 cups veg/ chicken stock
1 cup coconut milk
Salt n pepper o taste
1 lemon juiced
Method
Put the pot on medium heat.
Put oil, let it get warm, put onion, ginger, chili, tomato,coriander salt pepper.
Stir for 5 min.
Add curry leaves, mustard seeds, garlic, cumin seeds.
Stir for 5 min.
Add lentils, stock, coconut milk.
When it starts boiling, reduce heat.
Let it boil for 20 mins till it becomes creamy
Add lemon juice
Don't Miss: During Fasts This Recipe Of Samak Rice Pulao Is Perfect!
16. Chicken Soup
View this post on Instagram
Total Time: 30 minutes
Servings: 6
1 whole chicken
1 onion
3 cloves of garlic
1 carrot
4 leaves of celery
Some fresh Dill
1 Bay leaf
Salt, pepper to taste
Method
Add all the ingredients, put 6 cups of water and cook
Shred the chicken and put back in pot and stir.
Adjust salt and pepper
Once it is ready, serve.
17. Gujrati Kadi
Total Time: 40 mins
Servings: 4
Ingredients
3 cup curd
3 tbsp gram flour
3 cups water
Pinch of jaggery and pinch of heeng( asafoetida)
White butter/ghee
3 cloves
1/4 tsp cumin seeds
1/2 tsp mustard seeds
1/2 tsp ginger
3 cloves
1 whole red chilli
3 green chilli chopped
Curry leaves
Method
Mix curd, flour, hing, jaggery, water and mix/ whisk well.
Put it in a heated pan and keep on stirring till it boils properly.
For seasoning, take a small pan, put the butter/ ghee.
Add cumin seeds, mustard seeds,ginger, cloves green chilli, red chilli.
Put it in the Khadi and serve hot with rice/ chappati
18. Kolhapuri Vegetables Recipe
Total Time: 45 minutes
Servings: 4
Ingredients
1/2 kg chopped mixed vegetables
1 tsp ginger-garlic paste
2 tsp lemon juice
1 1/2 tsp salt
2 Tbsp oil
1/2 cup onion-grated
2 tbsp yogurt which has been mixed with ginger-garlic paste & left for 3-4 hours
Dry roast separately and ground: 1/4 tsp peppercorns and black cumin
1/4 tsp broken up mace
1/4 cinnamon
4 cloves
1/4 dry grated coconut
1 tbsp coriander seeds
2 Kashmiri mirchi
Method
Mix the yogurt, vegetables, paste, lemon juice, salt, and onions and keep aside.
Heat oil and stir fry the onions.
Add the masala and saute and then add the vegetable mixture.
Bring to a boil, lower the heat and let it simmer for 3-4 minutes and serve.
19. Rasam Rice Recipe
View this post on Instagram
Total Time: 30 minutes
Servings: 2
Ingredients
2 medium tomatoes pureed
1 tbsp oil
1 tsp ghee
¼ tsp mustard seeds
¼ tsp cumin seeds
A pinch of asafoetida or hing
3 curry leaves
Salt to taste
Black pepper powder
½ tbsp rasam powder (optional)
¼ tsp garlic paste
1 cup water
Coriander leaves
¼ tsp red chili powder
A pinch of turmeric powder
Method
Cook the rice and keep it aside.
Heat oil in a pan and add 1 tsp ghee as well to it for flavour.
Add mustard seeds and cumin and once they crackle add hing and curry leaves.
Add the puree now with salt as per taste.
Now add haldi, garlic, red chili powder, and black pepper powder.
Add rasam powder too if you have (I skip it since I don't get it near my house)
Add water and cook the rasam for 10 min.
Now add cooked rice into the boiling rasam and simmer for 5 minutes.
Serve hot.
20. Arbi Ki Kadhi
Total Time: 30 minutes
Servings 2
Ingredients
2 chopped green chillies
1 bay leaf
1/2 tsp hing powder
1 tsp ajwain
1 tsp chopped coriander leaves
1/4 tsp garam masala
1 tsp haldi powder
1 tbsp besan
1 tsp dhaniya powder
Salt as per taste
Oil as per need
1 cup curd
1/2 kg arbi
5 curry leaves
Water
Method
Pressure cook the arbi for 3 whistles and then remove and peel the arbi and set aside.
While arbi is being cooked, beat the curd and add in the besan, cumin powder, turmeric, and salt and whisk till smooth.
Slice the onions into small pieces.
Slice the green chillies.
Now, heat a pan and add oil and then add mustard seeds, then cumin seeds on low heat.
Next, add green chillies and let them sputter.
Add curry leaves and let it finish crackling.
Add the slices of onion and sauté till the onions are translucent.
Add the slices of peeled arbi with red chilli powder.
Sauté for about 3-4 minutes in the spices already in the pan and stir so that the arbi is coated properly.
Keeping the stove on low heat and then slowly add the curd.
Whisk it again and if it becomes thick, add a tablespoon of water.
Bring to a slow boil.
Let it simmer for 5 minutes till the raw smell of the flour goes away, and then remove the pan from the stove.
Serve.
21. Allahabadi Tehri or Vegetable Pulao
Total Time: 1 and half hour
Servings: 6
Ingredients
2 1/2 cup Basmati nicely washed
100 gms cauliflower chopped finely
2 onions chopped
40 gms garlic chopped
40 grms ginger chopped
Green chillies 2/3
2 tbsp corriander powder
2tbsp cumin seeds
1/2 tsp turmeric powder / optional
1/2 tsp asafoetida
1/2 tsp chilli powder
100 gms beans chopped finely
2/3 carrots chopped finely
3 boiled and chopped potatoes
200 gms curd
2 sticks cinnamon
3/4 brown cardamons
6/7 green cardamons
2 bay leaves
8 cloves
8/9 black peppercorn
Salt to taste
100 ml Mustard Oil
50 ml ghee
1 lime
Method
Take a thick/ heavy bottomed pan/ cooker
Put mustard oil, when its heated put cinnamon, cloves, bay leaves, both the cardamons, peppercorn, stir for 1/2 a min.
Put garlic, ginger, stir for 1/2 a min.
Put onion, chili, stir.
Add cumin, coriander, turmeric, asafoetida,1 tsp of water and stir for 4/5 mins.
Now add carrots, beans cauliflower, potatoes, add salt.
Cover and cook the Vegetables till half cooked.
Add curd and mix well.
Add Basmati till mixed with vegs
Add water to cover the rice and let it simmer till rice is cooked
Garnish with ghee, lime juice, and fresh coriander
Serve Hot