Treat yourself and your family to these yummy recipes this Mahashivratri even though it's fasting time. These are tasty, different and easy to make.
Kuttu, Singhare Ki Poori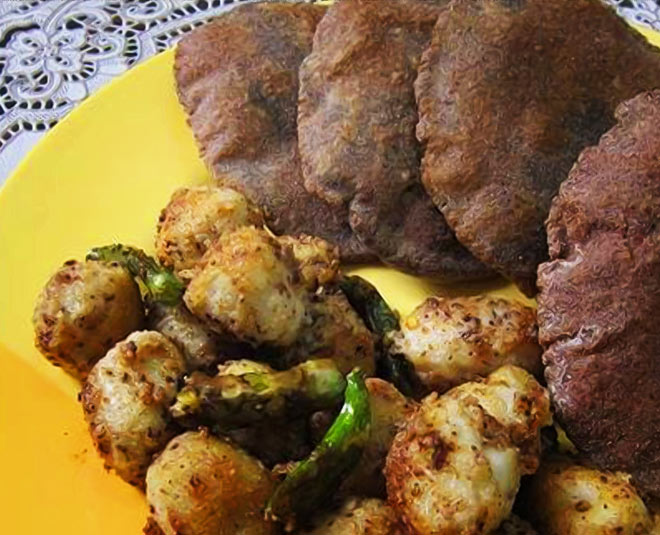 Ingredients:
1 cup kuttu flour
1 cup singhara flour/singoda flour
1 large boiled and peeled potato
1 medium boiled and peeled arbi
15 -20 pieces of spinach leaves
1/2 teaspoon coriander powder
1/4 teaspoon red chilli powder
1/4 teaspoon haldi (turmeric powder)
Salt to taste (sendha namak)
Oil for frying/toasting the rotis
Method:
Boil and peel potato and Arbi.
Assemble all the ingredients.
Clean, wash and chop spinach leaves.
In a large bowl combine potato and arbi...
Mash them finely and make sure no lumps remain.
Mix in all the spices
Add chopped spinach leaves.
Finally, add the flours and mix.
Mixed up flour will look like this.
Carefully add in water to form a dough.
Keep applying a drop of oil in your hands as the dough will be sticky. Worked up dough will look like this.
Heat and grease a tawa/griddle.
Make round balls out of the dough.
Wet your hands and using the tip of your fingers keep spreading the dough ball in the form of a roti.
Transfer it onto a hot griddle.
When cooked from one side, lift it using a spoon and flip it over.
Brush it with oil.
Once golden brown from both the sides, take it off the flame.
Heat oil in a kadhai and when hot, carefully drop in the poori and deep fry until golden brown.
Sabudana Chutney Balls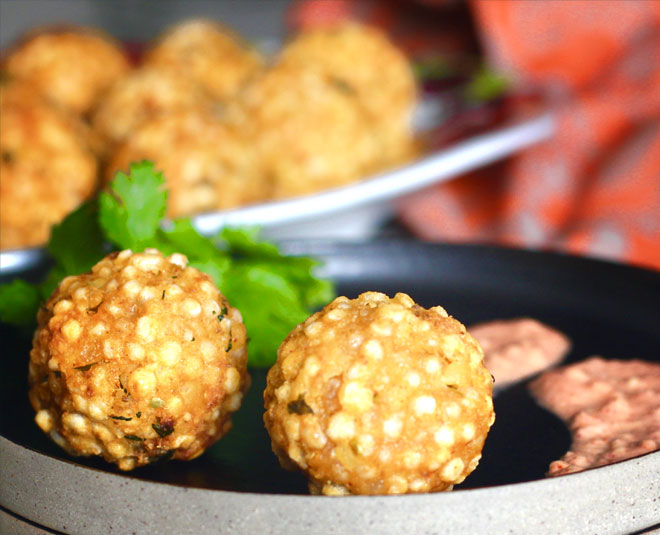 Ingredients:
For Sabudana Balls
4 small boiled potatoes
1.5 cup soaked sabudana/Sago
1 tsp red chilli powder
2 tsp roasted cumin seeds
1.5 tsp dried mint leaves, crushed
Salt to taste (sendha namak)
1 tbsp chopped cilantro leaves
Oil for frying
For Chutney
1/2 bunch of cilantro Leaves
1/2 bunch of mint leaves
1 small chopped green chilli
1/2 tbsp lemon juice
1/4 cup desiccated unsweetend coconut
3 pieces of cashews or almonds
1/2 tsp roasted cumin seeds
1 tsp sugar
2 tbsp water
Salt to taste (sendha namak)
Method:
Soak sabudana as mentioned in the link above. Press in between fingers to check it is soft. Set it aside.
For chutney combine all the ingredients in a blender. Pulse until smooth. Taste and adjust salt.
Make sure chutney is thick and contains no liquid.
To be sure, sieve chutney through a strainer to remove all the liquid.
All that will be left behind will be a thick paste of green chutney. Set it aside.
Boil, peel and mash potatoes.
Assemble spices.
Combine mashed potatoes and sabudana in a bowl.
Add cilantro leaves and spices and mix until it forms a soft dough.
If the dough feels sticky add a tablespoon of Kuttu flour ( buckwheat flour) and mix until well blended.
Divide and shape the dough like small balls.
Meanwhile, heat oil in a pan.
Take a ball and flatten it.
Place a teaspoon of thick chutney in between and roll it like a ball. Repeat.
Fry the balls on medium heat until crunchy and crispy.
For a healthier option, you can cook it in an appe pan.
Crunchy and crispy Sabudana chutney balls are ready.
Serve hot.
Dahi Gujiya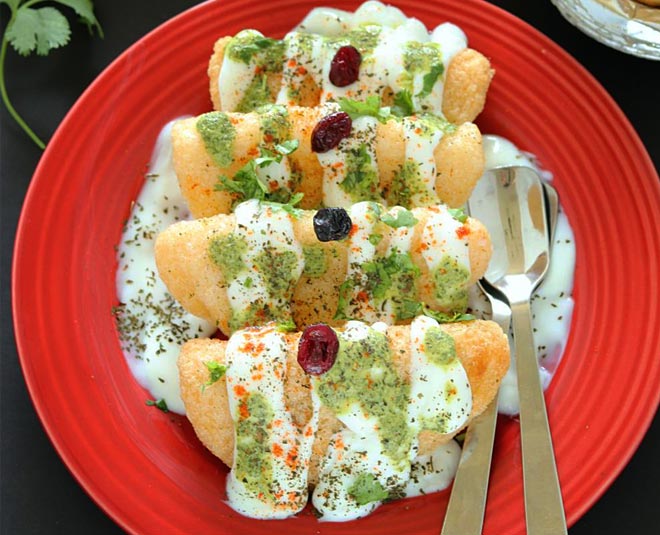 Ingredients:
For Gujiya
1 cup sama rice
2 cup water
1/4-1/2 cup arrowroot flour or any vrat flour
Salt to taste (sendha namak)
1 tsp red chilli powder
For Filling
1/2 cup shredded coconut
Handful of sliced almonds
3 tbsp raisins
For Toppings
1 cup yogurt
3/4 cup green chuteny
Method:
Measure Sama rice.
Wash and add sama rice to a pressure cooker.
Cook for 3 whistles. Drain any excess water.
Transfer rice to a bowl. Mix in with all the other ingredients listed under 'For Gujiya'.
Make a soft dough. Dough should not feel sticky at all. If it feels sticky add an extra teaspoon of flour and form a smooth dough. Cover and set it aside.
In a bowl combine all the ingredients listed under 'For filling'.
Mix it well.
flatten the gujiya dough.
Place a teaspoon of filing in the center
Now fold over the other end and seal gujiya from all the sides. Repeat process with remaining dough and form gujiyas.
Don't Miss: Here Is How You Can Motivate Yourself To Lose Weight
Paneer Kofta Curry Recipe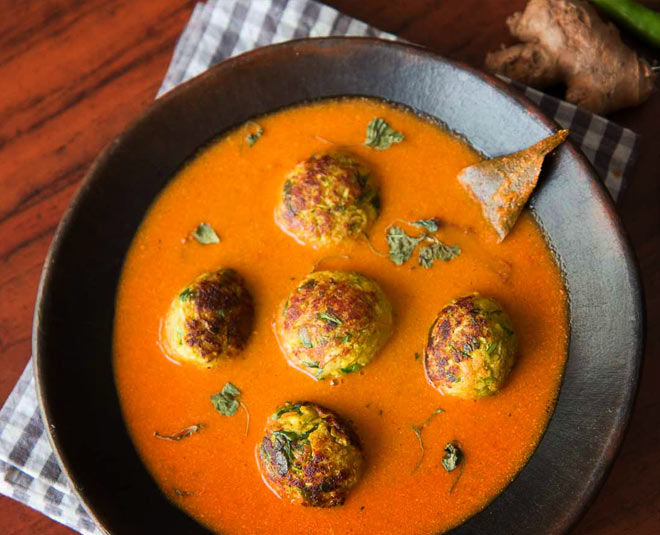 Ingredients:
For Kofta
500 grams bottle gourd (lauki), peeled and grated
200 grams paneer (homemade cottage cheese), crumbled
1/4 tsp turmeric powder (haldi)
1/4 tsp garam masala powder
1/4 cup rajgira flour (amaranth flour), for binding
Salt, or rock salt to taste
For Kofta Curry
2 cups cubed tomatoes
2 chopped green chillies
1 bay leaf
1 cinnamon stick
2 cardamoms pounded into powder
1/2 tsp turmeric powder
1/2 tsp coriander powder
1/2 cup curd
Salt, or rock salt to taste
2 sprig coriander chopped
Cooking oil
Method:
Heat a heavy bottomed pan or kadhai with oil.
Add tomatoes, green chillies, cumin seeds, a little bit of turmeric powder and salt.
Cook till the tomatoes are soft and mushy.
Once the tomatoes are cooked set aside to cool.
Then blend the mixture into a smooth paste using a blender or a mixer grinder.
For making the koftas, keep all the ingredients ready, drain out the water from the lauki and mix it with other ingredients including paneer, turmeric powder, garam masala powder, rajgira flour, salt in a bowl and make small sized kofta balls.
To use less oil for the kofta you can fry the koftas in a Paniyaram Pan with a teaspoon of oil for each kofta and cook it for about 2 minutes.
Once done keep it aside until the gravy is made.
Heat a kadai with oil and add cinnamon, cardamom pods and bay leaf.
Then add the tomato paste with the rest of the spice powders into the curry and cook it for about 5 minutes.
Once done add the yogurt, give it a stir and let it boil for 5 more minutes.
Add the koftas after you transfer the gravy into a serving dish so that the koftas do not turn soggy.
Try these recipes and keep tabs on our Food Recipes section for more. Happy Mahashivratri from HerZindagi.