Fish is tasty and it is super delicious when cooked in a Bengali style. Besides the flavour, it has a number of health benefits as well as beauty benefits. If you have doubts, well look at our Bengali women for starters! Get a taste of what they eat and thrive on, try these different cooking styles of fish by Bengali women and let us know which one you liked the most.
Bengali Doi Maach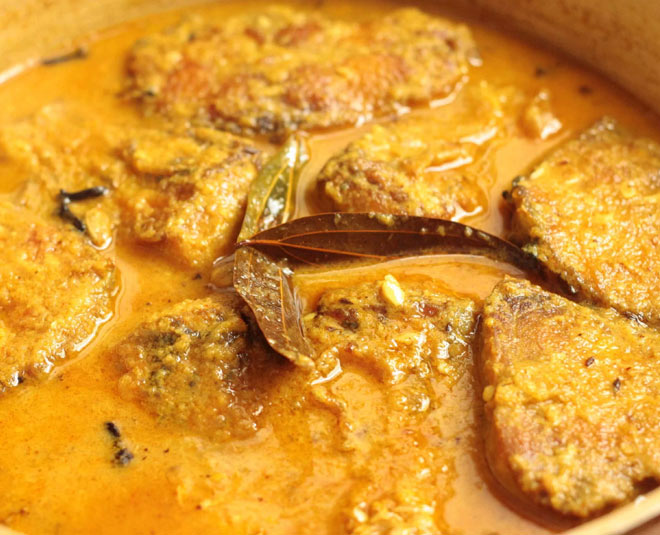 This one is thick and a spicy curry where freshwater fish is marinated and cooked in a yogurt-based gravy. The curry is robust, slightly spicy and delicately sour with a balance of curd and spices.
Ingredients:
1 kg rohu or rawas or any freshwater fish (cut into steaks or pieces, washed)
For marination:
1/2 tsp turmeric powder
3/4 tsp red chilly powder
Salt
2 tsp mustard oil
For the curry:
2 tbsp mustard oil
1 bay leaf
1/2 inch cassia
4 cloves
4-5 green cardamoms
1/2 tsp cumin seeds
1/2 tsp 1/2 tsp turmeric powder
1 tsp hot red chilly powder, medium
2 tsp ginger garlic paste
1 onion (ground to a paste)
1/2 kg curd
Salt
To garnish coriander leaves
Method:
For marination:
Put the pieces of fish into a bowl and add the turmeric, chilly powder, salt and a tsp of mustard oil.
Massage the spices into the fish.
Cover and marinate for 15 minutes.
Now, whisk the curd well in another bowl and add the turmeric and red chilly powder. Keep aside.
Fry the fish:
Heat a frying pan till hot and add mustard oil.
Heat well till the oil is smoking to burn off most of its pungency.
Once hot, add the marinated fish pieces and fry them for a couple of minutes on each side till they are a golden brown around the edges and richly coloured.
When the fish is golden and 3/4 cooked through, remove them to a plate and keep aside.
Heat the same pan with the lovely fishy mustard oil once again and when the oil is hot, add the bay leaf, cumin seeds and whole spices, saute on a medium flame until they are wonderfully fragrant and change colour.
Now, add the onion paste and saute it till it's a light golden brown in colour, add the ginger and garlic paste and cook the aromatic spice base with a little water until it's a rich but light golden in colour and the oil has surfaced to the top.
Turn down the heat to medium-low and add the whisked curd and spice mixture to the pan, stir gently and simmer the curd gravy for 10 to 15 minutes or until the oil surfaces and the gravy is a lovely rich mustard-golden-yellow in colour.
Add some salt and stir through to combine well.
Now, add the pieces of fried fish, along with all their resting juices in the plate to the gravy and simmer it for another 10 minutes to gently poach the fish to perfection.
Once the oil has risen to the top and the fish is cooked perfectly, turn off the heat and check for a balance of flavour.
Squeeze over some lime juice to lift the flavours with a real citrus kick for a lovely contrast of flavours along with a generous garnishing of fresh coriander leaves.
Serve the fish with hot steamed rice.
Don't Miss: This Season Treat Yourself To Saag Chicken Using These Recipes
Fish Kabiraji (Bengali Fish Fillets)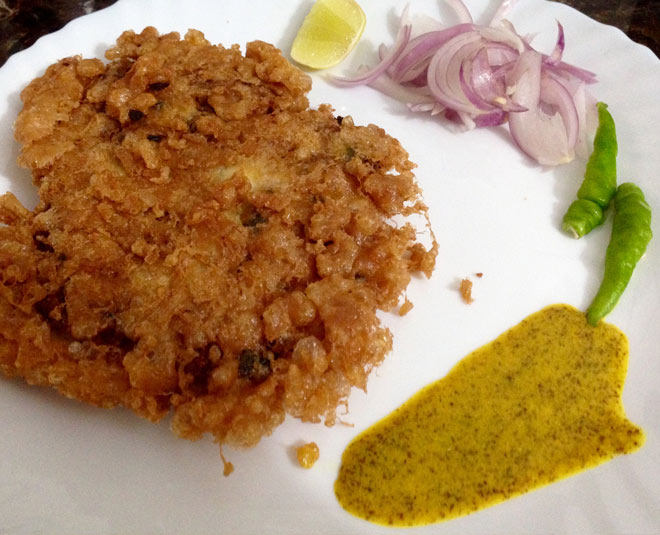 Image courtesy: 4.bp.blogspot.com
Ingredients:
8 pcs fish fillet (bhetki or cod)
4 green chillies
100 gm onions
8 eggs
10 cloves of garlic
250 gm breadcrumbs
25 gm ginger
8 tbsp oil
1 lemon
1/2 cup coriander-chopped
1/4 cup mint-chopped
100 gm besan
Method:
Wash the fillets properly and soak it in salt, lemon juice and 4 cups of water for about 10 minutes. Drain and wipe dry.
Now marinate the fish for 1 hour with onion, garlic, ginger, green chilli paste, finely chopped mint, coriander and salt.
Mix the gram flour and salt. Drop it over the fish.
Heat some oil in the pan.
Beat eggs with a pinch of salt.
Take each fillet and cover it with the beaten eggs mix.
Then sprinkle it with breadcrumbs.
Deep-fry the fillets till they're brown on both sides.
Tip: If you want to make Chicken Kabiraji, the process remains the same except you replace fish with chicken.
Rui Macher Jhol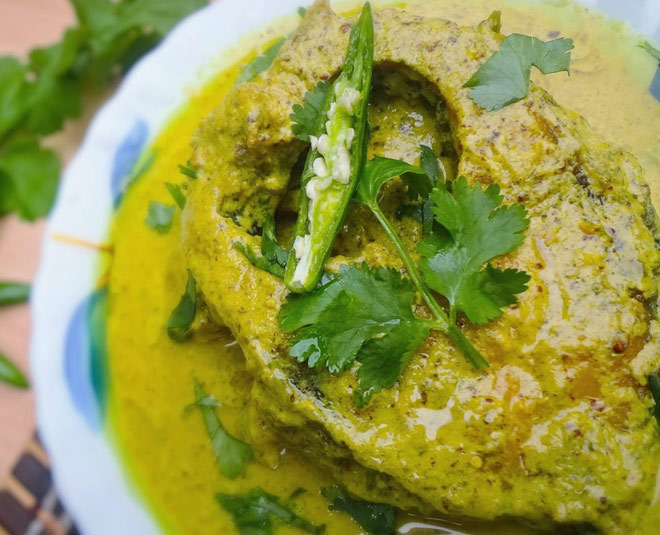 Ingredients:
4 pieces rohu
2 medium cut potato into wedges
1 eggplant (brinjal) cut into long pieces
1 small onion paste
1 tsp ginger paste
1/2 cup or 1 medium tomato paste
1 tsp turmeric
1/2 tsp cumin powder
1/2 tsp red chilli powder
4 green chilies
1 tsp panch poron
Salt to taste
4 tbsp mustard oil
1 1/2 cup water
1/3 tsp garam masala powder
Coriander leaves
Method:
Clean the fish pieces and marinate with 1/2 of turmeric and salt.
Then heat the oil in a kadai and fry fish pieces till golden brown.
Now fry the eggplant & potato in the same oil.
Now in the remaining oil add panch foron and onion and fry till soften.
Now add ginger paste, tomato paste or tomato puree into the fried onion and again fry .
Now add the potatoes and eggplant and fry.
Then add cumin powder, red chili and turmeric powder and little water to it and stir.
When oil separates add salt and fry for few minutes.
Now add the fried fish and again fry it for 1 minute and after that add water and reduce the heat and let the gravy boil.
When the potatoes are done, remove the kadai from heat and garnish.
Enjoy these recipes and share. If you know of any other recipes, do share on our Facebook Page.