In the winter season, we tend to feel more hungry and gorge on unhealthy food. So to make it healthier, filling and more nutritious, here are a few recipes that will be fun and easy to make.
Dal Paratha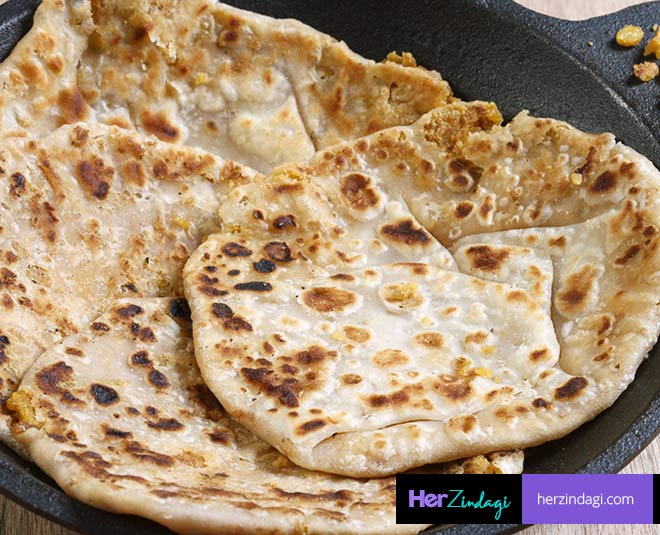 Ingredients
1/4 Cup Cooked Toor Dal
1/2 Cup Flour Of Your Choice
1/4 Tsp Cumin Seeds
1/8 Tsp Ajwain
1/8 Tsp Haldi
Red Chilli Powder As Per Taste
1/4 Tsp Garam Masala Powder
Salt To Taste
1 Tbsp Kasuri Methi
Some Oil For Cooking
Water For Kneading The Dough
Method
Mix together the dal, flour, kasuri methi, cumin seeds, ajwain, red chilli powder, garam masala, haldi, salt, amchur powder in a bow.
To make the dough, add little water slowly to avoid stickiness and keep kneading. Once the dough is tight enough, let it rest for 15 minutes.
Now, all you have to do is make small balls from the dough to make 3 balls or depending upon how many parathas you want.
Roll the parathas in the desired shape and apply a little oil with a spoon on the paratha and fold into a triangle or two.
Again sprinkle a few drops of water and spread little oil and fold to make a square. All folds are basically supposed to a light smear of oil to make a perfect paratha.
Now heat the tawa on medium flame and let the paratha cook.
Once the bubbles are visible. flip the side and smear a little ghee on it and similarly check for bubbles. Cook until golden brown on both sides.
Serve with curd or chutney.
Overnight Oatmeal
Ingredients
1 Cup Rolled Oats
1 Cup Any Plain Chocolate
1/2 Cup Fresh Curd
Honey As Per Taste
1/8 Tsp Cinnamon Powder
1/8 Tsp Kosher Salt
Seeds, Fruits, Nuts For Toppings
Method
In a bowl, stir in all the ingredients, cover and refrigerate overnight.
Stir before eating in the morning.
Methi Paratha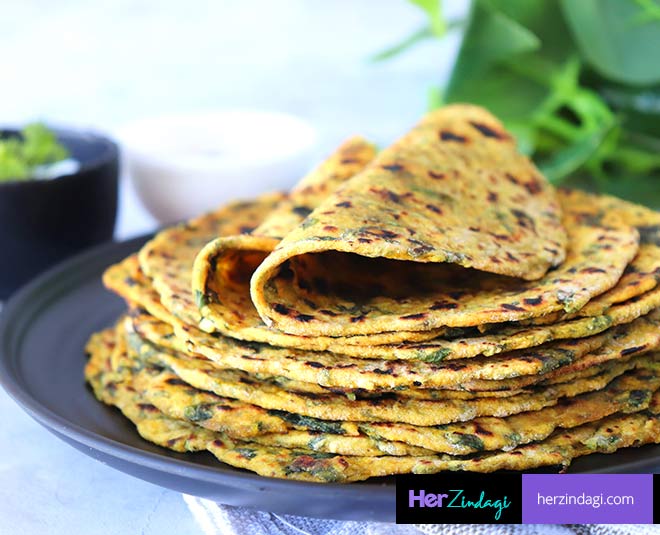 Ingredients
1/2 Cup Chopped Methi Leaves
1/2 Cup Atta
Green Chilli As Per Taste
Salt As Per Taste
Pinch Of Ajwain
2 Pinches Of Garam Masala
1 Tsp Oil
Water To Knead The Dough
Some Oil For Cooking The Parathas
Method
Mix together the methi, atta, salt, chillies, little oil, ajwain and garam masala.
Add water little by little to start the dough making process and apply little oil on top of the dough if needed.
Divide the dough into 2 parts to make the parathas and make the paratha circles.
Meanwhile, heat the tawa on medium flame and once hot, place the rotis on the tawa and flip sides once you see some bubbles coming up.
Do apply oil on both sides while cooking the paratha.
Once you see brown spots on both sides, serve with some pickle or curd.
Don't Miss: Homemade Sweet Potato Halwa Recipe For Sweet Winter Cravings
Spinach Shakshouka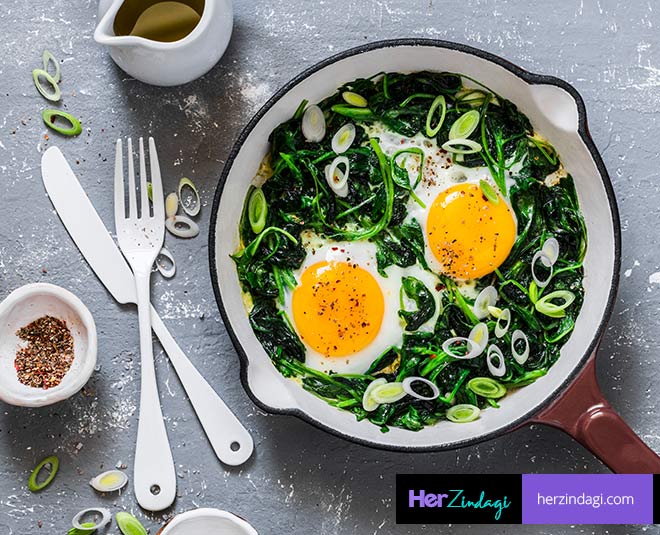 Ingredients
1/2 Large Onion
2 Chopped Garlic Cloves
2 Tbsp Olive Oil
1/4 Tsp Cinnamon Powder
1/4 Tsp Coriander Powder
Salt To Taste
150 Gms Spinach
1 Tsp Lemon Juice
3 Eggs
Ground Black Pepper
Cheese For Sprinkling- Optional
Don't Miss: 5 Easy 10 Minutes Breakfast Recipes Which Are Nutritious, Save Time
Method
Heal some oil in a non-stick pan and cook the onions until they soften.
Add the cinnamon, coriander, garlic, salt and cook until fragrant.
Add the lemon juice and spinach and lower the heal. Cover and cook but keep tossing the spinach from time to time until it wilts.
Spread and press the spinach on the base with a few gaps for the egg to take a grasp.
Now break the eggs and slide them gently into the pan where you made the few gaps. Cover and let the egg white cook but the yolk can be a bit runny or not hard-boiled white.
Drizzle a little olive oil over it and sprinkle the seasonings, serve hot.
Bread Poha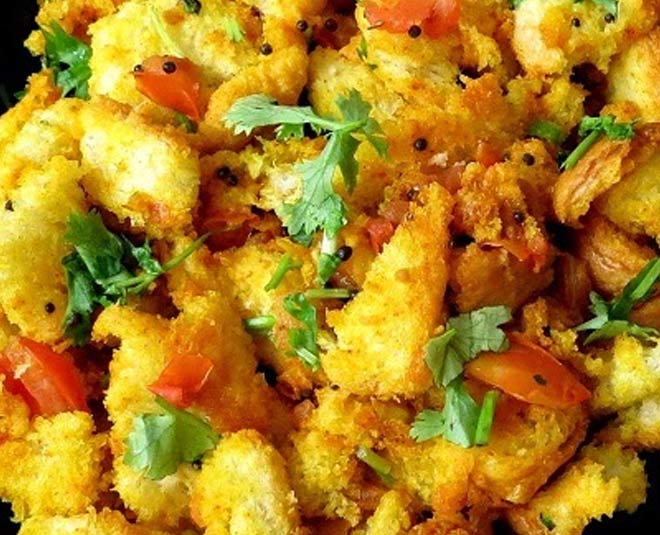 Ingredients
3 Bread Squares
Chopped Vegetables As Per Liking
1 Tsp Mustard Seeds
Oil To Cook
Peanuts As Per Liking
Salt As Per Taste
Red Chilli As Per Taste
Method
Cut the bread into small squares and toast them a little for crispiness.
In a pan, heat some oil and when hot enough, add the seeds. Let them splutter.
Once the spluttering stops, add the roasted peanuts and then the vegetables.
Add the salt and chilli powder and mix well.
When the vegetables are done, add the bread and toss around to combine well.
Serve hot.
Which recipe are you going to try tomorrow? Stay tuned to HerZindagi for more such recipes.