Try These Quick and Easy Dalia Recipes For Your Hunger Pangs
Dalia is considered as one of the most versatile ingredients. It is a healthy treat as it is low in fat and cholesterol, and high in iron and fiber.
Are you tired of having breakfast or a dessert with an overload of calories? Fret no more! We've got some amazing recipes made from a special ingredient for you!
This ingredient is known for offering numerous health benefits and is very easy to make. Well, the ingredient is none other than Dalia (broken wheat)!
We know, you must be thinking about those boring dalia recipes but if you are looking for some delicious ways to rev up this healthy and versatile ingredient, look no further!
Today, we bring you some delicious dalia recipes that are not just nutritious but also very tempting and you can make them in less than 30 minutes. Whether you are a savoury person or have a sweet tooth, this article is for everyone.
So, what are you waiting for? Read on!
Dalia Vegetable Khichdi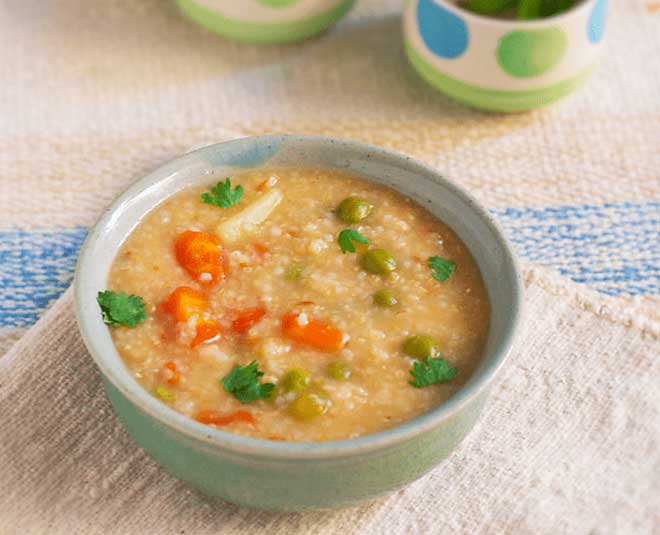 Image Courtesy: Honest Cooking
This savoury Dalia recipe is definitely one of the simplest, healthier, and scrumptious meals a person can make.
Dalia Vegetable Khichdi is a comfort food that you can tweak as per your taste. You can add up any vegetables, according to the availability, to spruce it up. So, whether you want to add carrots, peas, potatoes, beans, or even cauliflower in your dish, this is your green flag!
Not only this khichdi is nutritious but it will help you stay satiated for a long period of time. You can pair it up with raita and chutney, and enjoy!
Ingredients
1 cup of Dalia (broken wheat)
1 medium-sized onion
1 medium-sized tomato
1/4 cup of chopped carrots
1/4 cup of chopped potatoes
1/4 cup of green beans
1/4 cup of green peas
2 green chilies
1-inch ginger (or 1/2 teaspoon of ginger paste)
1 teaspoon of cumin seeds
1 tablespoon of cooking oil
4-5 cups of water
Salt to taste
Instructions
First, start by preparing the ingredients for the dish. Rinse dalia in water for 4 to 5 times and keep it aside. Then, finely chop a medium-sized onion and tomato followed by chopping carrots, potatoes, green beans, and peas. After that, slit and chop 2 green chillies and 1-inch of ginger.
Now, add 1 tablespoon of cooking oil to a pressure cooker. Set the flame on medium-low.
Once the oil starts to heat, add 1 teaspoon of cumin seeds to the pressure cooker.
Let the cumin seeds splutter and add the chopped onion.
Saute the onion till it changes its colour and becomes translucent.
After that, add the finely chopped ginger and green chillies. You can also use ginger paste instead of chopped ginger.
Now, turn the flame from medium to low, and saute the ingredients for 30-40 seconds or till the raw smell of ginger goes away.
Add 1 finely chopped tomato and saute that as well for a minute or two.
Then, add the vegetables - 1/4th cup of chopped potatoes, 1/4th cup of chopped carrots, 1/4th cup of green beans, and 1/4th cup of green peas.
Cook all the ingredients for another 1-2 minutes on low flame. Keep stirring in between so that any vegetable doesn't get stuck to the cooker.
Now, add the dalia that we washed earlier to the pressure cooker. Stir it well for 3-4 minutes.
Next, add 4-5 cups of water and salt as per your taste. Combine it well and put on the lid of the pressure cooker.
Let the dalia cook for 7-8 whistles.
Take the pressure cooker off the flame and let the pressure release naturally, then check if the dalia has cooked properly. This khichdi should have a porridge-like consistency.
Finally, garnish your delicious Dalia Vegetable Khichdi with fresh coriander leaves and serve it hot!
Don't miss:Broken Wheat Rava Upma: Easy Recipe For Breakfast
Sweet Dalia
Now, it's time for some sweet treat! If you want a sweet dish that is filling but not packed with calories then, the sweet Dalia can be your go-to dessert.
It is a creamy broken wheat and milk porridge that you can make in a pressure cooker. You can make this dish anytime you want adding your favourite dry fruits. And trust us, your kids are going to love it!
Ingredients
1/2 cup of Dalia (broken wheat)
1 tablespoon of ghee (clarified butter)
1/3 cup of sugar
1.5 cups of milk
1.5 cups of water
1/2 teaspoon of cardamom powder
1 tablespoon of chopped cashews
1 tablespoon of almond flakes
Don't miss:How Is Quinoa Different From Dalia? Here's An Ultimate List!
Instructions
Start by adding 1 tablespoon of ghee to a pressure cooker.
Once the ghee starts to heat, add 1/2 cup of Dalia (broken wheat).
Now, mix both the ingredients and roast them on medium-low heat for 4 to 5 minutes.
Stir continuously while roasting the Dalia.
When you observe that the Dalia has become aromatic and has changed its colour to light brown, then add 1.5 cups of plain water. You can add another half a cup of water if you are using a large pressure cooker.
Stir and mix them well.
After that, put on the lid of the pressure cooker and cook the dalia on a medium flame for 6-7 whistles.
Turn off the flame and let the pressure down. Then, remove the lid and check if the dalia is cooked well. It will become tender and the water will get absorbed.
Next, add milk to the cooked dalia followed by adding 1/3rd cup of sugar to the cooker.
Mix all the ingredients well and keep the cooker on a medium flame.
Let the mixture simmer without the lid and come to a boil. This will take about 10 minutes.
Meanwhile, stir the mixture at intervals so that the milk does not stick to the bottom of the cooker and gives a burnt taste.
Once the dalia reaches the desired consistency which is usually the consistency like rice kheer, add half a teaspoon of cardamom powder.
Then, add a tablespoon of almonds flakes followed by a tablespoon of chopped cashews.
Mix the nuts well with the dalia and let it simmer for a minute.
Finally, garnish your sweet Dalia with some more chopped dry fruits and serve it warm!
Are you going to try these quick recipes? Do share your thoughts with us on our Facebook page. For more such stories, stay tuned to HerZindagi!