We all wouldn't mind if we get a frozen dessert in this scorching heat and torturous humidity. In fact, it would really be bliss if we could enjoy some scrumptious and divine frozen desserts with family at dinner time. Therefore, we have some easy recipes that you can try right away
Blueberry Ice-cream Sandwich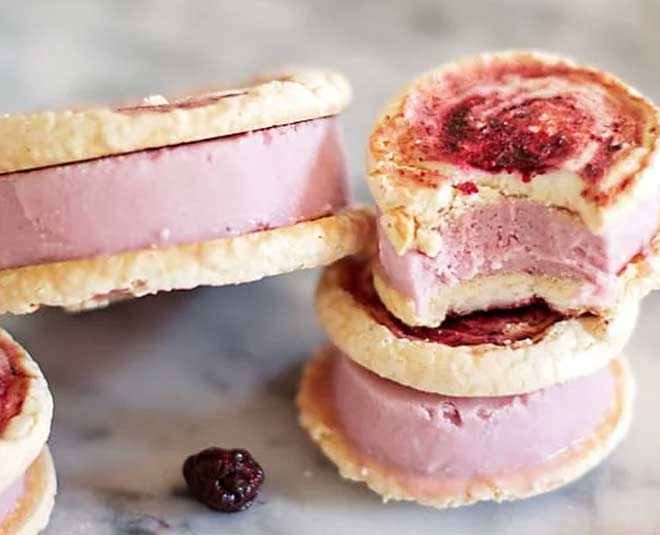 Ingredients
200 Grams Butter
100 Grams Sugar
Plain Or Whole Whear Flour
1 Tablespoon Baking Soda
2 Tablespoons Of Ground Ginger
250 Grams Blackberries
500ml Double Cream
250ml Condensed Milk
1 Tablespoon Vanilla Extract
Method
Our ice cream sandwich is basically composed of two main layers, the crust being the ice cream and the outer layers being the gingerbread which sits on the top and bottom of the ice cream enclosing it like a sandwich.
The first step is to prepare the gingerbread, in order to do that we need to pour in some melted butter in a pan followed by some sugar.
On a side, take some flour, baking soda and ground sugar in a bowl, then add the melted butter and sugar mixture to it.
Thoroughly mix all of the ingredients until it attains a dough-like texture.
Now, we need to divide our dough into two separate and equal portions. Using a rolling pin, roll the dough flat by placing it in between baking sheets. Once flat, keep the dough on a baking plate and bake it in an oven at about 200° Celcius for 10 minutes.
Once it's well cooked, leave it aside to cool. Now, it's time to prepare our ice cream.
Heat a pan with some berries and sugar, then, keep stirring them together until the sugar melts and berries start pouring out their juice. Get rid of the seeds using a spon and keep stirring them firmly together. Once it becomes thick and saucy, pour in some cream, condensed milk, and vanilla essence in a bowl along with the berry sauce.
Using an electric beater, keep mixing the ingredients until it turns into something like whipped cream. Leave the ice cream in a deep freezer for about 2 hours. Now, finally its time to assemble our ice cream cake.
First, divide the gingerbread into separate circular or rectangular shaped portions.
Take one piece of the gingerbread portion and place sufficient ice cream on top of it using a spoon, then, place another piece of the gingerbread portion on top of it, enclosing the ice cream like a sandwich. Make as many of these as you want.
The final step is to refrigerate the ice cream sandwich for some time. Our ice cream sandwich is now ready.
Raspberry and Rosewater Kulfi
Ingredients
2 Tablespoon Of Rosewater
250 Grams Of Raspberries
1 Litre Of Milk
Kulfi Moulds
Method
First of all, pour some milk into a pan and put it on medium flame. Let the milk boil for about 10-15 minutes and while it boils, keep stirring it.
Boil it to the point until it's reduced and the texture becomes thick and granular.
Now, keep the condensed milk in a bowl and leave it in the refrigerator to cool. On a side, take some raspberries and put them in a mixer or blender.
Turn on the blender and mix until all raspberries have shed their juice.
Get rid of the raspberries skin using a filter and pour in some fine raspberry juice in a container.
Finally, add rosewater into the container with raspberry juice and stir the mixture thoroughly.
Take out the cold condensed milk, then, add the raspberry juice and rosewater mixture into the bowl containing condensed milk and mix thoroughly.
Now, we'll need our kulfi molds. Pour the kulfi mixture into the molds and deep freeze for 4-5 hours. Our kulfi is now ready.
Frozen Yogurt Bark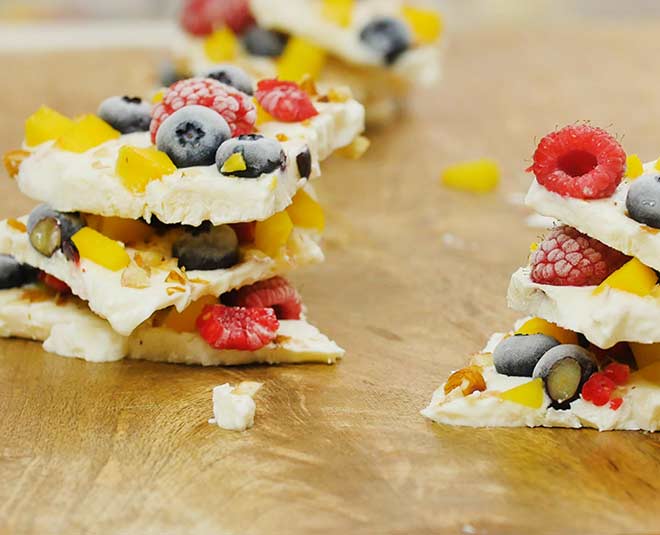 Ingredients
1 Kilogram Of Yogurt
6 Tablespoons Of Honey
2 Tablespoons Of Ground Cinnamon
2 Tablespoons Of Vanilla Extract
Coconut Chunks
Chocolate Chips
Berries
Nuts
Method
It's one of the easiest dessert recipes on the list. To prepare, put all of the ingredients including yogurt, honey, vanilla extract, ground cinnamon, and chunks of coconut in a bowl and mix them together thoroughly, do not include the nuts, berries, and chocolate.
Now, on a side, spread all of your yogurt mix on a baking tray and sprinkle nuts, berries, and chocolate as a topping.
Now, cover the baking tray using baking paper or foil and deep freeze for about 4-5 hours.
Put out the frozen desert and leave it at room temperature for about 10 minutes to soften it before serving.
Our frozen yogurt bark is now ready.
Enjoy these desserts and let us know in the comment section how you liked them. If you liked reading this article then stay tuned to Her Zindagi for more.