Holi is here and the celebrations are incomplete without enjoying some delicious gujiyas. Gujiya is one sweet delicacy that is prepared all over the country for this festival. Throughout the country, you can find a variety of gujiyas. From dry fruit gujiyas to chocolate gujiyas, there is no dearth of fillings when it comes to this Indian sweet. Delicious stuffing is prepared and then stuffed into maida pockets, these are fried and then dipped in saffron and sugar syrup. Feel like eating it right now? Well, gujiyas will now be available at every other sweet shop but you can also prepare these at home quickly and easily. Here are two interesting gujiya recipes that you can prepare at your home for your family and guests. Read on.
Coconut Gujiya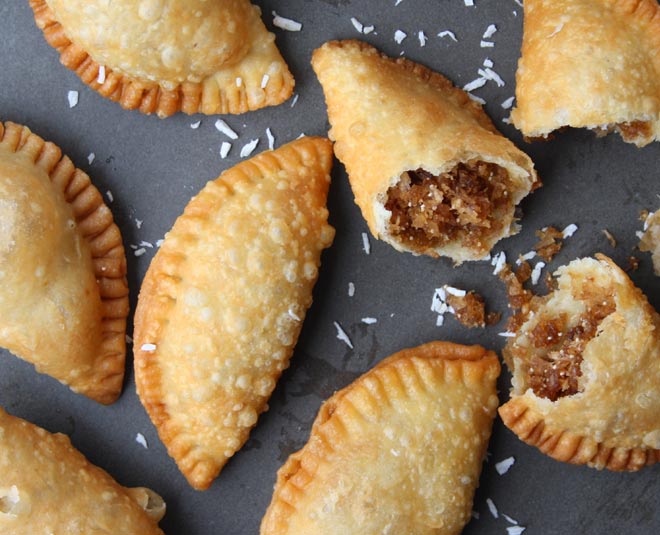 Ingredients:
Ingredients:
2 tbsp ghee
1 cup khoya
1 condensed milk
1 cup sugar
1 cup water
1 cup refined flour
100 gm pistachio
100 gm coconut powder/ grated coconut
Sugar syrup
Directions:
In a bowl, add flour and water and prepare a dough. Add a pinch of salt to it and then divide it into small portions and keep aside. Prepare the filling. In a pan, add khoya, condensed milk, sugar, pistachios, and coconut. Now take add this stuffing to the dough. Take a gujiya maker and add these gujiyas to the mould and press. Next, take these out and deep fry them till they get golden brown. Prepare a sugar syrup separately and dip these gujiyas into the syrup. Enjoy your delicious coconut gujiyas! Don't Miss Prepare Delicious Badaam Ladoos For Your Kids At Home With This Easy Recipe
Nothing like having a little twist in your traditional gujiya. If you are a chocolate fan, you will really love enjoying your gujiya with some chocolate. Here is a gujiya recipe that uses chocolate chips as one of its ingredients. Read on to know this easy recipe:
Choco Chip Gujiya
Ingredients:
1 Cup refined flour
3 Tbsp ghee
1 Cup water
Some cardamom powder
2 Cup condensed milk
2 Cup sugar
1/2 Cup chocolate chips
Oil to fry
Sugar syrup
Directions:
Add refined flour, ghee and a pinch of salt. Mix together to make a dough. Let the dough rest. In a pan, add condensed milk, cardamom powder, and sugar. Mix well. Add some chocolate chips to the mix. Let the mixture cool. Now take a small portion from the dough and using a gujiya mould, cut it into shape. Fill the mix in the dough and seal the edges with a fork. Fry your gujiyas till they turn golden brown. Dip these in sugar syrup. You can also garnish with some chocolate sauce. Your delicious gujiya is ready!