Clothes are for all; gender doesn't matter nor does skin. Unisex fashion has pioneered the theory of clothing for everyone but not many know the story behind it. The story of unisex clothing is actually an empowering one so tighten your seat belt and learn the story of unisex clothing.
During World War II women started working jobs men usually did; feeling empowered by that they started incorporating elements of male clothing in their fashion.
In the 1960s the was an extraordinary change which redefined conventional notions of age, gender, and class. This experimental era pushed designers to try new things and the idea of unisex gained popularity having such a multifaceted freedom. In layman's words unisex was a liberation from gender roles but more importantly, it was in association with the future in its disavowal of traditional hierarchies. It changed the normal old-fashioned norms and was a major driving force for fashion.
Image courtesy; ASOS
Unisex fashion is minimalist design with geometric construction. During this time there was a political unrest of reconstructing gender roles which is when designer Rudi Gernreich flourished and was called the "inventor or unisex fashion". His projects blurred the line in gender roles; one of his big designs was the monokini-a one-piece topless bathing suit intended to be worn by men or women who had shaved off all head and body hair.
Impact Of Unisex Fashion
Image courtesy; ASOS
Unisex fashion has a huge impact on our society from when it started to our modern times. It is a big and powerful tool in blurring sexual identity through connotations of fashion. After the Women's Liberation movement in the 1970s pants started being universally was worn by both genders.
Unisex fashion mostly explores themes in fashion like androgyny, mass-market retail, and conceptual clothing. The 60s' led on by the youth paved a way for fashion that wasn't specifically feminine or masculine. It was for both genders; clothing for all. While traditional fashion reinforces sexual differences, unisex fashion has its own take on gender identity. It takes gender away from clothing and reinserted the importance of the garment fabrication and the conceptual concept that clothing is for all.
Don't miss; 10 Times Bollywood Actresses Were Spotted Chilling In A T-Shirt Dress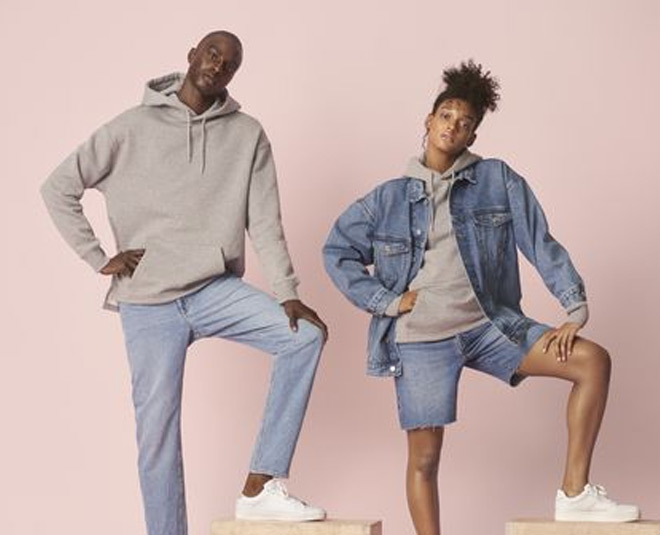 Image courtesy; hercampus.com
In Modern Times
In today's time unisex fashion has been normalised and even used by luxury brands like Gucci, Versace etc. We see even celebrities using unisex fashion as a statement to gender roles. Harry Styles, Cara Delevingne, Demi Lovato etc. have been wearing and using unisex clothing as a fashion statement.
In today's time; after the LGBTQ movement no clothings is specific to one gender and just made for that particular gender. Men can wear dresses the same way women can wear pants and shirts. We can see in Louis Vuitton's 2016 fashion show Jaden Smith wore clothing which was unique and defied simple gender clothing norms.
Don't miss; Grunge; The Lovechild Of Punk And Rock And Why Should You Make It Your Style Staple
Image courtesy; Instagram
If you love unisex clothings you can try to incorporate some in your everyday fashion.
Pants - comfy yet stylish broad pants look absolutely stunning with a loose comfy sweater and guess what! Both genders can wear it.
Button ups - cute or solid, button up shirts look absolutely amazing on both gender. You can always rock it with bands or comfy jeans.
Sweaters or jumpers - sweaters or jumpers are comfortable and something you can always jazz up with pants, jeans or sweatpants.
Blazers - Chunky or sleek; blazers look absolutely stunning on everyone. Gucci in one of their walks showcased unisex blazers. Women can even tie them up with a belt and make it a blazer dress.
T-Shirts- Who doesn't love basic t-shirts, a plain geometric basic tee or even a badass graphic t-shirt looks amazing paired with cargo pants, jeans or sweats.
For more fun fashion history stay tuned HerZindagi.