If Punk fashion is an 'anti fashion' stance or movement then Grunge can be seen as a 'non fashion' statement or movement away from the typical sense of fashion set by fashion agencies or designers. Grunge is a love child of Punk and Rock which was also inspired by the comfortable fashion sense of the Hippie era. It was inspired by the dark theme of Punk with the nonchalant and loose fashion of the Hippie and the raw energy of rock.
It is a comfortable, uncoordinated look with the edgy style of punk. From vintage band tee shirts, flannels, oversized wool Pendletons to chunky Dr. Martins boots, high waisted jeans and comfortable cargo pants are grunge staples.
History Of Grunge
Grunge is an alternative rock music style featuring electronic guitars and dragging lyrics. Grunge fashion is a part of grunge music genre and sub culture which started in mid 1980s Seattle and reached its popularity in early 2000s. This fashion is iconic durable and timeless thrifting. Celebs like Kurt Cobain, the singer-guitarist of Nirvana heavily influenced grunge fashion. He used to wear an oversized stripped sweater, ripped jeans, a pair of converse and unkempt hair which heavily influenced the grunge fashion movement.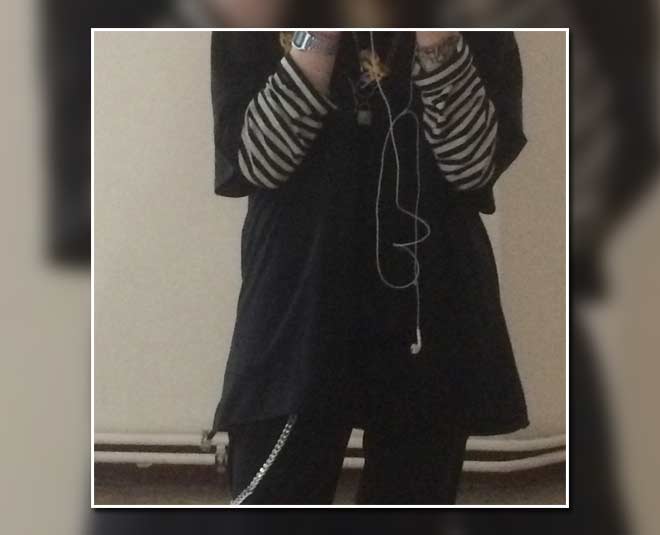 High end designers like Marc Jacobs brought grunge into a luxury platform in 1993. He was inspired by his creative director of women's design at Perry Ellis. They debuted a whole spring collection inspired by grunge. Even Louis Vuitton joined in the grunge fashion statement in 1997.
The grunge fashion statement was called "ghastly" and only took off in the 2000s. It soon after became mainstream and made its way to the runways. The main grunge trademarks are heavy layering, flannels, vintage band tees, Dr. Martens, oversized slouchy sweaters etc.
Don't miss; Fascinated By Punk Culture? Here's How You Can Add It To Your Wardrobe
Grunge In Today's Time
Even today grunge fashion is alive and booming though in recent times it has diversified into sub genres like soft grunge, pastel grunge, Indie grunge, vintage grunge etc. Grunge fashion of the 90s was dark and heavily inspired by rock.
Grunge as a fashion statement has evolved and now it doesn't just include dark but also some lighter shades. It no longer. Grunge has changed over time; flannels and Dr. Martens which were once worn as "non fashion" statement has changed into a fashion statement in itself.
Sub Genre Of Grunge Fashion
90s Grunge
trnds.co, whitemarket.info, weheartit.com
This 90s grunge is closer to true grunge as it has all the staples from the typical grunge fashion. From basic black tees, flannels, doc martins, jean jackets, band tees, to unwashed messy hair and chockers; 90s grunge has it all. This fashion statement was definitely a big inspiration for the singer Avril Lavigne.
Punk Grunge
shoptmp.com, tumbler, instagram (lxshlouise)
Punk grunge includes dark lips, dark clothing, chockers, chains, lip and nose piercings etc. This alternative style is a mix of punk, grunge and rock n roll.
Pastel Grunge
artusthue.com, rarove.com, devilinspired.com
Pastel grunge is a cuter; more kawaii type of grunge fashion. It incorporates pastel colours as well as some dark colours. Though it is pastel and cute it still has a link to grunge with all the grunge elements included in it.
Soft Grunge
twitter, tumbler (brandyusa), voguegirl.jp
Soft grunge has been caught up by the millennial generation making it a fashion trend all over social media. Soft grunge is a comfortable style of grunge and something which can be worn anywhere. You don't have to be a diehard grunge fan to wear soft grunge outfits. Rugged jeans, doc martins, flannels, soft colours etc are soft grunge trademarks.
Indie Or Hippie Grunge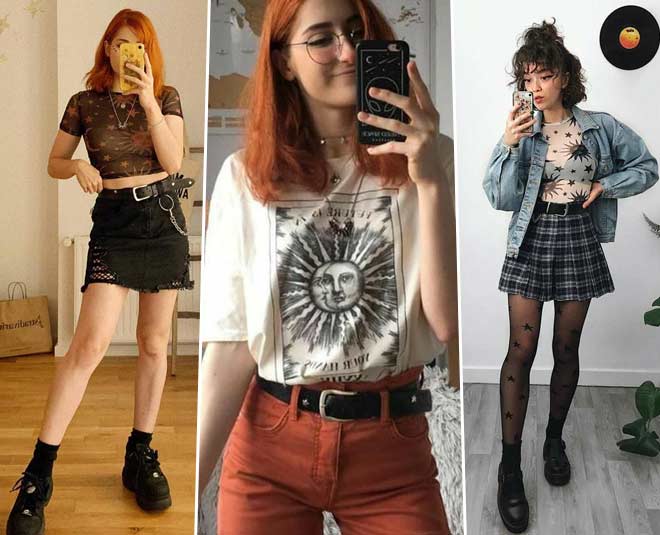 glaminati.com
Hippie Grunge is a combination of hippie or boho fashion with grunge fashion elements in it. This has a long patterned skirts, chockers, rings and nature related themes. It is more free flowing unlike proper grunge.
Don't miss; From Powersuits To Casual T-shirts: Celeb-Inspired Formal Wear That You Can Wear This Season
Why You Should Make Grunge One Of Your Style Staple
Grunge fashion elements should definately be staples in your wardrobe as it is one of the most comfortable yet edgy type of fashion. In 2020 we can saw a boom in grunge fashion especially after Instagram reels started ttrending
Grunge fashion is something that can easily be incorporated in your daily outfits. Soft grunge especially is custom made for your everyday comfy fashion needs. If you want something more creative and natural you can always go for boho fashion given how flowy and elegant it is but with an edge to it. Though if you want to try something more hardcore you can always put your chokers on and go for punk grunge or 90s grunge fashion.
elle.com, weheartit.com
There are a lot of celebrities who are hardcore grunge lovers like Avril Lavigne, Rita Ora, Rihanna etc. Whatever you want you can find in grunge fashion. If you want to give your fashion an edge then you should definately try to incorporate grunge into you daily fashion.
For more fashion advices and knowledge; stay tuned to HerZindagi for more.