Here's How You Can Style Your Pair Of Mom Jeans!
Looking forward to styling your pair of mom jeans? Here are 5 stylish ways to do so!
As one of the most trendy pieces of casual attire, the mom cut features a high waist along with a zipper. This denim offers a baggy leg and makes you look taller, and it is a feminine alternative to the more relaxed boyfriend silhouette. These typically come in the classic blue color with no rips or tears in the fabric, but they look just as great with a bit of wear. This denim is a perfect option for a cute brunch date, or even a night out on the town with your friends.
Styling Blue Mom Jeans
For a laidback feel with effortless styling, opt for a classic pair of blue mom jeans. Its relaxed fit creates an instantly casual aesthetic, and they're easy to dress up or down depending on the occasion. Add a modern twist to your everyday look with a frilly black T-shirt or a leotard and sleek belt. As one of the most versatile pieces of clothing, you can rock it during every season and stay comfortable while looking fabulous.
Read More-Type Of Jeans And How To Select The Right One For Yourself
Mom Jeans With A Classic Style
As normal as it would sound, you can pair your pair of mom jeans with a classic white t-shirt and a pair of white sneakers.
Sneakers make the best outfit, giving you the relief of comfort with an edge of style. You can opt for silver or golden coloured accessories like necklaces and bracelets, which will enhance your look. Going forward with the look, you can tie your hair to a sleek pushed-back bun or ponytail, giving you a chic look altogether.
Mom Jeans With Turtlenecks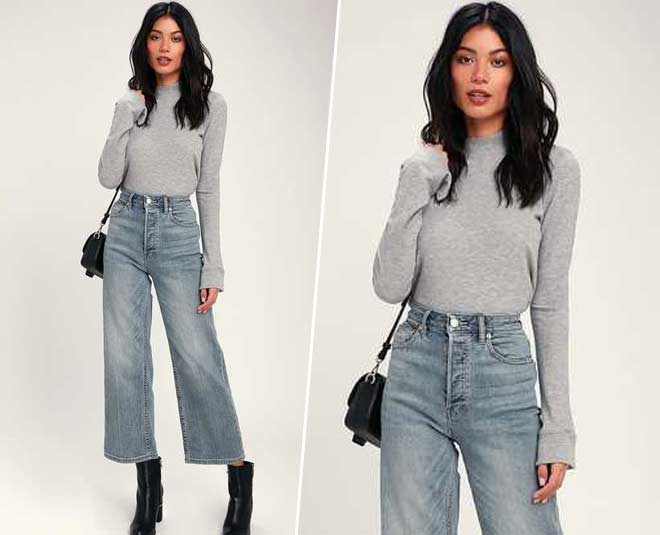 Turtlenecks are something that is a must-have in every closet. With vibrant choices of colour available, it is one of the easiest outfits to put together.
You can throw on your favourite turtleneck with your pair of mom jeans, and chic pair of pumps to put your outfit together. With this look, you can go with a sling bag to match the aesthetics.
Read More-These Jeans Need A Place In Your Closet!
Mom Jeans In Winters
Layering has become a popular concept lately, and it makes you look super chic if done the right way.
From the effortless T-shirt and biker jacket to a silky blouse, this is a style that you can rock during any time of the year. Swap out your heels for sneakers for a casual look, or add a statement belt and rollneck for a night out. Add a layer or two over yourself, jewelry such as bracelets, or a necklace to complete your outfit, and you'll look like you're walking on the runway.
Mom Jeans With Tube Tops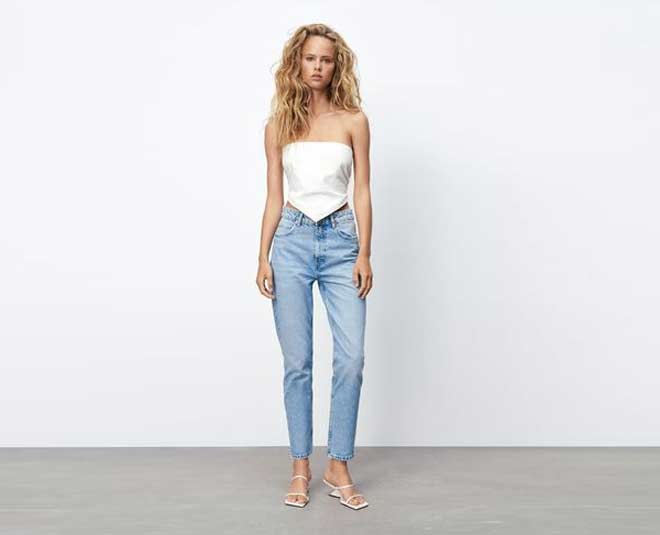 For a sporty chic look, you can pair your tube top with loose mom jeans and a pair of sneakers while if you want to go back to the 90s, throw in a bomber jacket over your tube top for a serious badass look.
You can opt for wearing a white shirt under your tube top, adding a layer of a jacket to complete an outfit for the office! Co-ords have been making their place in the fashion world, and wearing a tube top matching your mom jeans in colour is a killer look. You can add a touch of pumps for a night out or go in with a pair of sneakers for your casual day outing with friends.
Which one is your favourite look? Connect with us over Instagram and let us know in the comments. Stay tuned to HerZindagi for more tips and tricks!