Sneakers are versatile! We love them because they are chic and stylish. When many of us fail to decide what really goes well with our favourite pieces of denim, we turn our heads to sneakers. Most importantly, a pair of sneakers provide much-needed support to feet and heels. Unlike much other footwear, sneakers do not torture There must be a few pairs in your closet that you absolutely love and don't want to throw away. Give them makeovers in the simplest and creative ways. Below are 5 ways of how you can revamp your sneakers.
Glam Up With Glitter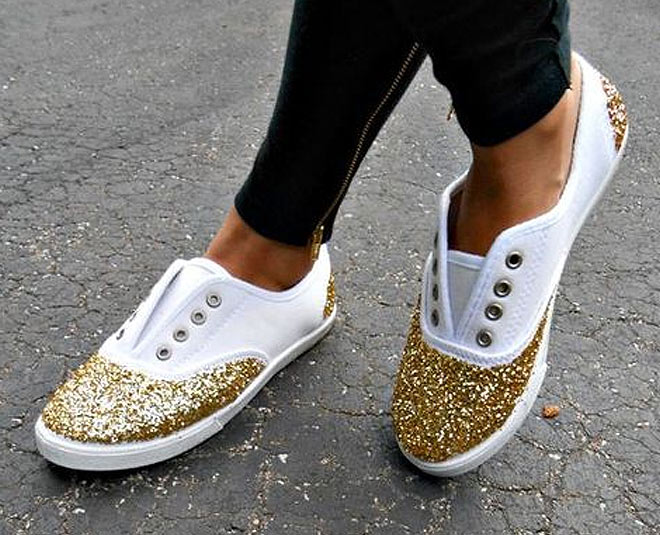 Glitters help to add extra glamour to outfits and shoes. With this DIY turn your old, boring shoes into a piece you can don to parties.
Things You'll Need
White Adhesive
Masking Tape
Your favourite colour glitter (2 packets)
A sponge or a brush
Steps
You don't want your floor to get dirty, so start by spreading some newspaper sheets.
Fill up the shoes with plastic or newspapers.
Cover the areas where you do not want any glitter to reach using masking tape.
Take a bowl mix glitter with white adhesive well using a brush.
Now start applying the glitter-glue mixture on the shoe using the same brush. Let it dry for 30-45 minutes.
Then apply another layer of the glitter-glue mixture for better appearance.
Ribbon Laces
There is nothing better than giving personal touches to our belongings. While some girls love to do extra, there are others who believe in keeping things simple. Replacing the laces of the sneakers with a girly ribbon is subtle and cute. You can use any type of ribbons, lace ribbons, satin ribbons, neon or colourful one too.
Things You'll Need
Old lace
Pair of scissors
Lighter
Steps
Take out old laces from the shoes.
Now take the lace to measure it from the old laces and cut two equal ribbons using scissors.
To secure the endings burn it lightly (for 2-3 seconds) using lighter. Be careful during this process.
Dye Paint
Vibrant footwear is the new cool. While one sneaker has its own fan following, one cannot resist the colourful one too.
Things You'll Need
Dye of your choice

White cotton sneakers
Baking soda
Toothbrush
Steps
Remove the laces from the shoes.
First, dip the front of sneakers into the dye. Soak and spread it with an extra cloth piece. Let it dry for 5-10 minutes.
Then dip the back portion of the shoes into another colour dye. Hang it to dry.
Lastly, clean soles later with a brush dipped into water and baking soda.
Block Paint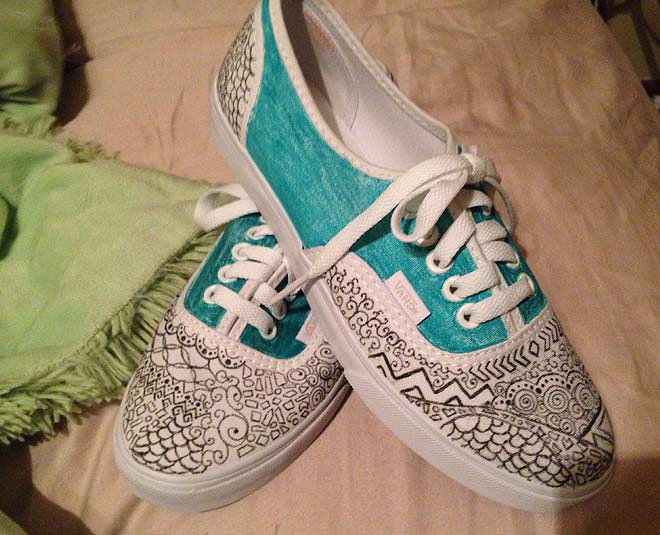 Block paint design looks uber-chic These shoes can be worn at any casual day to make heads turn.
Things You'll Need
Your favourite colour paint
Paintbrush
Old newspapers
Scotch tape
Steps
To keep the shape intact stuff the shoes with some old newspapers or plastic packets.
Remove the laces from the shoes.
Cover the edges of the area you want to keep clean using scotch tape.
Paint the desired area and let it dry.
Net Sneakers
Brace yourself to create your favourite pair of shoes. This white sneaker shoe will make you stand out no matter what.
Things You'll Need
Steps
Remove the laces and start cutting the cloth portion of the shoes using a sharp blade. Be careful. Apply pressure to the shoes and not your hand.
Cut square pieces of the fabric. Apply hot glue on the inside portion of the shoes and start pasting the net. Let it dry for 10 minutes and you're good to go.