Sure travelling is fun, but you know what is more fun? It is to look extremely fashionable on your trips! We believe that every trip demands a particular type of fashion sense. Wearing a beach dress in a desert and traditional dresses on the beach may make you look good but will also make you look like you are in an entirely different time zone and place!
To help you match your outfit with your destination, we have come up with five types of outfits that you must wear on your trip to Jaipur.
Lotus Gate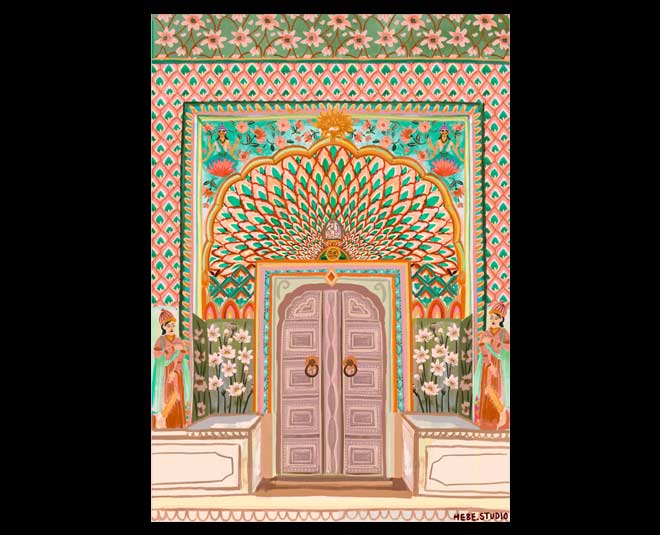 Image Credit: cdn.shopify
Lotus gate is a must-visit spot in Jaipur. When you visit this place, make sure you are dressed perfectly because your pictures here are going to be on point! Considering the fact that this place has too many patterns, it is recommended to wear solid colours. Even while wearing solid colours, since the dominant colour on the gate is that of peach, you can choose to wear darker shades of pink to make yourself belong there yet not get camouflaged. A dark pink top, dark blue denim, open hair and shades on your head will do the job!
Hawa Mahal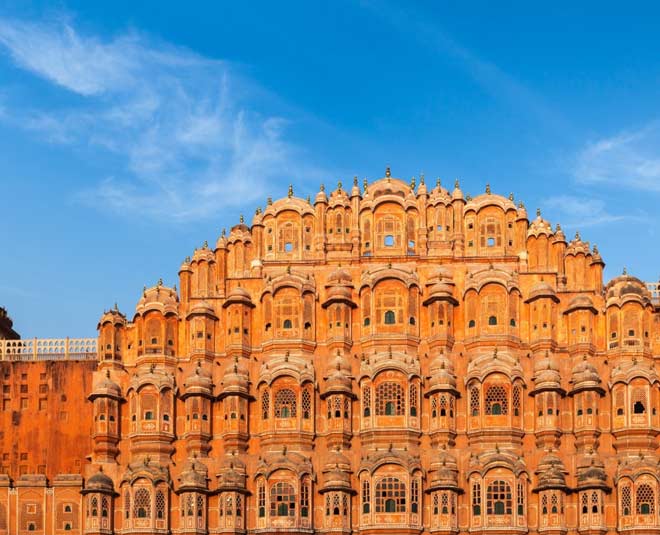 Image Credit: greatdays
For this particular destination, beat the heat with a red tank top, black shorts and a printed scarf. If you are not into such fashion style, you can also wear a black top, red shrug and black jeans. The red shrug will give you the pop-up in the rustic background and ensure that your pictures are bright!
Patrika Gate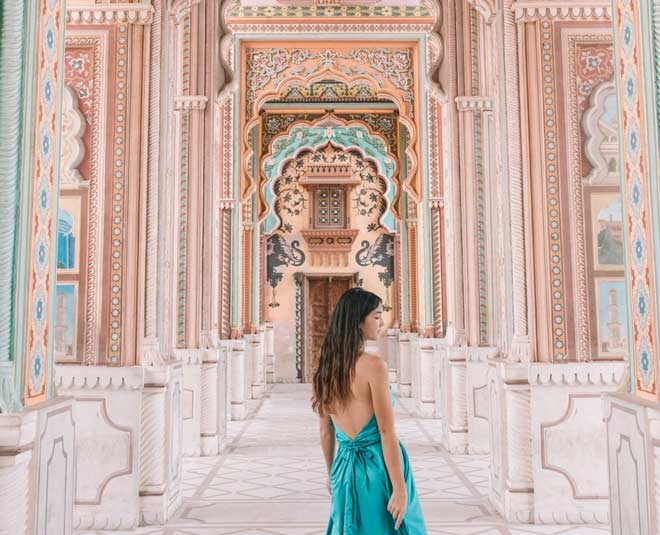 Image Credit: lolapantravels
The colour we suggest you to wear here is blue! This is because, amidst the orange/rustic shades, there are blue pop-ups that give the place a whole new vibe. The place is completely magical so make sure you pose as if you are facing a fairytale. You can wear a simple blue dress or a simple blue top. We are stressing so much on simplicity because in a place like this you do not want to overdo your style as it may start to overpower the background. While clicking pictures at such places you need to make sure to wear something that compliments the background not undermine it!
Don't Miss- Learn From Bollywood Divas: Ways To Include Floral Print In Your Look
Amber palace
Image Credit: live.staticflickr
While the dominant colour in the pink city is the shades of reds and browns, you cannot restrict yourself to wearing only those colours. We recommend you to wear a black top, black jeans and spice up your look with a short mirror work jacket. This look will be different and completely complement the destination. You will look smart as well as emit the Rajasthani vibe!
Don't Miss- Planning A Trip To Gokarna? Here Is A Fashion Guide For You!
For Any Place That You Are Confused About
If you are confused about what to wear at any other place in the city, here is a safe option for you that will not only be comfortable, beat the heat but will also look extremely beautiful! Be it a palace or a fort, any place in the entirety of Rajasthan can be travelled to in a white kurti, white patiyala and a multicoloured bandhni dupatta. Carry this look with open tresses and big jhumkas!
We hope you found this article interesting! If you wish to read more such content, stay tuned to HerZindagi!