Travelling is a breather for all of us! Going out, taking in the fresh air, taking our minds off the busy schedule, to travel is to live!
However, to travel is also to have an entire fashion breakdown a night before while packing. There are so many things that determine what to wear on your trip and sometimes it just gets too overwhelming, doesn't it. As a result, either you pack too many things to be safe and end up with more number of bags than the number of days of your trip or you hardly take anything appropriate to wear!
In this article, we will be sharing with you five types of outfits you absolutely must pack on your trip to Gokarna! Being an amalgam of beaches and treks that Gokarna offers, it only makes sense to fit in fashionable yet comfortable clothing!
Boho/Funky Shorts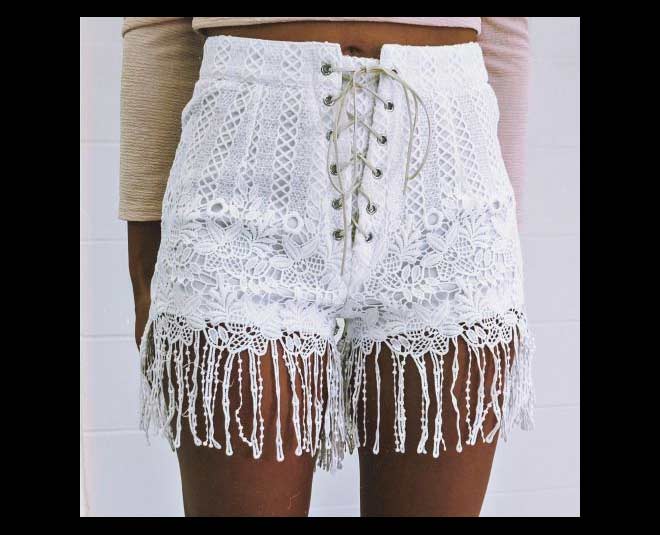 Image Credit: i.pinimg
We get it, denim shorts are cool, easy to avail, and look great. However, if you really want to live up to the vibe of Gokarna, we suggest you add a bit of a quirk to your look. Pair these quirky shorts with a plain top(you do not want too many elements to collide) and wear colourful feather earrings and you are good to go! This look is comfortable, has a fun-loving vibe to it, and is perfect for a beach day out!
A Flowy Dress
Image Credit: i.pinimg
The one rule of beach dressing is to dress in loose outfits. Unless and until you are wearing a bikini, everything should be loose and flowy. By loose we do not mean ill-fitted, we mean atleast one element in the outfit that should make you look chilled out and not uptight. Be it puffy sleeves, flowy gowns, or a loose neckline, until and unless you can feel the damp hair move through your clothes, you are not really beach ready.
Junk Jewels
Carrying the fancy outfit that you are, it is also important to pair them with apt pieces of jewellery. Currently, junk jewels have been trending. Pair your long neck tops with chokers, your dresses with clip-on nose rings and dewy makeup, your shorts with kada on your ankle instead of an anklet. Basically, a little desi tadka to your videsi look will take your fashion game a notch higher!
Don't Miss- Here Are Some Of The Most Amazing Casual Outfits From Lara Dutta's Wardrobe That We Love
Carry An Indian Outfit
Image Credit: gorgeouslyflawed
Gokarna has quite a lot of temples as well. We obviously do not suggest you to carry lehengas and sarees to the trip, however, you can experiment with plain shirts and long skirts. All you have to do is carry a white shirt(which you can later wear as jackets over sleeveless dresses as well) and any bright long skirt. Wear them both, tie your shirt's last two buttons into a knot, and your fashionable traditional look is all set to conquer the temples!
Don't Miss- 5 Times Bollywood Actresses Showed Us How To Wear Denim Jumpsuits With Style
Trekking Outfit
Image Credit: media.self
Gokarna has some beautiful, breathtaking treks that will leave you awestruck! However, you obviously cannot do these treks in your dresses and shorts so be sure to carry one pair of comfortable trekking outfits. Just a tank top and joggers would work well, however, one pair of good shoes is a must.
We hope you found this article interesting! If you wish to read more such content, stay tuned HerZindagi!
Did you like this article ?