Mira Rajput Kapoor is a fitness freak and she often shares pictures from her workout on social media. Other than working out everyday, Mira Kapoor also keeps a strict check on her diet to maintain her weight. She also keeps sharing her diet routine on her social media. Recently, Mira Kapoor took to her Instagram and shared the recipes of her favourite salads.
Mira Rajput Kapoor shared that she usually likes to have warming foods that nourish the stomach, spleen, and gut and keep all the doshas balanced. Most days she has a balanced diet with home-cooked meals. However, there are days when she likes to dig in a bowl full of salad.
Mira Kapoor's Essential Salads
In her post, Mira Kapoor shared two recipes - Rainbow salad and classic Caprese salad. Let's quickly take you through their easy recipes:
Rainbow Salad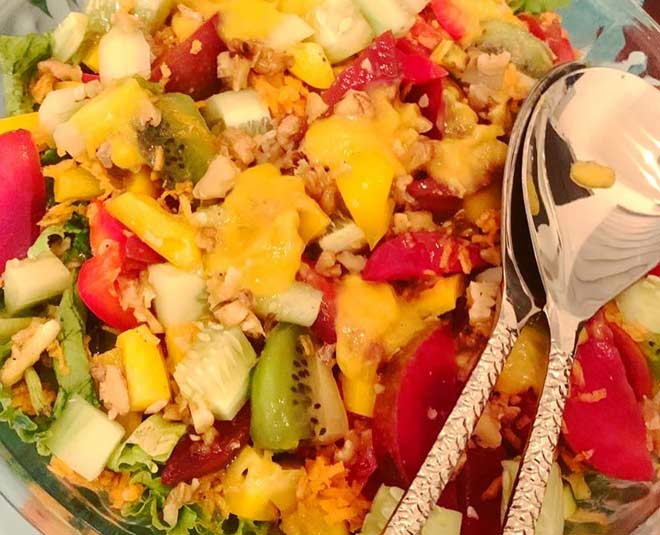 Mira Kapoor wrote that this one is a "clean-out-the-fridge" kind of salad that has fresh salad leaves, grated carrot, bell peppers, cucumber, plum, kiwi, walnuts, seeds, and a basic vinaigrette topped with Aamras. She shared that her kids love this salad. Further, Mira shared that one can add grain to ground the salad but she likes to keep it crisp and fresh.
Don't Miss: Mira Rajput Kapoor Cooked This Healthy Grand Meal For Her Family Over The Weekend!
Classic Caprese Salad
The second salad recipe she shared was this classic one which had baby mozzarella, cherry tomatoes, sundried tomatoes, olives, my favourite greens- baby spinach, freshly plucked basil, homegrown micro red amaranth, salt, pepper, and the tomato cranberry.
Mira Rajput Kapoor's salad recipes look super delicious and now we know why she wrote, "Cheat your cheat!."
Don't Miss: Shilpa Shetty's Vegan Thai Salad Is Everything You Need For A Healthy Diet
So, clearly, you can relish on some delicious salads like these not just on your cheat day but on a regular day too without worrying about putting on those calories. If you don't already like having salads then read on to know why you should.
Salads are packed with the goodness of fresh, green vegetables and fruits which have numerous health benefits and keep any health problems at bay.
Fruits and vegetables are full of natural fiber which has numerous advantages for your health like weight loss, controlling blood sugar, improving digestion among others.
An easy way to fuel your body with enough nutrition is by having a bowl of salad as fruits and veggies are packed with essentials vitamins and nutrients.
Losing weight can get a lot easier when you add fresh salads to your diet. Salads make you feel fuller and you end up consuming lesser calories.
Salads are the easiest way to have leafy greens which you usually may not consume. These vegetables improve your energy levels and also boost muscle performance.
Salads have a high amount of folate and fiber that protects your heart. Consuming more salads helps in preventing any heart-related problems.
You need to have a healthy digestive system from the proper functioning of your overall body. Having a bowl of salad everyday is the best way to keep digestive issues like indigestion, bloating, and constipation at bay.
Most fruits and vegetables have high water content which keeps our body hydrated. This improves our skin health.
Now that you know the amazing benefits of having a bowl of salad everyday, why don't you add it to your daily diet? A crispy and wholesome salad can be your choice of meal on days you don't wish to have a heavy meal. Also, let's thank Mira Kapoor for sharing the recipes of two delicious salad bowls. Do prepare these at home and share with us how they turned out. For more such stories, stay tuned!