Fitness comes with healthy diet. Isn't it? And Shilpa Shetty certainly knows how to get it all right. Apart from workout, this celebrity mom is equally good at cooking some healthy and sumptuous foods. She recently took to her Instagram handle and shared mouth-watering recipe of 'Vegan Thai Salad'. Looks like, she is all set start 2019 on a healthy note. Looking for more of vegan options in salads? This beautiful and colourful nutritious treat is your much needed recipe. Dig in!
The 43-year-old actor, who is fit as a fiddle, captioned her Instagram image. "With a new year comes new beginnings! This year, let's strive to be healthy and happy... and to do that we bring to you another delicious and nourishing dish - Vegan Thai Salad. With tofu, peanut butter dressing and some greens, this salad is high in protein, fibre and vitamins making your meal wholesome and nutritious. What are you waiting for? Kickstart 2019 on a healthy note with this scrumptious salad. Swipe left for the full 2nd part."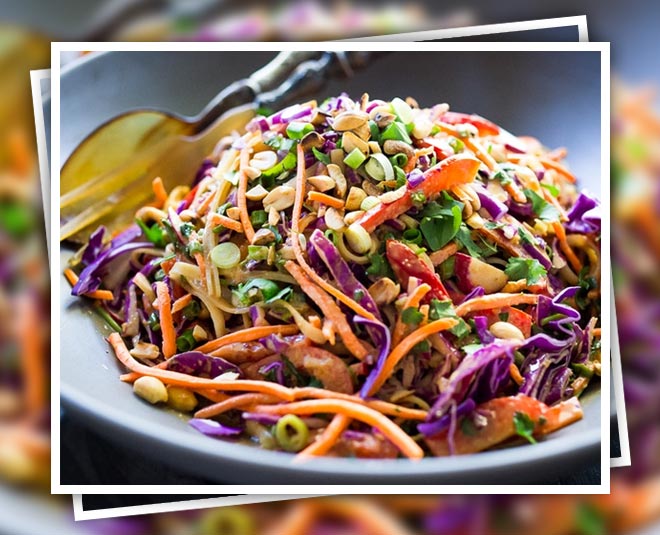 How to make Vegan Thai Salad? Let's help you out. Here's a list of ingredients by which you can make Vegan Thai Salad at home in no time.
Ingredients:
150 grams tofu
1 tablespoon rice powder
Black pepper as per taste
Sea salt as per taste
1 ½ tablespoon sesame oil
2 spring onions
1 teaspoon ginger
1 teaspoon garlic
1 red chilli deseeded
½ red capsicum, diced
¼ carrot, blanched
¼ cup green peas, blanched
8 to 10 strands of baby spinach leaves
Any kind of salad is incomplete without a delicious dressing. Isn't it? Here's a quick way to get your salad dressing sorted. Get cracking!
Ingredients:
1 ½ tablespoon peanut butter, unsalted, unsweetened
½ ginger paste
1 ½ teaspoon maple syrup
1 teaspoon tamari sauce/soya sauce
½ coconut milk
½ teaspoon rice vinegar
½ teaspoon lemon juice
Black pepper as per taste
Sea salt as per taste
¼ teaspoon cayenne pepper
1 ½ tablespoon coriander leaves, chopped
4 to 5 strands of Romanian lettuce
When it comes to eating healthy, Shilpa Shetty starts her day with fruits such as papaya, pineapple, avocado and two poached eggs. Plus she likes keep her fans updated with every bit and piece about her diet plan. This gym rat does not eat after 8pm and consumes about 1800 calories a day. What about the cheat days? In a whole week, she takes one day as her cheat day to curb cravings.
Read More: Quick, Yummy Leftover Idli Snack Recipes
What about the non-vegetarians? Few days ago, she shared the recipe of 'Turkey Roast'. Much in love couple Shilpa Shetty and Raj Kundra love to cook together and her Instagram images are proof. On the occasion of Christmas, she took to her social handle and shared the joy of relishing this Turkish recipe. "Turkey Ready.. Christmas lunch is always a grand affair -our London home . Turkey with the trimmings (chestnuts, parsnips, purple cabbage, mash, carrots and Yorkshire puds) and 8 desserts at least. With family and friends over to feast..it's pandemonium in the kitchen with everyone trying to make a dish or chip in..Keeping up the with tradition the Turkey Roast is my department, and this time it was a 10 kg one. Marinated it the previous night with fresh sage, thyme and rosemary butter and put it in the oven at 4 am to be ready in time ( 7hrs in the oven) All well worth the effort when it turns out right.. crispy from the outside and moist inside ..Happy faces ..Job done."