Have a bowl of leftover apple peels in the kitchen? Are you thinking of throwing it all away? Wait! Those apple peels can be used in different ways in your kitchen.
Not everything that is leftover is a complete waste. For instance, apple peels can get a new life with just a few quick tips. Read on to know some interesting ways you can use apple peels in the kitchen.
Garnish Fresh Salad With Apple Peels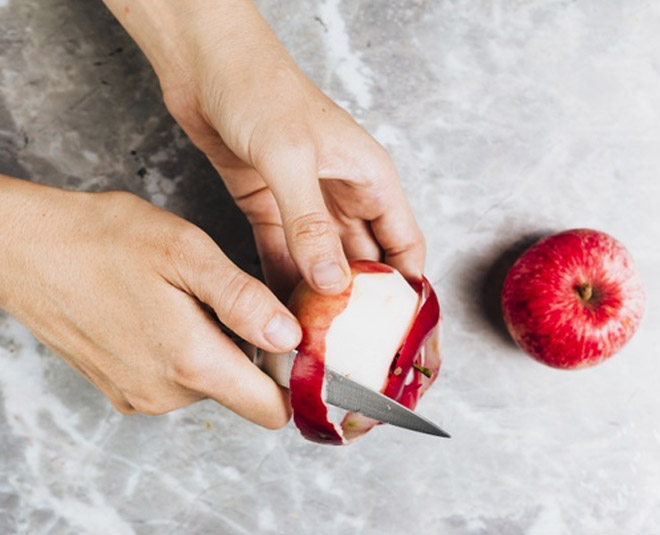 Love having a fresh bowl of salad? Well, you can turn it into a better treat by adding an apple twist to it. Julienne the apple peels and top your fruit or vegetable salad with these apple strips. Delicious and healthy!
Make Apple And Cinnamon Tea
Who doesn't love having a cup of warm and refreshing tea? You can turn your apple peels into a tasty tea. In a saucepan, add some water. Drop- n a small cinnamon stick and let it steep. Add apple peels to the pan and cook. After a few minutes, strain. Add honey to your tea according to your taste. Stir and enjoy! Both cinnamon and apples have amazing health benefits so you can enjoy a lovely pink coloured tea in the evening without actually feeling guilty. (cinnamon tea benefits)
Prepare Apple Cider Vinegar At Home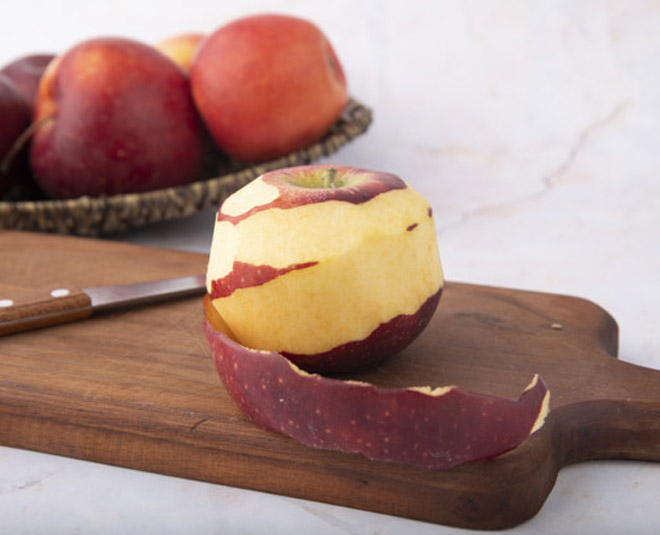 Yes, you can prepare your own bottle of apple cider vinegar at home. In a bottle, add some apple peels, some sugar and water. Shake till sugar dissolved in it. Cover the jar with a lid or a cloth. Let the jar sit in a dark place for about 3-4 weeks. Homemade apple cider vinegar is ready!
Turn Into Apple Peel Chips
We all love having a quick and healthy snack and nothing like roasted apple peel chips. In a pan, add some butter and cinnamon sugar. Stir well and then add in the apple peels. Toss the apple peels in this sauce and roast till crispy. I promise you will binge on this healthy snack!
Don't Miss: Don't Throw Away Leftover Cabbage Leaves, Here Are 5 Ways To Use Them
Prepare Apple Peel Jam
Yes, you can make your very own homemade apple peel jam, and it's super easy! In a pan, add apple peels and water. You can also add apple cores if you have some. Boil the fruit till soft. Add sugar as per taste and boil.
Squeeze in some lemon juice, about 1/2 a cup, and mix well. Store in an air-tight container and place in the refrigerator. You will get a jelly-like consistency. You can have it as is as a snack or with a bread toast.
Add As Flavouring To Bakery Goods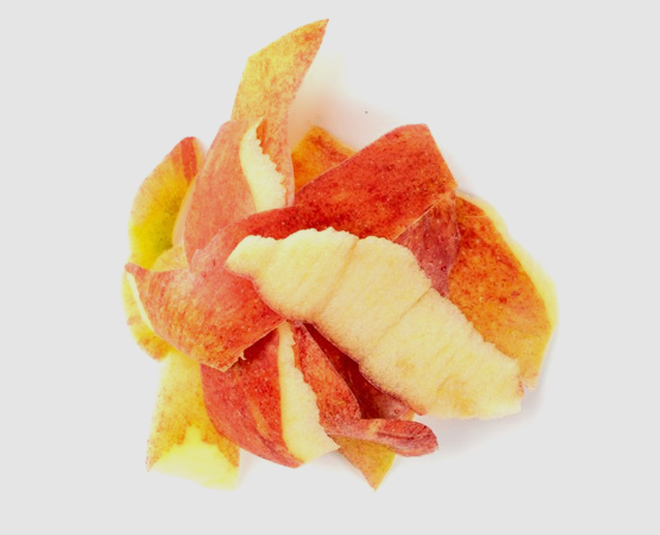 If you like making bakery goods at home then these leftover apple peels can be great toppings for goods like waffles, muffins, cakes, or tarts. You can further chop these apples for that fresh and delicious flavour of apples. You can add some cinnamon to them and get a great flavour.
Don't Miss: Natural Hair Conditioner: Use Orange, Kinnow Peels To Make Packs For, Luscious, Dandruff Free Hair
Use Them For Flavour In Smoothies
Apple peels can be stored in a zip lock bag. You can keep them in the freezer and use them as a flavouring whenever you make a smoothie. In a blender, add all the ingredients required for the smoothie and add some apple peels. Blend and you have a delicious drink with the goodness of apple peels.
We hope this guide helps you make full use of your leftover apple peels. For more such easy hacks and tips, stay tuned!