Oiling your hair is one of the best things you can do to nourish them. Hair oils provide our tresses the much-required moisture and shine. Regular application of hair oils is believed to be great for our hair health.
Coconut oil, olive oil, castor oil, and almond oil are some of the best hair oils you can use. However, the struggle is to wash these oils off our hair. There are days when you are just unable to clear your scalp or strands off the oil you applied for days. The result? Weighed down, sticky and untidy hair.
Shampoo Your Hair More Than One Time
There can be days when the oil doesn't just wash off in one wash, especially in the case of castor or coconut oil. When shampooing your hair on oily hair, make sure you massage your scalp really well and then wash off with lukewarm water. Next, you should use some more shampoo and wash your tresses again. You can let the shampoo sit on your hair for a few minutes and then wash off to ensure a clean scalp.
Ditch Your Regular Shampoo
Is your regular shampoo too mild to wash off the oil build up on your hair? It is time you get another shampoo for days you want to wash off your oily hair. A clarifying shampoo works well to cleanse off the dirt and oil accumulated on the scalp.
Use Dry Shampoo
You just washed your hair and realised there is still oil on your scalp. What would you do if you have no time to wash your hair again? This is when a dry shampoo comes to your rescue. Before using a dry shampoo, pat your hair with a dry towel. Spray some dry shampoo at the roots and rub lightly. This will help in soaking up some excess oil.
Don't Miss: Tired Of Your Oily Hair? Try These Home Remedies That Work
Buy A Leave-In Conditioner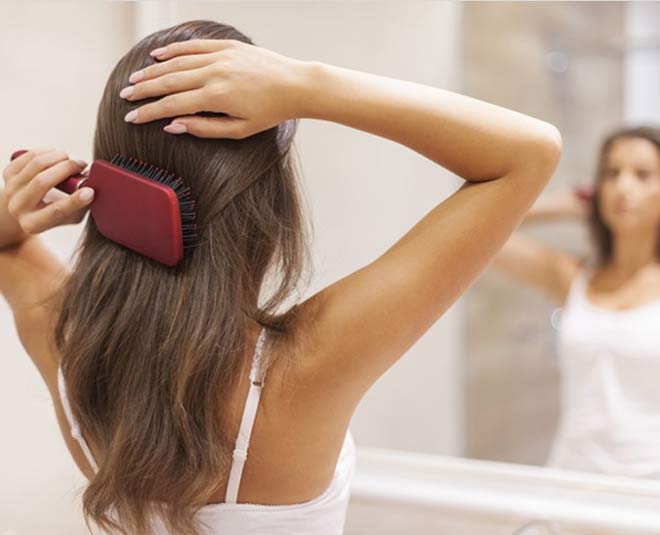 After washing your hair, apply a leave-in conditioner to your wet hair. This will help in removing the oil stuck in your hair. Just apply it thoroughly to your hair and it is done! This way, you don't really have to worry about rinsing it out.
Don't Miss: Hair Care Tips You Must Follow With Season Change
Use Baking Soda Paste
Baking soda can help in removing excess oil build up on your hair. Take some baking soda on your hand and add some water to it to make a paste. Now apply this baking soda paste all over your scalp and hair. Keep it for 15-20 minutes and then wash with warm water.
Rinse Hair With Apple Cider Vinegar
In a bowl, add an equal amount of water and apple cider vinegar. Transfer this solution to a spray bottle and spritz it all over your scalp and hair. Keep it for 15 minutes and then wash.
Beer Rinse
Do you know rinsing your hair with beer can help you get rid of that stickiness in your hair? Also, a good thing about using beer on your hair is the additional shine it gives to your tresses. Mix 1 cup of beer with 1/2 cup of water and rinse your hair with this mix. You can add the quantity of beer according to your hair length.
We hope this guide helps you wash off stubborn oil build up on your hair and give you clean hair. For more such hair related stories, stay tuned!