Newly wed brides have that beautiful, natural glow on their faces. Give yourself a pat, all those months of clean eating, good workouts, and skin-pampering has finally given you that beautiful glow on your face. Now don't let it all go to waste!
After months of paying so much attention to your skin and health, you just can't take it for granted. The wedding madness may be over but your glow shouldn't be. Maintaining that wedding glow post the celebrations won't be that easy but if you follow this simple guide, it will all work for you. Read on.
Skip The Makeup
For all those wedding festivities, you layered your face with so much makeup. Now after it is all over, you should give your skin some time to breathe. We know, the newlywed bride not wearing any makeup won't be a great option. Try wearing minimal makeup when at home or stepping out. Cut down the layers, use a single layer for an even skin tone. You can use a foundation or a CC cream. Do your eyes with a kajal or liner and use a lip and cheek stain to round off your look. While going to bed, make sure you are wearing no makeup at all!
Don't Forget To Take Some Good Sleep
Wedding celebrations can really take a toll on your sleep patterns. These further start to show on your face. Now that the festivities have come to an end, you have all the time to give your eyes some rest. Catch up on some beauty sleep and keep any skin or health issues at bay.
Don't Miss: First Dish After Marriage: These Dessert Recipes Will Help Bride-To-Be To Impress Everyone At New Home
Drink Lots Of Water
Post your wedding, you will be invited to a lot of get-togethers. This is the time when you will be bingeing on so much food. It is important that you detox your body every now and then to flush out all the harmful toxins from your body. Drink loads of water and other liquids like green tea, juices, coconut water among others to keep yourself hydrated. When your body is hydrated, your skin feels healthier.
Add Some Healthy Foods To Your Diet
If you are heading out for dinners and parties every now and then, let us tell you that your body may not be getting all the essential nutrients. If you fail to strike a balance in your diet then it can start to show on your face in the form of dullness, acne among other common skin issues. It is best to add nutritious fruits and vegetables to your daily diet including carrots, cucumbers, papayas, bananas among others which keep you healthy.
Don't Miss: These 5 Tips Will Help You Look 10 Years Younger
Get Back To Your Skincare Routine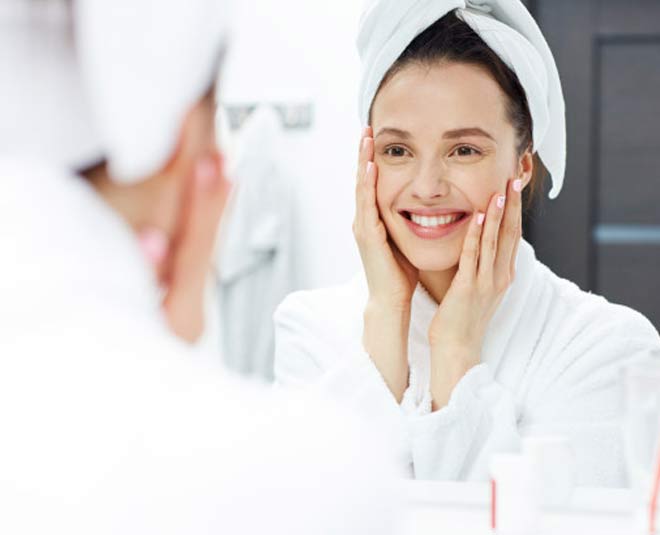 Don't forget to pamper your skin just like you used to months before getting married. To maintain the post-wedding glow, you need to follow your skincare routine regularly. Cleansing, toning, and moisturising is a must.
Start Working Out
Just after your wedding, all you want to do is be with your partner. However, you should be taking time for some workout. You can go for a walk every day or join a dance or yoga class together. This will give you more time together and also help you stay fit.
We hope these tips help you look flawless and fit post-wedding. For more such beauty tips, stay tuned!