Megha Asher, the owner of Juicy chemistry, has listed some organic hair oils that could solve your problems over a time period if used religiously. From argan to almonds, these oils have a different purpose which come with different properties. Scroll down to take your pick.
Cold Pressed Organic Argan Oil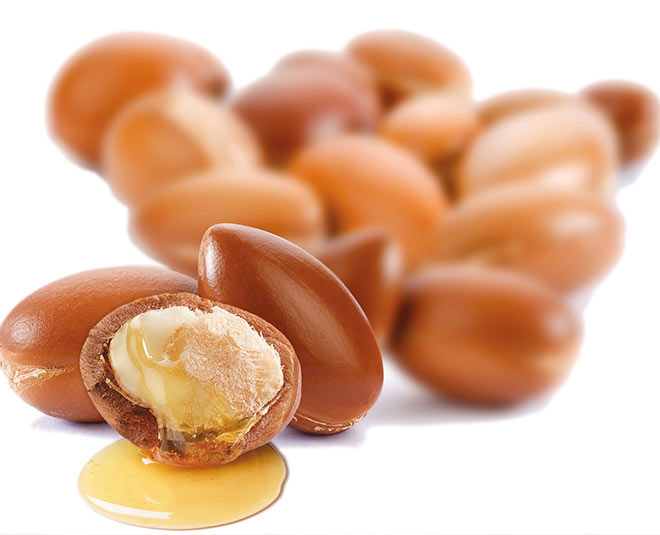 As one of the rarest oils in the world, it has earned the nickname, "liquid gold." It is rich in high concentrations of vitamins, minerals and powerful anti-oxidants, Vitamin E, natural squalene, phytosterols, and essential fatty acids that restore strength and moisture to your hair and skin. The oils are cold-pressed with nothing added, nothing is taken away!
Don't Miss: Use Essential Oils The Right Way, Avoid These Mistakes
Organic Hibiscus, Amla & Bhringraj Oil
(Revitalising Hair Oil for Pre-mature Greying, Hairfall Control & Damaged Hair)
Made with the goodness of Ayurvedic herbs and botanical infusions, this incredibly rich oil helps control hair loss, curbs premature greying, strengthens hair roots, conditions the hair, prevents split ends and stimulates hair growth.
Bhringraj oil penetrates deep into the scalp to stimulate blood circulation, resulting in improved hair growth, revitalised hair follicles and decreased hair loss. Amla, a powerful anti-oxidant and powerhouse hair health ingredient, helps prevent premature greying, treats dandruff and also boosts hair health by preventing breakage and delivering smooth, glossy hair.
Brahmi combined with hibiscus has been proven to improve hair texture and prevent hair loss. Nutrient-rich licorice root has amazing anti-inflammatory properties that help soothe the scalp and reduce various scalp conditions like scabs and dandruff.
Don't Miss: Use The Right Essential Oil With This Guide By Expert!
Cold Pressed Certified Organic Almond Oil
Cold-pressed from the dried kernels of almonds, this oil has wonderful emollient properties. Rich in essential fatty acids, vitamins A, B1, B2, B6, and E, it has the ability to both deeply nourish the skin and condition dry, damaged hair. One of the most versatile carrier oils, it is light-textured and penetrates the skin and scalp easily.
In haircare, it penetrates deep to moisturise, replenish nutrients and helps fight breakage to promote soft, silky hair with a lustrous, beautiful shine. The nutrients found in Sweet Almond oil promotes hair growth and help prevent split ends.
Cold Pressed Organic Pumpkin Seed Oil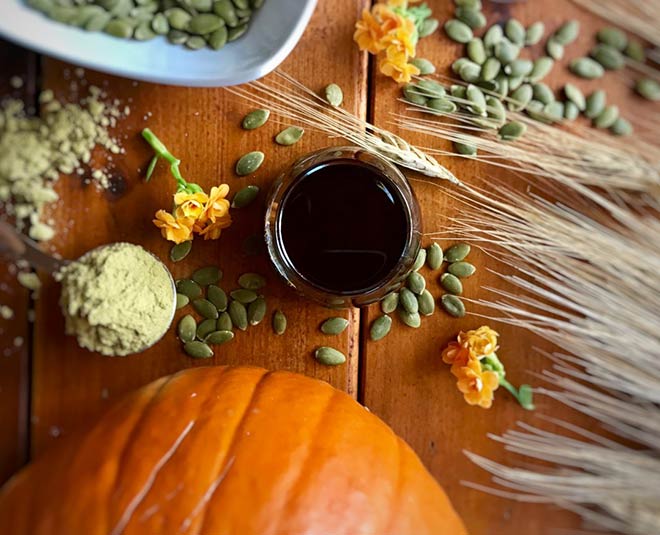 Pumpkin Seed is highly nourishing and is rich in vegetable protein. Pumpkin seed oil is particularly high in the gamma-tocopherol, a form of vitamin E, which is a powerful antioxidant. This thick, greenish oil also contains zinc and magnesium, which are two essential minerals for hair and skincare. Zinc not only thickens hair, it also speeds the growth.
Organic Lavender & Sage Hair Oil
(Hair Fall Control & Deep Conditioning)
Formulated as a one-stop solution for all your hair problems, this oil curbs hair loss stimulates hair growth and nourishes hair from within. Lavender is the star ingredient in this formula. It works by improving blood flow to the scalp, which results in preventing hair loss and stimulating hair growth.
The amazing anti-inflammatory properties of sage along with rosemary controls hair loss and protects against damage. Cedarwood helps improve hair growth and reduces hair loss by increasing blood circulation to the scalp and stimulating hair follicles.
This intensive formula uses cold-pressed, organic, extra virgin olive oil that is great for preventing hair loss, repairing split ends, and slowing moisture loss from the hair. Used extensively for hair loss control, sweet almond oil reduces breakage and split ends, thus improving overall hair shaft and scalp health.
Jojoba oil is touted for its capability to moisturize hair follicles, provide a cooling effect, and reverse the damage.
For more on essential oils, stay tuned to HerZindagi.