Do you know a mascara lasts for just 3-6 months and should not use any longer than that? That's because it can lead to eyelash damage, eye infection among other issues. Well, that doesn't mean you have to throw away all the old mascaras.
Yes, your old mascara wand can be used in multiple ways. Believe me, I have never thrown an old mascara in my life. Yes, I have ended up collecting a lot of them now but they always come to use.
Here, I thought of bringing you different ways you can use old mascara wands.
Cleaning Your Old Mascara Wand Before Use
It is important that you cleanse the old mascara wand properly and then put to use. You can clean the wand by spraying some rubbing alcohol over it. This would help disinfect the wand or you can clean it with a detergent.
1. Use Old Mascara As A Spoolie
On days you want to keep your eyebrows all-natural and thick, this old mascara wand will come to use. Use it instead of a spoolie. You can use it as is or use it with an eyebrow gel or petroleum jelly. Brush back your eyebrows with this wand and get those natural and fuller eyebrows.
2. Keep Those Baby Hair Off Your Face
We all know the struggle, those baby hair can really ruin any hairdo. Taming these flyways can be a little tricky but with a mascara wand, you can do it in a jiffy. Pick some petroleum jelly with the wand and then brush your baby hair with the wand. This will keep those hair in place and help you rock that hairstyle.
3. Pamper Your Eyelashes
To be honest, how often do you think of pampering your eyelashes? We mostly forget about it but it's really important. Our eyelashes too deserve some attention. An easy way to nourish them is by applying some castor oil on them. You can dip your old mascara wand in some castor oil and then use it to curl your lashes. Do this at night before going to bed so that the oil stays overnight and gives you thick and fuller eyelashes.
Don't Miss: Here Is Why You Shouldn't Be Applying Mascara Everyday
4. Exfoliate Your Lips
Our lips are exposed to polluted air, dust, dirt everyday and it all starts to build up. It is important to clear off all these dead layers from time to time. Apply a lip balm, scrub or petroleum jelly over your lips and using your wand, start exfoliating your lips. The bristles of the want will help you exfoliate and give you soft and hydrated lips.
Don't Miss: Interesting Tips And Facts About Every Woman's Favourite, Mascara
5. Remove Cuticle Flakes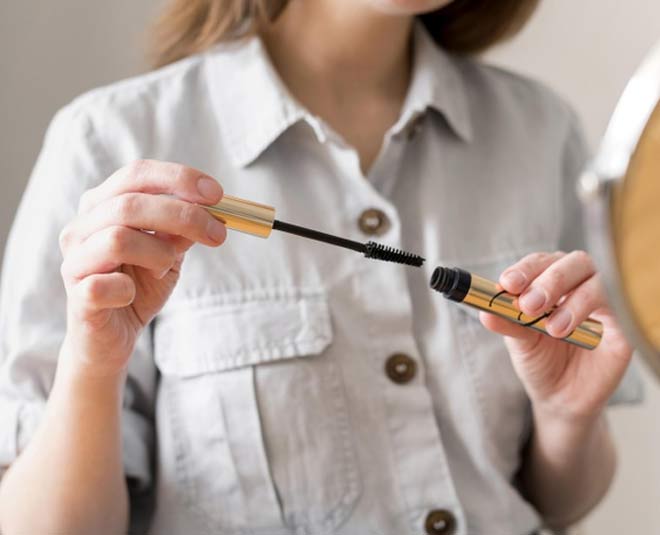 When you cut your cuticles by mistakes and they start to grow back, they turn very flaky and are easy to get teared down. An easy way to get rid of them by brushing them with some olive oil. Brush the cuticles with the mascara wand. Keep it for a few minutes till the oil absorbs. Repeat everyday for healthy cuticles.
We hope this guide helps you put your old mascara wands to good use. For more such beauty hacks, stay tuned!