In a short span, Janhvi Kapoor has managed to carve a special place for herself. With her debut movie, Janhvi managed to win hearts and she continues to with her fun Instagram posts, gym looks, and red carpet appearances. She has a huge fan base.
Janhvi Kapoor is currently in the US, holidaying with sister Khushi Kapoor. Thanks to Instagram that we are getting a sneak peek of her special holiday.
In one of her Instagram stories she recently posted on her handle, we saw Janhvi taking a mirror selfie in her room. Dressed in a black top and purple printed pants, Janhvi captioned the picture, "Yes that's a bowl of leftover oats that I put on my face."
Well, now we know the secret behind Janhvi Kapoor's beautiful, glowing skin.
Oats are packed with fiber and a staple for anyone who is a fitness freak. Oats help to maintain your weight and help you stay fit and healthy. But that's not all. Oats are great for your skin too.
Oats can be a part of your skincare routine too. They help in cleansing your skin deeply, they can be added to your scrubs as they unclog your pores and makes your skin soft and smooth.
Oats work to exfoliate your skin and clear off all the dead skin. Your skin will feel instantly soft and smooth afte4r you use oats. When used as a scrub, oats nourish your skin.
Don't Miss: Honey Is The Ultimate Solution For All Your Skin Related Problems
You can prepare this oats scrub at home -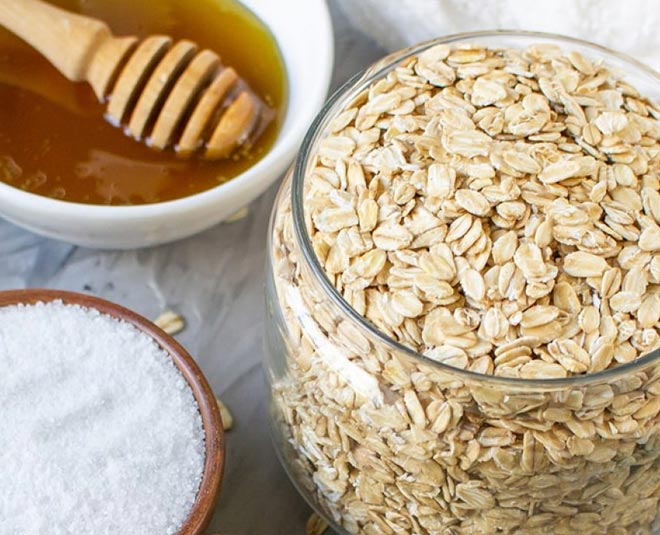 You Will Need:
Oats help in exfoliating your skin and it is great for sensitive skin too. Honey adds moisture to your skin, it makes your skin soft and smooth. Brown sugar helps in clearing off the dead skin cells.
Directions
Grinde oats and keep this mixture aside. In a bowl, add oats powder, honey, and brown sugar. Mix all the ingredients well. Apply on your face and scrub in a circular motion. Wash your face. You will see an instant glow on your face. Make sure you clean your face well before using this scrub.
You can also prepare oats scrub using curd. Just mix oats powder with curd. Add a spoon of honey and squeeze some lime juice. Mix and apply. Scrub a little and then keep it on for a few minutes. Wash it with warm water. This will give you clear skin.