After gua sha face rollers taking over the market, we now have gua sha combs venturing into the market and it looks quite interesting.
Have you heard of the gua sha or jade combs lately? Made using stones like jade and rose quartz, these combs are getting immensely popular these days. As the name suggests, crystal combs aren't your regular combs. They are said to transform your hair and mental health completely. How? Read on to know.
What Are Gua Sha Or Jade Combs?
These combs are prepared using stones like jade or rose quartz. These stones are known for their individual amazing benefits for your hair and overall health. The energies delivered by these stones are believed to benefit your tresses in different ways
These combs work on the ancient Chinese therapy called the 'combing therapy'. This therapy is believed to have powers to stimulate and relax your scalp. They also help in encouraging hair growth.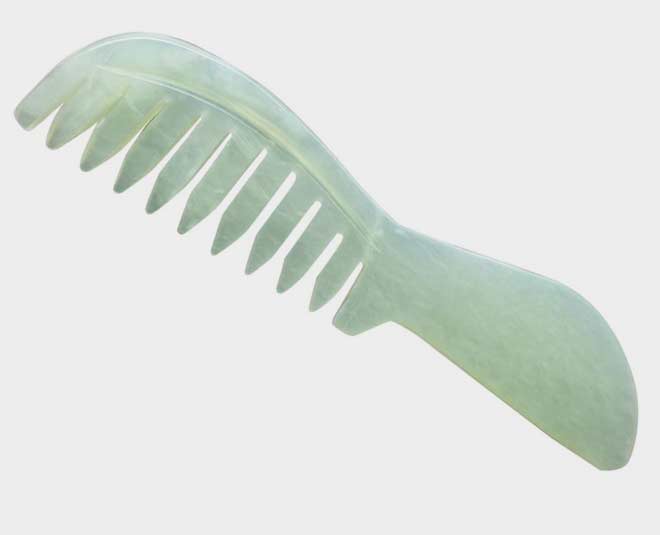 It is believed that the scalp is connected to your entire body so getting a good scalp massage can have a positive effect on your body too. Massaging your scalp with a jade or rose quartz comb can work like an acupressure therapy.
Don't Miss: Your Guide To Use Ginger Or Adrak For Long And Thick Hair
Benefits Of Using A Gua Sha Comb
Helps Feel Relaxed
After a long day at work when you feel like getting a relaxing spa session, you can get some quick relief with this jade comb.
Improves Hair Growth And Texture
Massaging your scalp with a crystal comb will help you stimulate the hair roots which will further help in improved hair growth.
Also called the gua sha comb, this magic tool helps in stimulating the acupressure points which gives you health and smooth hair in return.
Releases Tension
On days, you might feel that things are getting harder for you and it starts to slowly build up in your mind which further leads to stress
Improved Blood Circulation In The Scalp
When you massage your hair with a jade comb, you stimulate the scalp which helps in increasing blood circulation in the scalp further makes your hair grow longer and stronger.
Massaging your hair with a jade comb helps you release tension and takes away all the stress.
Don't Miss: Common Hair Care Mistakes To Avoid For Fabulous Hair
How To Use A Jade Comb?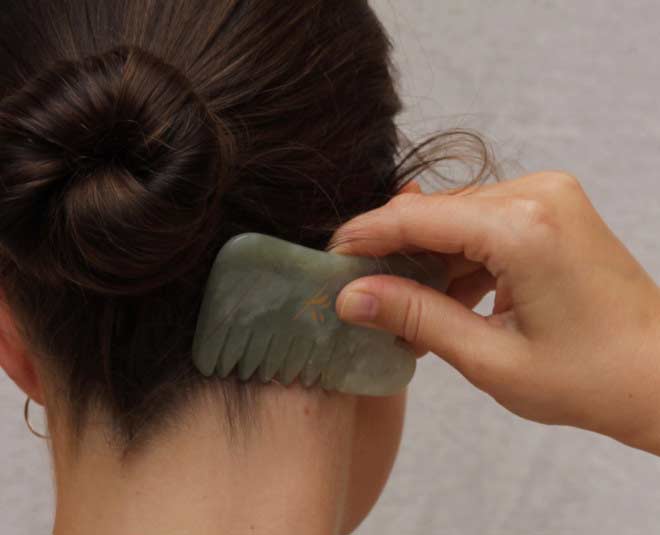 The best way to benefit from a jade comb is by gently rubbing it through your scalp. Brush it gently on the sides and massage towards your ears. Massage in small circles at the back. Go light and gentle and cover your entire head.
You can use it as is on your dry hair or after applying oil.
As shared earlier, these combs aren't your regular combs and can't be used for properly detangling or styling your hair. However, for a relaxing scalp massage, it is always a good idea to gently massage it for a few minutes.
You can use this once a week. Make sure you go light and gentle or you can end up hurting your scalp.
If you haven't tried using this amazing hair tool to date, you must try it for its amazing benefits. They are now avaialble in a variety and you can choose one depending on your preference. For more such beauty related stories, stay tuned!