Facial rollers are one of the most talked-about skincare products today. The skincare tool is commonly prepared using a jade or rose quartz. Having two roller balls, this face tool quite looks like a rolling pin. Do you know it has some amazing skin benefits?
What Are The Benefits Of Using A Facial Roller?
Increases Blood Flow
Using a face roller helps in increasing the blood circulation on the face which further makes your skin glow naturally. Increasing blood flow on the face is also helpful in preventing dullness.
Reduces Puffiness
So many of us wake up with a puffy face and it makes our skin look tired and dull. Facial rolling can help in stimulating lymphatic drainage which prevents puffiness. It is also beneficial for those having under-eye bags. Using it with an eye cream can have more benefits.
Tightens Skin
We all want our skin to look tight and youthful. Face roller is one tool that can make that happen. Facial rollers tighten the skin and prevent the appearance of ageing signs like wrinkles and fine lines.
Don't Miss: Jade Rolling Benefits, Why You Should Try Bipasha Basu's Beauty Hack
Relaxes Skin
Ever thought of relaxing your face muscles? Our face has 42 different muscles and they constantly keep working as we have different facial expressions throughout the day. Using a face roller helps in relaxing the facial muscles. This helps in relieving strain from the face. Gently massaging it on the face also helps in smoothening your skin overall.
Tightens Pores
Open pores make your face look old and dull. Massaging your face with a roller for a few minutes everyday can be helpful in reducing the size of the pores.
Don't Miss: Start Using An Ice Roller For These Amazing Skin Benefits
How To Use A Facial Roller?
Author, Accredited Dietitian, and Nutritionist Swati Bathwal recently took to her Instagram handle and shared a quick guide to use a face roller.
View this post on Instagram
As shown in the video, begin with soaking the roller in cold water. Roll it upwards through the neck then roll it outwards. Dip it again and then roll upwards on the forehead and then sideways. The small roller can be used in the direction of the muscles, around the eyes which is helpful in relaxing eye muscles.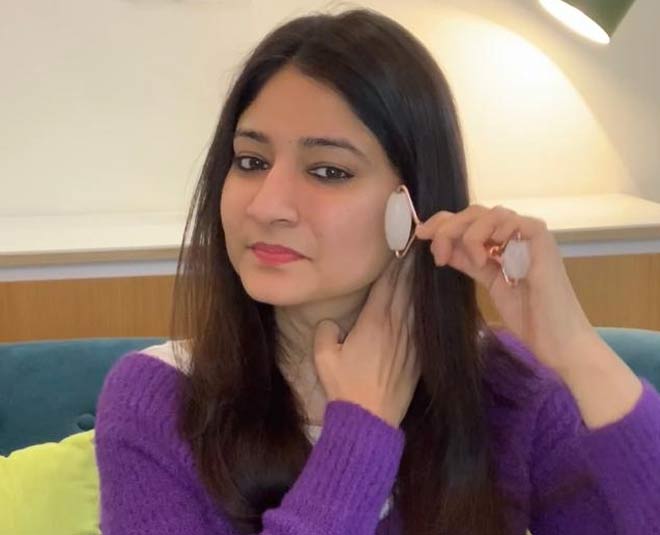 The expert on her post shared that face rollers and gua sha have become some natural alternatives ways to have that ageless skin you want. In the video, she also shared that this should be done for 5-10 minutes everyday.
Why Facial Rollers Are A Must?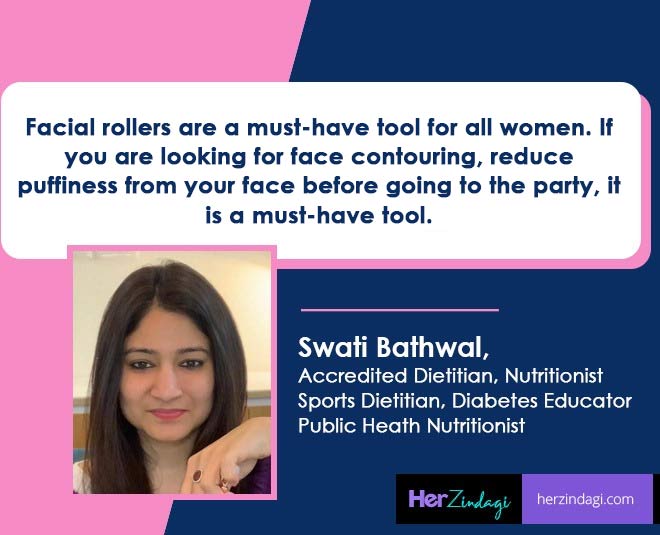 Talking about the importance of using a face roller, the expert shared, "Facial rollers are a must-have tool for all women. If you are looking for face contouring, reduce puffiness from your face before going to the party, it is a must-have tool. It softens your skin, reduces the appearance of fine lines, and reduces the puffiness. Reducing puffiness shouldn't be confused with reducing face fat. Rollers are of different types- jade and rose quartz and many others but depending on your skin type you must choose the type of stone. And this roller lasts longer and is just under Rs 1700."
Facial rollers come in handy on days your skin feels a little dull and needs a pick-me-up. Do you have a facial roller in your skincare closet? How often do you use it? Share your thoughts with us! For more such beauty related stories, stay tuned!