There is nothing more satisfying than painting our nails in beautiful bright colours. However, it is so disheartening to see our nail polish chip off. It really breaks our heart, every single time!
We thought of bringing you some quick tips to prevent your nail paint from chipping. Read on.
Always Apply Thin Layers
If you think a thick layer would last longer, you are wrong! To make your nail paint last longer, always use a thin layer of nail paint. When you apply a thicker coat, it not only takes forever to dry but also chips off easily. Always use a thin layer. Over layering can also make your nail paint chip.
Keep Your Nails Short
An easy way to keep your nail colour stay for longer is by keeping your nail length short. It is always easier to keep your nail colour last for longer. This is because long nails bump into things easily. Shorter nails are easier to maintain.
Apply The Paint Right
While applying your nail paint, make sure you don't miss even a bit. You should apply the nail paint evenly, covering the edges. Pay attention to the tips because they chip off first. Apply the paint properly, if you think you have done it wrong, wipe it off and apply again.
Don't Miss: Try These Tips And Tricks To Take Care Of Brittle Nails
Keep Space Between Coats
There are days when we want to quickly apply 2-3 coats and get that flawless finish. You won't really get one if you don't let the first layer dry off completely. If you are not satisfied with just one coat and want to go with one or two more coats then give space. Wait for at least 2 minutes after applying the first coat and then follow with another one.
Cover Your Nails While Working
While cleaning or dusting around the house, always make sure your nails are covered. You can wear gloves while doing chores and this will prevent your pretty manicure.
Nourish Your Nails
Just like other parts of our body, our nails deserve some attention. However, when you don't nourish them from time to time, it starts to hurt you back in some way or the other, and chipping of your nail paint is one of them. Always use cuticle oil or cream. Keep using a nail cream to keep your nails healthy and strong.
Don't Miss: Want To Fix A Broken Nail? Try These Super Easy DIYs At Home
Skip Washing Hands Before Applying Nail Polish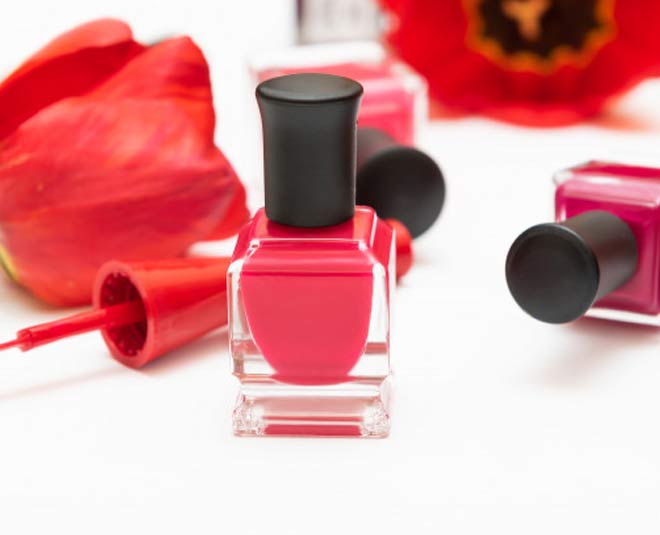 You might find it surprising but it's true! Not washing your hands before applying the nail paint will actually help you make your nail polish last for longer. This is because when you put your nails in water, they expand but when they start to dry, they shrink and this can lead to chipping of your nail paint.
Use A Top Coat
Do you often miss applying a top coat after colouring your nails? Top coat is important if you want your nail colour to look fresh even after a week or so. A top coat always prevents the nail colour from chipping off quickly. Another tip is to reapply the topcoat after every 2-3 days. This keeps the colour intact.
Other than following these tips, make sure you check the ingredients and formula of the nail paints before buying them. This is because many of them have long-wear, no-chip formulas. For more such beauty-related tips, stay tuned!
Did you like this article ?