I am always hunting lip care products. After all, just like our other parts of our face, our lips deserve some attention. This time, I got my hands on this coffee lip balm and scrub from bath element and more. Read on to know if the products worked for me.
Claims
Coffee Lip Balm
A luxurious range with real coffee to give natural tint. Effective way to naturally nourish and moisturise your lips.
Brightens dark lips and keeps them hydrated. A non sticky formula that also fights sun damage
Coffee Lip Scrub
Organic lip scrub that gently exfoliates to give you velvety soft lips. It is perfect to get rid of dark patches It's natural & chemical-free solution for flawless lips, free of dark spots.
Key Ingredients
Rose: Rose extracts and Rose esssential oils
Coffee : Cocoa Seed Butter (Theobroma cacao) and Coffee Seed Extracts (Coffee Arabica) & Coffee Essential Oil
Organic Bees Wax - Organic Beeswax deeply nourishes, rejuvenates and firms the skin.
Shea Butter - Shea butter is an exceptional healing agent for dry and chapped lips. It is supremely rich in fatty acids and antioxidants which help heal the dry lips and make them smooth and plump.
Sunflower Oil - Sunflower seed oil helps skin retain moisture, helps with skin regeneration, contains Vitamins A, B, D and E, and omega 9 fatty acids.
Packaging
The coffee lip balm and lip scrub came in a cute cotton bag. The small plastic tubs have a golden cap with all the product details mentioned.
Don't Miss: Here Is Why You Should Add A Lip Balm To Your Beauty Kit
Price
Coffee Lip Balm - Rs. 250 For 10 Gram
Coffee Lip Scrub - Rs. 150 For 10 Gram
Fragrance/Texture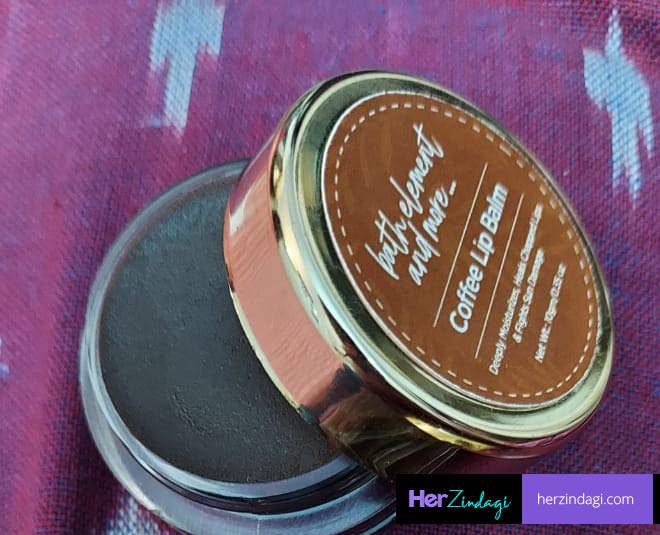 The coffee scrub as the name suggests has a grainy texture for exfoliation. The lip balm has a smooth, creamy consistency. Both the products have a beautiful coffee fragrance.
Don't Miss: Consume These Six Food Items To Get Rid Of Dark Lips
My Experience
I love pampering my lips and always have a lip balm and scrub handy. While I use lip balm several times through the day, I only exfoliate them once or twice a week.
One reason why I absolutely loved the Bath Element and More lip balm and scrub is the fact that they both come in the flavour coffee which is my favourite! If you are a coffee lover, you must try this set for sure.
Also, I am not a fan of tinted lip balms so it worked well for me. The lip balm has no colour. It just leaves behind a natural gloss on the lips. A little quantity of the product is enough and keeps my lips hydrated for a long period of time.
On the other hand, the scrub is so exfoliating yet gentle on my lips. My lips instantly felt a lot more hydrated after one use. I have always used the scrub on bare lips. I use my finger to apply it gently all over the lips and massage it for 1-2 minutes. Believe me, 1-2 minutes are just enough because it isn't too great to overdo it. I usually follow with the lip balm for hydrtaed lips all day.
Pros
Affordable
Handmade
100% organic
Cruelty Free
Nourish lips
Gentle on the lips
Easy application
Soothing coffee flavour
Easy to carry
Cons
None for me
Verdict
This coffee lip balm and lip scrub by Bath Element And More is a must have if you are looking for something affordable and organic. The containers are quite handy and can be carried just anywhere to keep your lips soft and hydrated.
Rating
5/5
For more detailed beauty reviews, stay tuned!