With the pandemic obsessed with making our lives worse, the one thing that we have been obsessed with is natural skincare products! Almost all of us have started to indulge in ingredients that are naturally available in order to make skincare products right at home instead of buying expensive, chemical-borne products from the market!
At times like these, we are sure you need ideas as to which ingredients to use and how! To help you out here, we have come up with ways in which you can use something as simple as dried rose petals to bring about a natural glow and brightness on your skin!
Benefits Of Dried Rose On Skin
Dried roses are said to contain healing properties which make them useful in getting rid of damaged skin and dead skin cells.
Application of dried rose on the skin, in any form help in making the skin smooth and shiny.
The redness caused by sunburns can be effectively treated by using a paste of dried rose on the skin regularly. As it gets rid of the painful redness caused by the heat, it leaves behind a naturally red glow and healthy-looking skin!
It is no secret that a lot of cleansers use dried roses. Roses are said to contain antibacterial compounds. These compounds make the skin healthy and rejuvenate it.
How To Use Dried Roses To Make Different Skincare Products
Rose Face Mask
Image Credit: bettersheabutter
For making the best, creamy and extremely moist face mask using rose petals right at home you will need 2 tablespoons of powdered dried rose petals, 5 tablespoons of milk and 1 tablespoon of honey. Mix these ingredients well to form a thick paste. Now, take the paste and apply some to your hands. If it does not burn then apply it to your face and let it sit for 15-20 minutes. Let it dry and then wash it off with cold water! There you have it, smooth and glowing skin!
Rose Water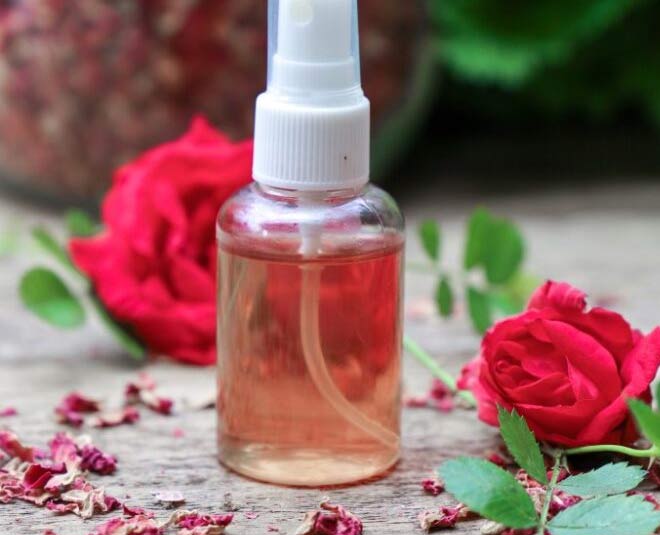 Image Credit: gardentherapy
Rosewater is a skin essential. Be it for cleansing or using as a base for other skincare routines, rose water is like food for the skin! Why rely on the market for such an essential ingredient when you can make it right at home? All you have to do is take a pan, place dried rose petals in it, add water only so they cover the petals, not more than that. Turn on the heat to low and let the water boil. Cover the pan and let the petals face the heat for half an hour. Strain the water and you will see a beautiful rosey liquid is left behind ready to pamper your skin!
Don't Miss- Make Your Own Rose Body Cream
Rose Oil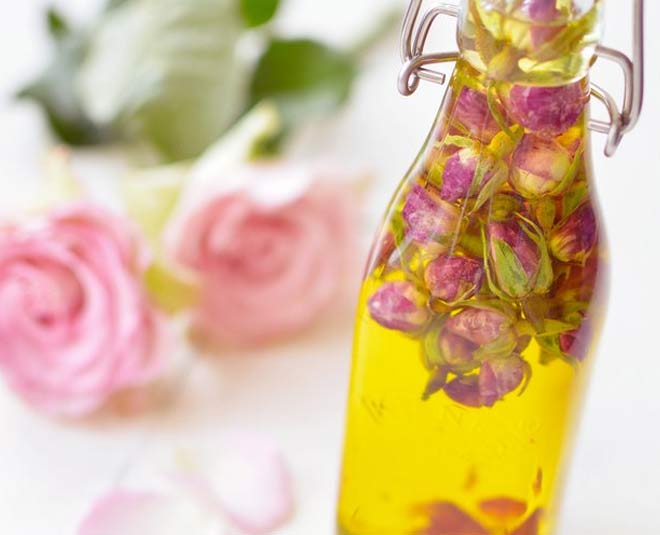 Image Credit: funnyhowflowersdothat
An extremely simple recipe to make rose-infused oil without much of a hassle or ingredients that are difficult to find is to just take a jar, fill it with half a cup of olive oil. Now add ⅓ cup of dried rose petals to it and let this sit for three weeks. After that, take the jar out and strain the oil! Use this on your hands and legs for giving your skin the moisturising goods that it deserves!
Don't Miss- 5 Fruits/Vegetable Powders To Make At Home For Beauty
Dried Rose Bath Bags
To make dried rose bath bags, take a fabric and place one tablespoon of dried rose petals on it. Next, add ½ cup of bath salts of your choice and a few other flowers if you want an extra kick. You can either sew these bags or make a pouch of that fabric containing the rose petals and tie it. Drop these bags in your bathtub right when you are going to take a bath for a refreshing and soothing effect! Your bath will feel like a spa!
We hope you found this article helpful. If you wish to read more such articles, stay tuned to HerZindagi!