Working hard in order to achieve great skin is something we all have to do. Isn't it? But the results are not always satisfactory as compared to those of the usage of natural ingredients. But despite the fact that natural ingredients have a great ability to boost your skin health, they are difficult to use.
So, we thought of telling you how to make fruit powders in order to avoid the hassle while using them for the skin. Take a look at this article and find out everything you need to know.
Beetroot Powder
To make beetroot powder, peel the skin, slice it using a mandolin slicer, and then spread the thin layers over a baking tray. Heat the oven to the lowest temperature setting. Place the tray in an oven and let the slices get dehydrated. After the slices become crispy, put them in a blender and mix them all together. Grind it in a fine powder and then store in moisture-proof air-tight jars. Then with the beetroot powder mix some raw milk, and apply it over the face to replenish its shine and bring back its radiance. Wash the face after the mask dries and towel dry.
Orange Powder
This is another fruit powder known for being great for our skin. To make this you have to dehydrate and reduce the moisture inside the peel to null. So, peel a few oranges and tear the peel into small pieces. Keep them over a large tray and leave them under sunlight for a few days. After the peels have completely dried, then transfer them into the food processor or grinder and make a fine powder. Strain the powder and then make a face mask and apply twice a week for great results. Mix a pinch of turmeric, 1 tablespoon of yogurt, and 21 Teaspoon honey. Apply this paste over your face and then rinse your face thoroughly after 15 minutes.
Strawberry Powder
We'll start with the very basics of making a fruit powder, that is, dehydrating the fruit. In order to make raspberry powder, first of all, place all of the berries on a tray and leave it in direct sunlight for about 3-4 days or instead use a dehydrator to completely get rid of the water content present inside of the berries. Once completely dried, put the dried-up berries in a grinder or powder blender and turn on the machine. Blend the dried berries for about a minute until it achieves that fine powder-like texture. Then, filter the powder using a net filter to get rid of any impurities.
After collecting the powder, leave it aside for a few hours away from any moisture. Now, take some freshly made raspberry powder in a bowl, add some rose water with a teaspoon of honey. Mix the ingredients well together and Bingo! Our homemade raspberry mask is now ready. Clean your face with water and gently dry it up, apply the mask firmly over your face covering each and every part. Leave it on for 15 minutes, then rinse thoroughly. You'll see instant results, the skin on your face will feel more smooth and soft to touch, almost like an instant regeneration of the skin cells around the face.
Don't miss: Want A Pink Glow On Face? Try This Easy Rose Facial Now
Raspberry Powder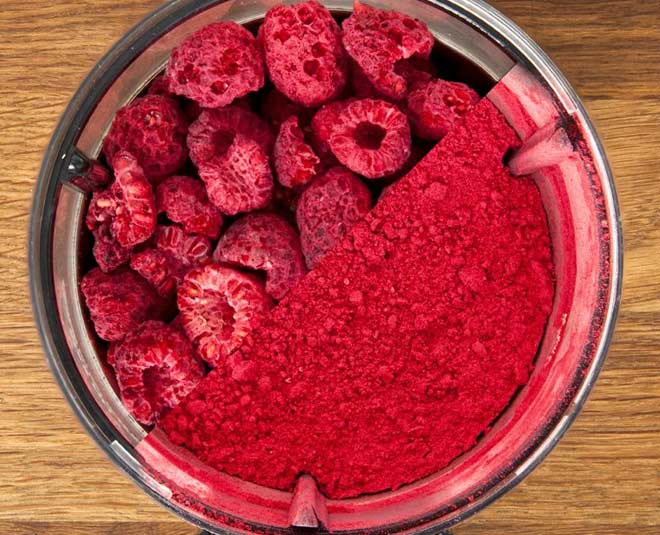 Making strawberry powder at the comfort of your home is an easy task, the process involved in the making of strawberry powder is somewhat similar to the previous ones discussed in this article with a few tweaks. In order to make strawberry powder, we first need to slice open our strawberries in half and place them on a tray.
Drying up the strawberries is challenging because of the high water content in them. So, instead of leaving them in the direct sun for days, We'll simply bake them for about 4 to 5 hours in an oven at 180-220° Celcius. Once the strawberries are completely dry, the next step is simple, just place them in a blender and blend them for a good 2 to 3 minutes until a fine powdery-like texture is attained.
Take out the powder in a bowl and leave it aside for some time. Our strawberry powder is ready, now We'll make some face masks using our freshly prepared homemade strawberry powder with a few variations. In order to do so, take some strawberry powder in a bowl, add some fresh aloe vera gel or banana paste with two tablespoons of rosewater. Mix thoroughly and apply it over your face. Leave it on for 20 minutes then rinse.
A Strawberry face mask is super beneficial for the skin, it will get rid of all impurities and toxins off of your face that your skin absorbs throughout the day and leaves fresh and healthy skin that glows and radiates happiness.
Don't miss: Here Are 5 Ways To Include Blueberry In Your Skincare Routine!
If you liked reading this article then stay tuned to Her Zindagi for more.