We all long for that plush and unfading glow on our faces. But paving a way towards that is surely not so easy. One has to keep a check on one's diet, lifestyle and so many things in order to get a super healthy skin texture. However, it is also true that natural ingredients work best for eliminating the skin problems that we generally face and thus rewarding you with a pink glow and radiant skin.
And if you too want that pinkish tint on your cheeks then rose is the way to go. Rose can be used in a lot of ways to help you get that perfectly desirable skin. Below is a step-by-step DIY Rose Facial guide that will help you in preparing the products at home and will let you know how to do the facial massage.
Rose Face Cleanser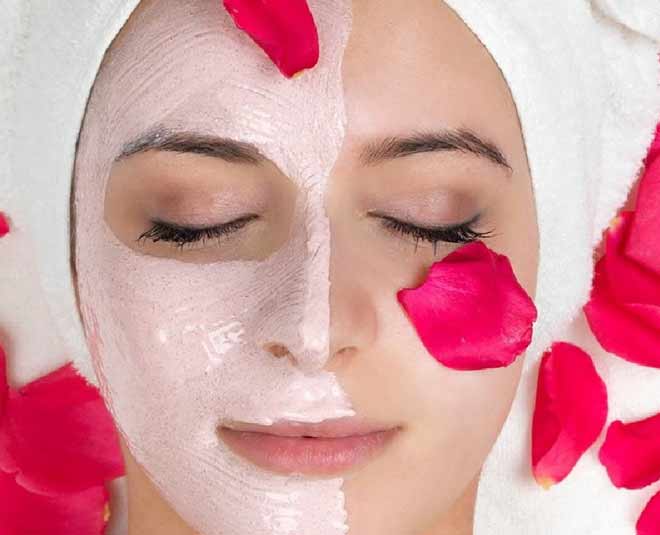 Making the rose face cleanser is easy, all you will need is rose essential oil, yogurt, and a teaspoon of besan. Mix all the ingredients in a bowl and apply the cleanser on your face going in around every corner of your face. Then, gently massage the face with your fingertips for about 10 minutes and rinse the face with water. Your skin will already begin to feel smooth and glowing but this is just the start.
Opening The Pores
The next step is to open the pores so that the dirt and dust that has penetrated the skin, take an exit. Start by filling a facial vapouriser and add 2 drops of rose essential oil to it. Then keep your face in line with the steam and keep turning your head to the sides so that the entire face gets exposed to the steam. After doing this for 5-7 minutes, take a blackhead peeler and run it across your forehead, nose, and chin region as they are most likely to get black and whiteheads after doing this get ready for scrubbing.
DIY Rose Face Scrub
To make a moisturising and super effective face scrub, all you will need to do is mix a tablespoon of rose petal powder with a tablespoon of sugar along with a few drops of rose essential oil and rose water. Get the mixture to a thick yet stick consistency and then start scrubbing your face with it gently. Further, take more water if the scrub starts to dry and keep doing this for about 10 minutes and then wipe your face with a wet wipe and then rinse with cold water.
Rose Gel
You can also use pure aloe vera gel and massage your face very gently to close the pores. Or you can also make a rose gel by boiling a little water, fresh aloe vera gel and rose petals in a pan together. After the ingredients are combined, store them in a refrigerator and use them after 24 hours.
Rose Face Pack
Moving on to the end of the facial, let's learn to make a rose face pack. Just mix rose petal powder, rose water and a teaspoon of raw milk together and apply on your face. Let it stay on till it dries and then finally, rinse the face with cold water.
Don't miss: Check Out How To Make Rose Petal Powder At Home And Some Recipes To Try With It
Rose Face Mist
To complete your facial, remove the pack and then towel dry your face. Boil some rose petals in water, strain, and store in the fridge. Once your facial is complete spray this rose mist onto your face and voila!
Don't miss: Try These Homemade Rose Water Face Packs For Glowing Skin
Try this rose facial and let us know how it worked for you. If you liked reading this article then stay tuned to Her Zindagi for more.