It is very important to take care of your feet as we take care of our face and other body parts. Because our feet bear so much, the entire body weight is always on your feet, and not pampering them wouldn't be fair. Plus pampering your feet also helps you stay away from severe health conditions such as diabetes and heart strokes. That is why you must shower some love upon your feet too.
But if you are worried about how to manage time to go to a salon for the classic pedicure session and get your feet relaxed, then forget all that and pay attention to this easy way of doing a 15 minutes pedicure right at your home. Take a look at the method.
Things You Will Need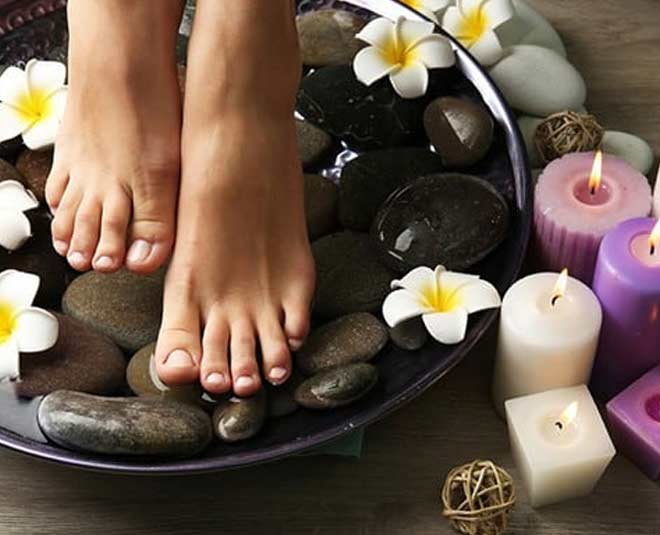 Hot Water
Soap
A Small Towel
Foot Scrub Tool
Foot Scrub (For Application)
Cuticle Trimmer
Nail Filer
Feet Mask
Steps To Follow
Doing this Pedicure is super simple. You start by soaking your feet in hot water (How to perform deep foot cleansing)and soap solution for 2-3 minutes, then towel dries your feet nicely.
After that, move on with The foot scrub tool. Rub it on the dead skin areas of your feet and help in exfoliation for softer and smoother skin and do this for 1 minute.
Next, for further removal of dead skin cells take some foot scrub in your hand with mild to hard particles and rub gently massaging your feet with your hands. Continue to do this for 3-4 minutes and dip your feet back in the water.
Remove the scrub particles with the help of the water and then dry your feet with a towel once again.
Now, it is time to trim your cuticles, so using a cuticle trimmer just go over the edge of each nail and remove the extra dead skin. If you happen to face difficulty while doing this, then apply some oil on your nails quickly and then remove the dead cuticles.
After that wipe off each nail with a wet tissue or towel and then start filling them according to your will. Once your nails are filed you are close to the end of the process.
Just mix some feet maks with rosewater and apply the mask on your feet and legs massage gently for a minute and leave to dry.
Finally, take some more hot water and remove the mask using a foot brush rubbing gently, towel dry, and apply a thick and hydrating foot cream.
Massage with the foot cream and you are done!
Although our process is almost complete, if you wish to apply nail paint you will need extra time for it. Just carefully opt for the colour of your choice and stroke the nail paint on to your nails, let them dry and you are good to go!
This pedicure can help your feet achieve lost lustre and smoothness and can also minimize the efforts from your end. All you have to do is arrange for a few basic items and find 15 minutes hen you can perform this pedicure for your feet.
Don't miss: Your Guide To Keeping Your Feet Soft And Smooth
If you liked reading this article then stay tuned to Her Zindagi for more such pieces.