Vaishno Devi Temple Vaishno Devi is one of the most popular and revered Hindu religious shrines in India. Set in the Trikuta Hills in Jammu, Vaishno Devi is visited by millions of people every year. But it is during the Navratras that many people throng this shrine. It is believed that Mata Vaishno Devi observed a nine-day fast 'Navratra' while praying for the victory of Lord Rama against Ravana. Maa Vaishno is said to be the manifestation of Maa Shakti. People have this belief that Maa Vaishno fulfills every wish that comes from a pure soul and true heart. The temple is situated at an altitude of 5200 feet and you to reach, you need to trek, around 12 km from Katra.
If Travelling For The First Time
1. As you begin your journey from your base camp in Katra, you get an option to take a horse ride up Adhkwari, which is halfway to the temple. Enjoy the views of the valleys around. Vaishno Devi is an altogether different world where it doesn't really get awkward while you are talking to strangers. In a while, you will find yourself chanting "Jai Mata Di" continually. That is the vibe of the place! Especially during Navratras, the entire trek route is beautifully decorated with flowers and you will get the Navratre vibes for real.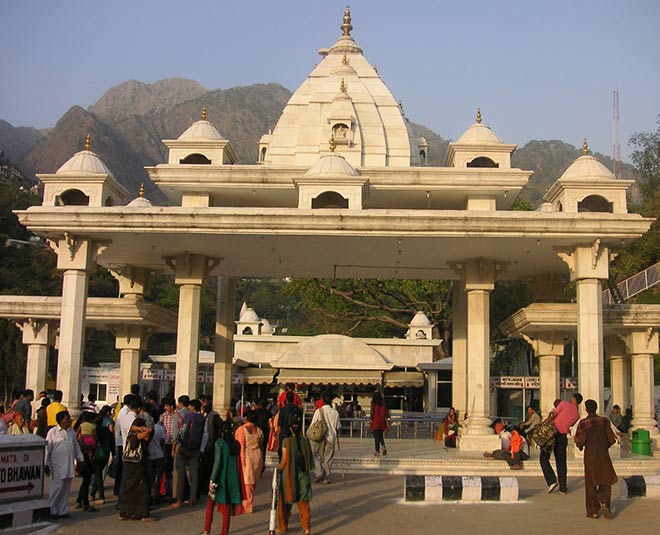 2. You are not allowed to carry cameras, phones, leather goods inside the temple, you need to keep them in the cloakrooms maintained by Vaishno Devi Shrine Board.
3. Navratras are the most crowded days at Vaishno Devi Temple. If you are someone who can't travel in so much rush, don't go during this time.
4. You can't begin your Yatra to Vaishno Devi Temple without your Yatra registration slip, make sure you buy it at the counter at Katra. To save yourself from the long queue, get your registration done online. Keep the slip safe with you till you complete your journey.
5. Battery operated rickshaws are available for senior citizens during daytime for their Darshan. Helicopter service is also available but make sure you get your tickets booked way before because it is not easy to get these tickets.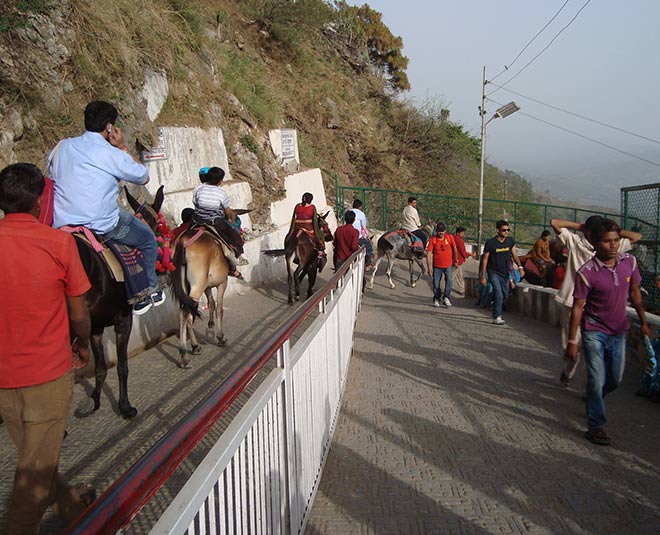 6. There are accommodation options available at the Bhawan (main shrine). However, they are mostly full. Make your reservations beforehand to save yourself from last minute bookings.
READ MORE: Do You Know Travelling Has These Health Benefits?
Interesting Facts You May Not Know
Ardhkuwari, which is the midpoint to the main shrine has a cave where Vaishno Devi hid from Bhairo Nath for 9 months. It is believed that Maa Vaishno hid here in a way she was as an unborn child in her mother's womb. This cave is called Garbhjun and through the years, it has been believed that women who enter this cave never face any problems during childbirth.
Maa Vaishno Devi Temple is considered so revered that late Sikh Guru, Guru Gobind Singh himself once visited Vaishno Devi temple.
Visiting the temple during Navratras is considered really auspicious as people that Maa Vaishno Devi is actually present there to witness all the devotees and bless them. It is because Maa Vaishno also kept a nine-day fast for Lord Ram.
It is believed that pilgrims who don't visit Lord Bhairo Nath's temple, which is set a few kms above Vaishno Temple will not get her blessings and their yatra will be considered incomplete.
If you are planning to visit Vaishno Devi Temple this Navratra then make sure you get all your bookings done beforehand. Also, be prepared to face a lot of crowd at the shrine as it is the peak season to visit Vaishno Devi. Vaishno Devi Temple is well connected to different cities of India via air, rail, and road.
There are a lot of stories related to Mata Vaishno Devi Temple that we have been hearing for years but out of all the legend of Pandit Sridhar is very popular. Sridhar was the one who found the way to this temple and he had dreams of Maa Vaishno guiding him to reach the temple whenever he lost his way.