If you are someone who loves scrolling through the videos on various social media platforms, then you must be aware of all the young influencers ruling the internet today. However, it seldom happens when you see a senior person taking up a phone and recording his/her videos. Moreover, in our society, there is a certain stereotype image that is attached to our elders, especially with the ladies of the house. It also happens quite often, when people also give up on their dreams and lose the enthusiasm to live life after they turn 40. But here's a video of a 76-year-old woman whose Instagram username goes by @mr._and_mrs._verma and is winning the hearts of everyone.
Fan Following
The Instagram handle with the name @mr._and_mrs._verma has more than 3k followers on their page and has already posted more than 55 posts. Going by their pictures and videos it is quite evident that the couple loves to upload quirky videos in which they slay by donning some stunning outfits and grove to the peppy songs.
Breaking The Stereotype
If you'll look closely at this page you would stumble upon some surprising and highly inspirational videos and pictures. In some posts, you can even see Mrs. Verma lifting a heavy dumbbell that can make the youngsters run to the gym. She also loves posting about fashion videos in which the 76-year-old is giving some fashion tips to the viewers about how to wear your denim correctly or rock your Saree look.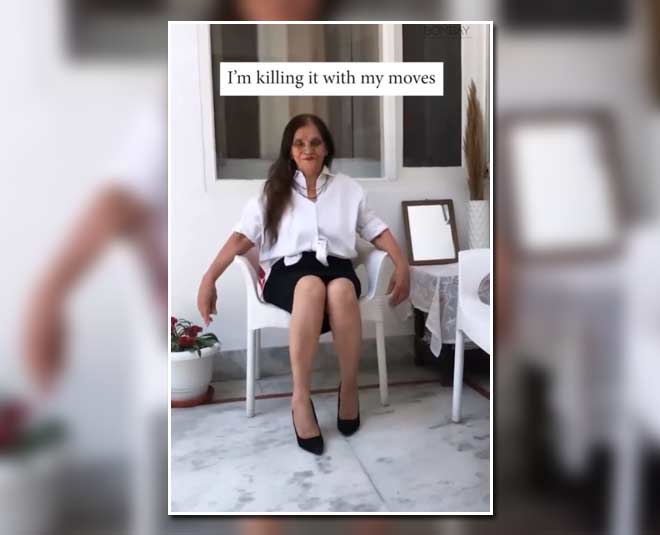 In a recent video of @mr._and_mrs._verma, it can truly be depicted that it's never too late to become who you want to be. This also is the theme of their viral video, wherein the screen opens with Mrs. Verma worshipping in a saree, and then the video cuts into a transition showing her slaying in a short skirt, and rocking the formal look like a queen.
Don't miss: If A Man Wants To Be A Queen, Let Him Be One!
See the video here:
View this post on Instagram
Mrs. Verma is an inspiration for the younger generations who give up on life too quickly, and lose the motivation to become who they always wanted to be. Here's what the virtual world has to say about their viral video.
Don't miss: Netizens Go Gaga Over Viral Video With Old Granny Bowling
Audience Reaction On Viral Video
The comment section of @ mr._and_mrs._verma is flooded with many positive responses and is mainly applauded by teenagers and youngsters.
"See, I told you. Age is just a number. She is really inspiring, I feel like starting my own channel now which I always wanted to do," wrote one user.
"She is the coolest granny and influencer I have ever come across in my life. You go girl," commented another user.
Let us know what you think about the coolest influencer on the internet today. Stay tuned to Herzindagi for more such stories.