During this scorching heat, air coolers are our real saviours. We can't really imagine our day without them, especially now when the temperature is rising like anything.
There is nothing more satisfying than sitting in front of an air cooler on a hot summer day and sip on our favourite cold beverage. Agree?
However, there are days when our air cooler stops to cool our room the way it usually does. Why? That's an alarm that your air cooler needs some cleaning or servicing. During this pandemic, you might not feel safe to ask a professional to service or clean your air cooler.
No worries! You can clean your air cooler at home too. Here, we thought of bringing you a quick guide that will help you clean your air cooler on your own at home.
Step 1: Remove The Panel/Cooling Pads
Firstly, remove the panel or cooling pads of your air cooler. Make sure the cooler is off. Clogged cooling pads can be one reason why your air cooler is not functioning properly so take them to the washing area for thorough cleaning.
Step 2: Clean Cooling Pads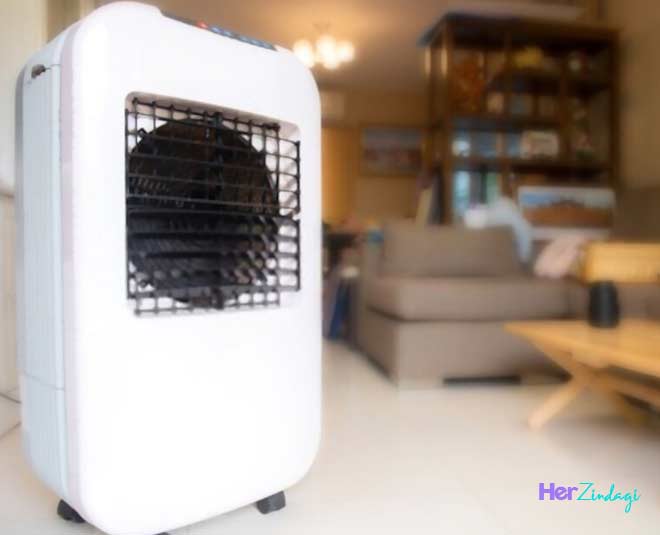 With time, dust and dirt start to accumulate on the surface of the cooling pads which directly affects the airflow. The air cooler doesn't function properly and there is also an increase in the power consumption.
Place the cooling pads under running water or use a pipe to clean them properly. You can use a water pipe. Make sure you clean every corner of the cooling pads. Use some dish soap and a sponge to clean the cooling pads. Gently scrub the sponge over the cooling pads.
Don't Miss: Clogged Shower Head? Fix It Using These Simple Cleaning Hacks
Step 3: Drain The Water And Clean
Drain the water from the tank and properly clean the water tank using warm water and some soap. Clean the inner walls of the air cooler properly and then rinse with clean water.
Step 4: Wipe The Interiors With A Wet Cloth
Next, it is time to clean the interiors and exteriors of the air cooler with a wet cloth. Not just the interiors, if there are any dirt or dust particles on the outside of the air cooler, they can affect the air cooling. Clean every corner properly.
Don't Miss: Here Are Some Cleaning Hacks That Don't Actually Work
Step 5: Reassemble All The Parts
Now that you have washed the cooling pads and the interiors of the air cooler, time to fill in the water in the tank and place back the cooling pads. After reassembling the cooler, the air cooler is ready to use!
Tips To Keep In Mind
Most people think air cooler doesn't need enough maintenance but they do. If not regular cleaned, the dirt that keep accumulating on the pump or cooling pads can affect its performance. Regularly dusting and cleaning can help you ensure good cooling.
Cooling pads need to be cleaned once a month or as per everyday usage. The cooling pads soak up moisture from the surroundings and then cool the air that passed through them. If you want good cooling at your home, you need to clean these pads once a month.
Though these tips will help you clean your air cooler properly and improve its functioning if you still see any issues in the cooling after it, connect with a professional and get it serviced.
For more such cleaning tips, stay tuned!
Did you like this article ?