We all want a home where everything looks tidy and organised. After all, it is one of the significant factors to mental stability. A well-organised home helps the residents to do their tasks in a hassle-free manner. But there are often times when things seem to be going out of hands due to the mess.
This especially happens with big goods that don't seem to fit anywhere. We are talking about luggage and trolley bags that appear odd in a house where all the other things seem to have their fixed spot. If you are also struggling with something like this, these tips will change your life. Check it out!
Invest In Suitcase Storage
If you can't find a suitable spot for those bulky bags and suitcases, it is time that you create one. Suitcase storage is amazing to store all those travel bags. It looks chic and can be kept anywhere, even in your living room. Many come with different compartments or sections, wherein you can store the different size of bags. You won't even have to worry about your expensive luggage becoming dirty with dust, as the suitcase storage will shield them from anything and everything!
Style As Your Home Décor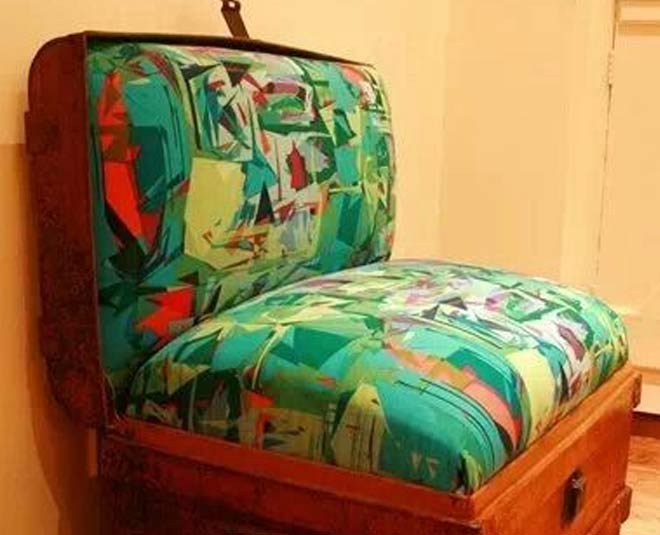 This hack is mainly for those vintage pieces that look amazing but is no more cool to travel with. Given their beauty, we don't feel like discarding them, so use them as a stunning home décor item. You can either use a suitcase a simple side table, centre table or a sofa. Take cues from the photo, a wooden trunk has been used to create a seating just by adding cushions and a piece of solid colour fabric. Not only it looks great but also enhances the beauty of the house.
Hang & Hide
None of us wants those bags and trolley to really show in a well-decorated house. In order to save space and to keep your guests from looking at those suitcases, hand them with hooks on the wall and then hide them behind a curtain. Try this hack on a wall that you use really less. This hack is great for small apartments, wherein you struggle with space.
Place Under The Bed
Placing your luggage and suitcases is one of the best things to do with them when you don't need them. Not only you save a lot of space in your house, but you also utilise a place that probably has no use. However, either keep them on a slider table under the bed (bedroom decor) or at some platform, because you don't want your floor or the bags to get ruined with constant to and fro. Also, make sure that you clean the area under the bed almost daily to keep your bags in the best appearance.
Don't Miss: Here's Why Working In Bed Is Bad While Working From Home During Coronavirus Outbreak
Use The Upper Shelf Of Closet
Many of us hardly use the upper shelf of the closet on a daily basis. The same goes with the suitcases, if you don't travel that often, you hardly need them, that's why that upper closet is a great place for keeping the bags and suitcases. It will only be a day struggle to place them up there, but once you do it, you'll feel much sorted and relaxed!
Don't Miss: Diwali Special: 10 Budget-Friendly Home Decor Ideas
If you liked this article, do comment on our Facebook page. Stay tuned to HerZindagi to read more such stories.
Image Courtesy: Freepik, Pinterest