Holi 2022: Know About The Shubh Muhurat, Auspicious Date & Time And The Significance Of The Day
The festival of colours is celebrated with great enthusiasm all over the country. Let us know when will it be celebrated this year.
Holi is one of the major festivals in India. According to the Hindu calendar, Holika Dahan is done a day before the Holi which is the full moon day. Holika Mata is worshipped with all the rituals and on this day, people enact Holika burning to ashes in order to mark the victory of good over evil. It is said that this will bring peace to the house. The practice of Holika Dahan has been going on since ancient times.
The festival of Holi is celebrated every year on the full moon day of the month of Falgun. The next day people play with colours and water. Let us know from Life Coach and Astrologer Sheetal Shaparia when the festival of Holi be celebrated this year, the date of Holika Dahan and the correct method of worship.
Holika Dahan 2022 Auspicious Date & Time
Holika Dahan 2022 date – 17 March 2022, Thursday
Holika Dahan Shubh Muhurat – The auspicious time of Holika Dahan will be between 9:20 pm to 10:31 pm on 17th March.
The duration of Holika Dahan is about 1 hour and 10 minutes. During this time, worship of Holika will be beneficial.
Holi 2022 date – Holi will be played on the next day of Holika Dahan i.e. 18th march, Friday.
Holika Dahan Puja Method
Astrologer Sheetal Shaparia tells us that the preparations of Holika Dahan start in advance. It is believed that during the worship of Holika Dahan, people pray to burn all the evil forces of the house in the fire of Holika.
According to the scriptures, take a bath before Holika Dahan.
Then, take a seat at the place of Holika. Make sure you are facing towards east or north.
Then, make idols of Holika and Prahlad from cow dung.
You should take garlands, roli, incense, flowers, cotton, jaggery, turmeric, moong, batashe, gulal, coconut, five or seven types of grains, wheat and other crops as offerings.
Apart from this, worship Lord Narasimha and take seven rounds of the fire.
While making the rounds, pray for the welfare of your family.
Importance Of Holika Dahan
It is believed that the wood put in the fire of Holika contains all the three characteristics of Yagya, 'Matter, Devta and Renunciation'. Holika's fire is considered to be extremely sacred and if you pray for the fulfillment of desires while making the rounds of the fire, all your desires will be fulfilled.
In the fire of Holika, you should sacrifice ego, ignorance and misdeeds and move on the path of righteousness. Along with this, you should worship the lord just like Prahalad.
Don't Miss:From 'Phoolon Wali Holi' In Vrindavan To 'Shigmotsav Holi Celebration' In Goa, 6 Places To Celebrate Holi In A Special Way
Legend Of Holika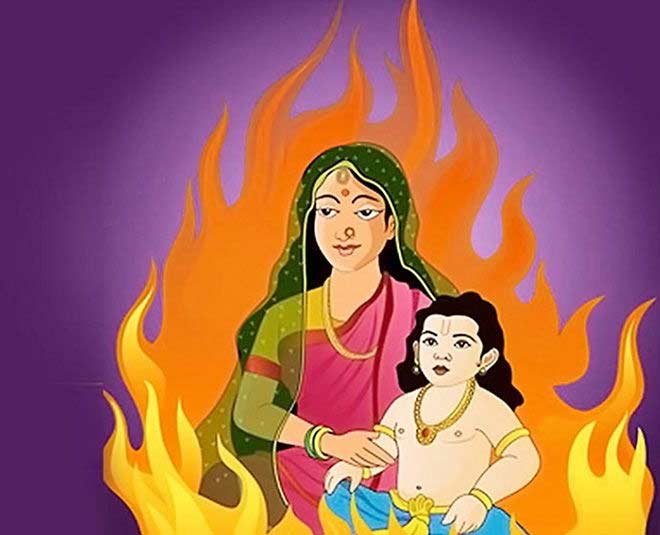 The story of Holika is mainly associated with the Narsimha avatar of Lord Vishnu and the devotee Prahalad. According to its legend, Prahalad, a devotee of Vishnu was born in an Asura family but he was the son of Lord Vishnu. He was a great devotee of his father. Hiranyakashyap did not like his devotion to god. However, Prahlad used to be absorbed in devotion without worrying about anything else.
Hiranyakashyap didn't like this and tortured Prahalad in many ways. He tried to kill Prahalad several times but always failed due to the influence of Lord Vishnu. Then, Hiranyakashyap talked to his sister Holika. Holika had a boon that she couldn't burn in fire. Holika had a garment that couldn't burn in fire. Holika wore the garment and sat in the fire along with Prahalad.
As a result of Prahalad's devotion to Lord Vishnu, Prahalad was safe and Holika was burnt to ashes. Keeping this story in mind, the practice of Holika Dahan started and it is going on till now. The next day, Holi is played with colours.
Don't Miss:Know About The Legends Associated With Holi
Why Do People Play With Colours On The Day Of Holi
There are many stories associated with the festival of Holi. You just read about one such story. However, there is another story associated with Holi. It is believed that Lord Krishna went to Radha's village Barsane and played Holi with Radha and all the gopis. The next day people of Barsane celebrate Holi in Nandgaon. Due to this tradition, people of Barsane and Nandgaon still play Lathmar Holi along with the Holi of colours.
Actually, Holi is the festival to shower love on each other and it creates strong bonds between people.
For more such stories, stay tuned to HerZindagi!