Hariyali Teej is one of the biggest celebrations in India. This year, the festival will fall on 11th August 2021. The monsoon festival is widely celebrated all over India, especially in the North Indian states like Punjab, Madhya Pradesh, Bihar, Jharkhand, Uttar Pradesh, Rajasthan.
For those who don't know, Hariyali Teej is celebrated on the 3rd day of the Shukla Paksha (fortnight of the moon) of the Shravan month (Sawan Month) according to the Hindu calendar.
Why Is Hariyali Teej Celebrated?
Hariyali Teej falls during the time when monsoons take over India, surroundings are covered with lush greens. This is also one reason why the festival is called Hariyali Teej (Green Teej). For married women, this festival holds a lot of importance.
The festival is dedicated to Goddess Parvati and Lord Shiva. It is believed that on this day Lord Shiva accepted Goddess Parvati as his wife. Goddess Parvati is thus also known as 'Teej Mata'.
The festival celebrates the beautiful bond of marriage. A woman who celebrates Hariyali Teej is believed to remove any negativity around her husband. It is believed that women who fast on this day are able to achieve a stronger relationship with their husbands.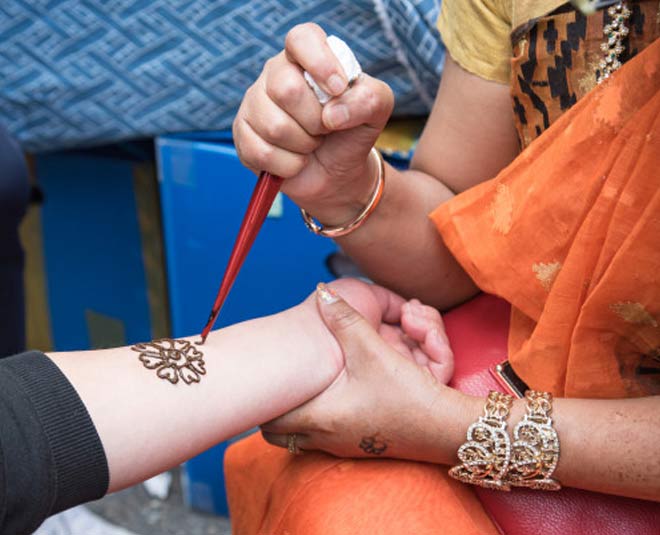 On this day, married women dress in traditional clothing, wear henna, bangles and prepare delicacies at home. Many women fast for their husbands on this day just like they do on Karwa Chauth. They keep 'Nirjala Vrat' where they do not eat or drink anything all day till they see the moon. The celebrations are incomplete without some dancing and singing on the occasion of this festival. Religious songs are played in all temples. Devotees are also showered with water on this day along with flowers to mark the monsoons.
'Jhullan Leela' or swinging on flower-laden swings is enjoyed by all women on this day. However, due to the pandemic, you might not find them in temples this year.
Henna application too is a significant part of the celebrations. The festival is incomplete without this ritual. It is believed that the darker the colour of henna on the hand of the woman, the more she is loved by her husband.
Bringing new plants at home on this occasion is believed to be auspicious. Worshipping old trees (Bargad, Peepal) on this day is considered good too according to Astrologer Sonia Malik.
Don't Miss: These Shiva Mantras Will Help You Seek Blessings Of Lord Shiva
Hariyali Teej Puja Timings
According to Drikpanchang.com, Hariyali Teej 2021 tithi will begin at 06:05 in the morning and end at 04:53 pm.
Hariyali Teej Puja Vidhi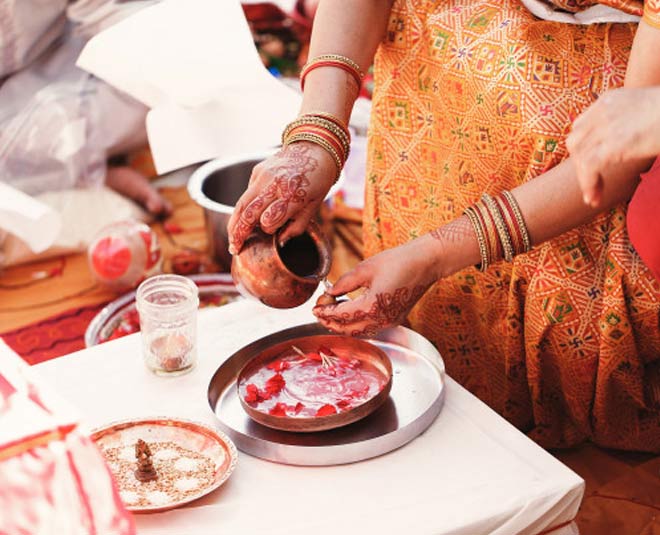 Astrologer Sonia Malik shared that on the occasion of Hariyali Teej women should wake up early in the morning and begin the puja only after taking a bath. Women who are fasting this day should wear new clothes if possible.
Don't Miss: Reading 108 Shlokas Of Vishnu Sahasranamam Can Benefit Us In Many Ways
Women can visit a temple and worship Lord Shiva and Goddess Parvati or can do puja at home. Pray to Lord Shiva and Goddess Parvati for your relationship and health. Also, vow to fast all long day till you see the moon in the evening. Make sure you do '16 shringaar' on this day, it is believed to be auspicious.
You can prepare sweet at home and offer it as bhog to Lord Shiva and Goddess Parvati.
This year again due to the pandemic, the celebrations might be at home but you can make the most of the festival by planning everything in advance.
Tell us how will you be celebrating Hariyali Teej this year on our Facebook page. For more such stories, stay tuned!