His work is nothing short of a masterpiece every time he churns out an ensemble. Entire Bollywood is his fan and the brides of Bollywood are living proof. His jewellery collection is to die for, the sarees he posts on his Instagram and the blouses they are teamed with is like art in every frame. He works hard, his team works hard, ace Fashion Designer Sabyasachi Mukherjee is someone India is very proud of. On his birthday, Feb 23rd, we bring to you a sneak peek to his abode in Kolkata which is beauty in every frame. Elegance & taste is a gift not all are blessed with but this home says it all. With every corner Instagrammable, every picture worth framing, you can even take some inspiration for your own home.
Giving full credit to the website Architectural Digest for images, let's take a walk through those rooms, grazing the walls and feast your eyes to what's coming next.
Sabyasachi told the website: "I've been living in a shoebox of a studio apartment for the last few years." This he said when he had just shifted into this new 7,250-square-foot mansion that has been configured for just A Single Man. Interestingly all the guest bedrooms having been converted into a shoe-room, walk-in closets, and a gorgeous bathroom with a chandelier as large as the tub.
"This house is going to change the way I live and, more importantly, change the way I work. Maybe I'll become an interior designer, or maybe I'll extend into homeware, furniture, antiques, maybe even a hotel," he added.
The breakfast room in the house has a crockery cabinet and some pieces which Sabya collected while travelling. The room also has an unused old samovar and a lot of pottery sprinkled all over the house.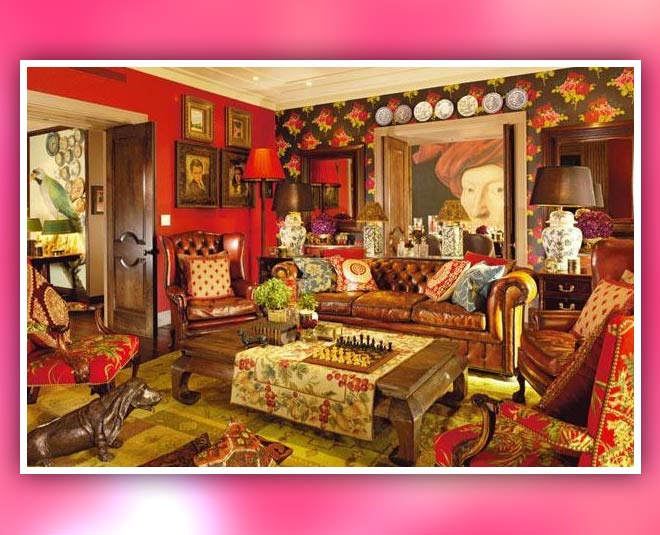 The living room has chesterfields which have been custom-made by Sonal Dhingra, with leather sourced from the Sabyasachi accessory department. According to the info shared by the website, the cushion upholstery is an amalgamation of antique textiles from the south of France, old Phulkari work and rare Swat valley textiles from Afghanistan.
Talking about the grand interiors of the house, Sabya shared: "Though I am a minimalist at heart, my outward physical manifestation is that of a maximalist. One has seen proof enough in all my retail stores. The trick to doing beautiful cluttered homes lies in the art of clever layering—and also stocking up on art, antiques, bric-a-brac, textiles, furniture, and kooky curios that can be gloriously assembled."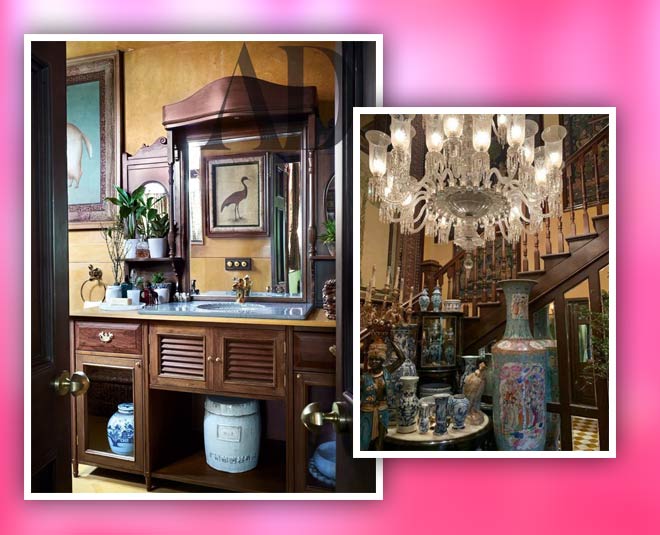 So we start with the entrance lobby which features a staircase made of Burma Teak with runners from Turkish and Afghan and Pichhwai paintings. The floors are made of yellow stone from Jaisalmer. His breakfast room has muslin-shaded lamps and plants and interestingly the jutting out water pipes have been painted to look like trunks of palm trees. Those palm trees add to the wall paintings with a theme of flora.
Don't Miss: This Wedding Season, Take Inspo From Sabyasachi Mukhjerjee's Black, White, Offbeat Bridal Lehengas
Up next, is the Portuguese style mirror which dominated the space of one of the walls around the living room. The pelmets are wooden and have antiques placed on top that have been collected by the designer over the years from different trips. The jars you see are Chinese & Dutch.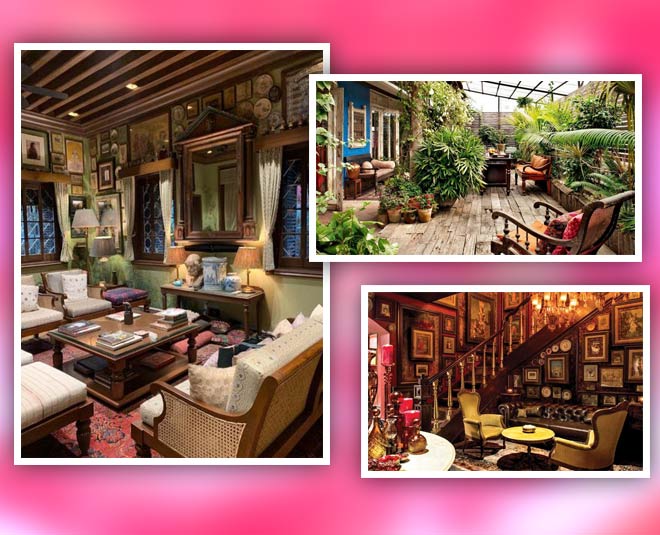 "Being an antique and textile enthusiast, I wanted a crammed living room. The process started with choosing the right colour for the walls. The living room opens out to a lush tropical garden and it was important for me to get the outdoors inside. So the colour of choice was a vintage jade green. The walls were first washed in rose-pink, then layered with turquoise, washed out and layered once again with a moss green to give an old fresco feeling."
His living room walls are a vintage jade green hue which matches the garden outside. The walls have been hand-painted by Forty-three artists from the Sabyasachi Art Foundation. The wall is an inspiration from the works of French artist Henri Rousseau.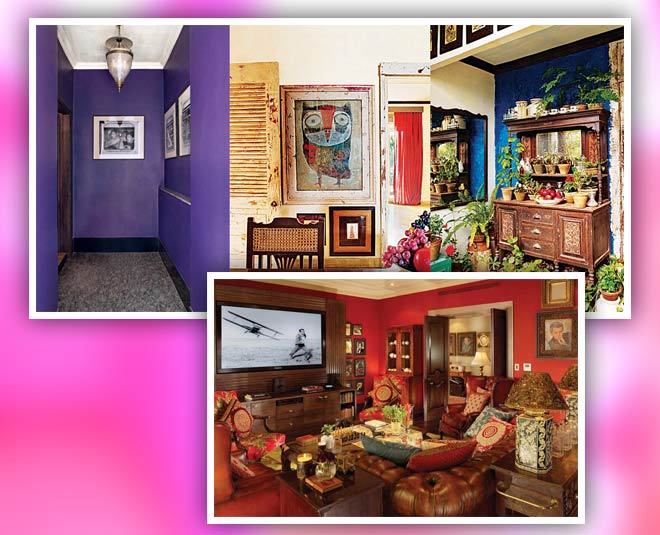 View this post on Instagram
A four-poster bed dominates the bedroom which has a rattan trunk at the foot of the bed and an antique rug. The curtains are block printed and the entire room exudes an old-world charm.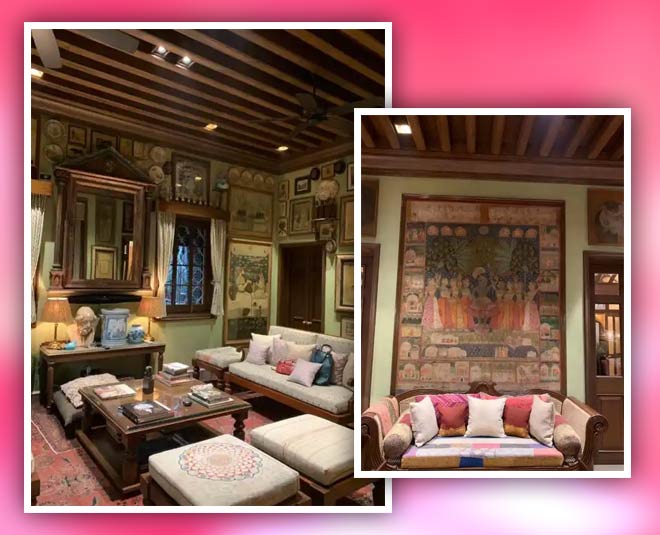 His garden has 4,000 plants which consists of banana trees, a thick-trunked palm and Kafir lime trees. "For an introverted recluse like me, a tropical garden is the perfect getaway," said Sabyasachi.