From a black velvet lehenga to a pristine white or green, Sabyasachi Mukherjee breaks norms with offbeat hued bridal lehengas. Take inspiration from these beautiful weaves this upcoming wedding season and slay!
Ace designer Sabyasachi Mukherjee is the best when it comes to bridalwear. His jewellery collection is epic, his shoe & purse collection in collaboration with French designer Christian Louboutin is classy and he has even ventured into home decor. This time with the wedding season coming up soon, how about taking inspo from the latest collection. All pictures have been taken from Sabyasachi's official Instagram accounts.
Pink Lehenga
This is a part of The New Collection from Sabya's winter wardrobe. The colour is beautiful and not so jarring either. It is not just the lehenga but the jewellery as well which belongs to Sabyasachi's Heritage Jewellery collection. Location courtesy: City Palace, Karauli @karaulipalace
Ferozy Hues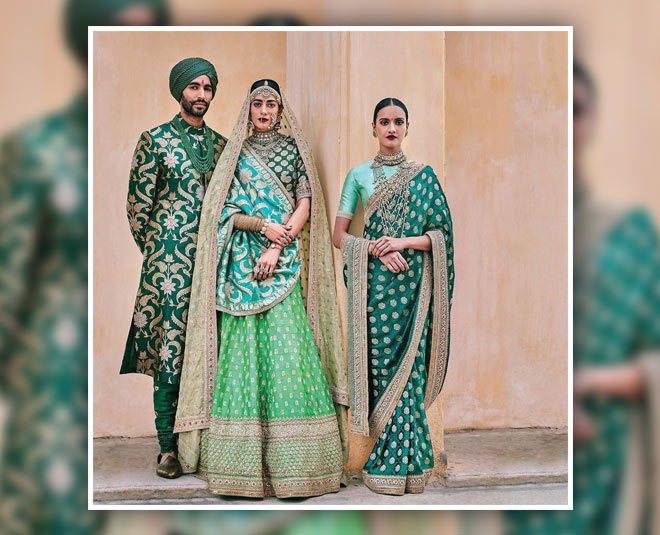 A part of his Reviving Benaras collection, Sabyasachi shared this lehenga, saree and sherwani picture in ferozy and sea green with the tag "Celebrating 20 years". The jewellery here as well belongs to the designer's heritage collection. The buttis that we see make the lehenga look really beautiful since the colour itself is so royal and different.
Don't Miss: From Zari To Velvet This Sabyasachi's Bridal Blouse Collection Has Something For Every Bride
Peachish-Off-White
Here the bride is Dr. Supria Batra in Sabyasachi for her wedding in Pittsburgh, Pennsylvania. Pristine with the red choora, this coloured lehenga would look great if you want to go totally unique. If it is an inter-religion wedding with a Christian bride or groom then too this would make for a beautiful bridal lehenga.
Deep Maroon
Sabyasachi shared this picture with the caption: "Bride Shobhana Biswas @shobhana.biswas90 in Sabyasachi for her wedding in Jaipur, Rajasthan." This is a typical bridal lehenga teamed with a Sabyasachi blouse design, which may not be so unique but I had to share this beautiful lehenga in velvet, apt for winter weddings.
Black Base Floral Lehenga
A completely different lehenga definitely, this ensemble looks spectacular and totally offbeat not just because the base is black but we rarely see so much of colourful floral work on bridal lehengas. They are more of gotta patti and embellishments. Sabya shared this look with the caption: "Bride Poonam Gala @poonamgala in Sabyasachi for her wedding in Mumbai, Maharashtra." It is a part of the designer's winter bridal collection.
Deep Red Lehenga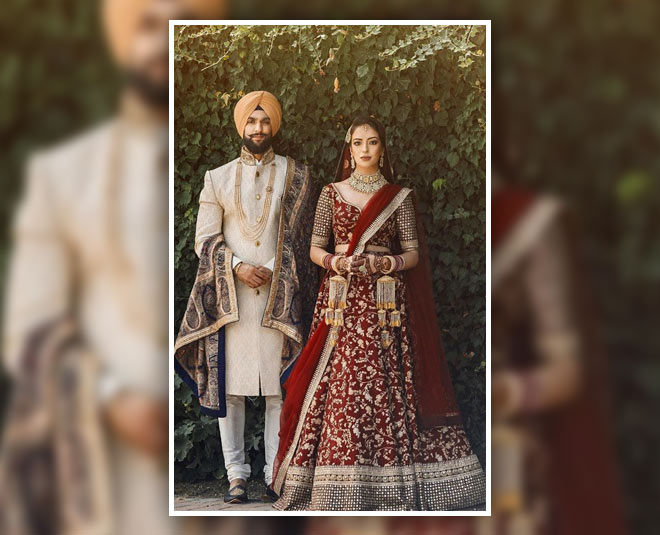 "Bride Harpreet Dhesi @harpreetdhesi_ in Sabyasachi for her wedding in Essex, United Kingdom," wrote Sabya on his Instagram. With the bride in traditional red and groom in cream and blue, the couple looks so good in contrast.
Green Lehengas
With the first one on the left being "Bride Azal Khan @azalkhan_ and her mother in Sabyasachi for her wedding in Sydney, Australia @sydney @australia", the bride on the right is "Natasha Sarin @natoosh32 and groom Vladimir Mukharlyamov in Sabyasachi for their wedding in Washington D.C, U.S.A.". Now this colour is what took my breath away and the work is of course exquisite. Totally offbeat, uncommon a colour, if you are getting married in the winter season then these lehengas could totally steal the thunder on your wedding day.
Stay tuned to Her Zindagi for more such articles.