Dussehra is around the corner and all we can think of is how badly we need the day ro encourage everyone that good will win over evil so keep calm and be patient. This pandemic has changed lives and had a negative impact on all of us be it emotional or in terms of livelihoods. So come together and encourage all your near and dear ones with these messages and quotes or post them on your Facebook.
Let your anger and burn away today, just like the effigy of Ravana. Have an amazing Dussehra!
It's time to commemorate the victory of good over the evil. Let's walk ahead in life with the same spirit. Happy Dussehra 2020!
May Maa Durga remove all the evils from your life. We wish you and your loved ones a very happy Dussehra.
"Don't kill, but conquer the Ravana in you."- Vikrmn, Corpkshetra
"There is no denying that there is evil in this world but the light will always conquer the darkness."- Idowu Koyenikan
"This is a Time of Celebration. This is the time for Victory of GOOD. This is the Time world sees the power of Good energy. Let us all continue the same True Spirit in ourselves. Wish you a very happy Dussehra! "
Let's make this day all the more special by removing all negativity from our lives. Happy Dussehra!
Wish this festival of Dussehra brings devotion, dedication and determination in your life.
"Rupam dehi, jayam dehi, yasho dehi, dviso jahi! May 'Maa Durga' grant you with inner beauty, victory over your evil self, glory to your name and may she destroy your enemies. On this occasion, I wish you and your family a very Vijayadashami and Dussehra!"
Every Dussehra we are taught that light always prevails. So, let's follow this rule and enjoy the festivities. Sending best wishes to you and your family.
"As birds are made to fly and rivers to run, the soul is to follow duty. Happy Dussehra!"
Let's begin a new life by triumphing over our eternal enemies. We shall now take an oath to give a new dimension to our life on this day. Wishing you a very happy Dussehra!
Don't Miss: Know How Dussehra Is Marked In Different Indian States
On the auspicious occasion of Vijayadashami, here's sending my best wishes to you and your family. Happy Vijayadashami. Stay blessed, healthy and happy!
May this auspicious festival brighten up your future and may you have an awesome life ahead. Happy Dussehra!
\
Open the doors and welcome all positivity into your home. It's Dussehra! Have a blessed one!
Don't Miss: Dussehra 2020: Puja Timings, Right Mantras, The Perfect Prasad, All You Need To Know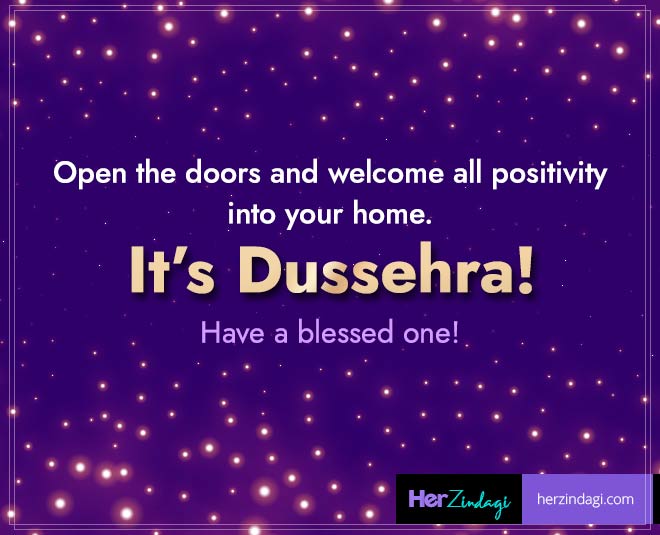 Don't kill but conquer the Ravana in you.
Ram-fication of Ravan-outs thoughts is what Dussehra is all about."
Everyday the sun rises to give us a message that darkness will not always stay forever. It will be beaten by light. Let us follow the same rule and enjoy the festival of 'good defeats evil'.
Wish your loved ones a very Happy Dussehra and may we come over the pandemic soon so that our lives can get back to normal.
Stay tuned to HerZindagi for more on the festive season.