Who would have thought that our favourite Indian food will be presented someday on an international platform? Well, this time it did, and all thanks to Australia's Masterchef contestant Depinder Chibber, who was born in New Delhi, India but later moved to Newcastle at the age of 11. It is said that "You can take an Indian out of India, but can never take India out of their hearts". And Dipender Chibber, who is now based in Sydney with her husband, is a perfect example of this saying.
Journey Of MasterChef Australia Contestant Depinder Chhibber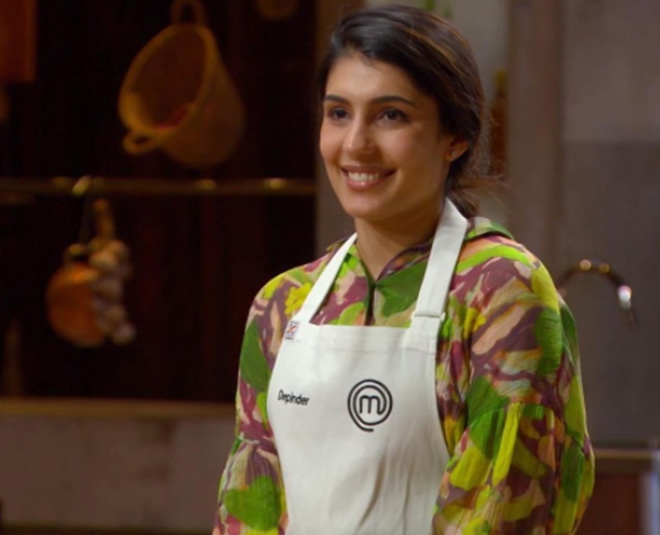 The 29-year-old pharmacist, Dipender Chibber entered the 13thseason of the MasterChef Australia and won the hearts of the judges with her signature dish. Dipender started her journey on the show by making Rajasthani dessert, ghevar, and twisting it with adding carrot sorbet. The complex yet delicious dish not only impressed the judges but also made her win the white apron. When Depinder was about choosing an Indian dessert as an opening dish she said, "Given that they (desserts) are not the best representation of Indian cuisine. But I figured ghevar is different, and I added my twist, so it paid off!" Dipender told.
Dipender Chhiber's Viral Green Curry Cake
The Indian origin chef, Dipender had recently broke the internet with her unique green curry cake. The unusual dish left the judges stunned, and also garnered her much praises from the netizens. A video of Dipender's Green Curry Cake with White Chocolate Chilli Ganache, Coconut Ice Cream, and a Coconut Crumb is going viral on the internet.
The Official Account of Masterchef Australia shared a video along with a caption that stated, "Depinder's Green Curry Cake," the caption further mentioned, "Remember this moment, because Green Curry cake is now a thing!" it added.
View this post on Instagram
Later, the MasterChef contestant Depinder herself shared a post on her Instagram page showcasing the picture of her dish along with a caption, " For those who are wondering what this tastes like, honestly it's WILD. I never thought something like a Thai curry which is so savoury could ever taste like a dessert, and even @andyallencooks liked it so hey! Can't wait for you all to try this at home," she wrote.
Don't miss: Inside The World Of Sobia: The "Phenomenal" Model India Is Talking About
Dishes That Won The Hearts Of Judges
The Chicken Biryani
View this post on Instagram
Dipender had made the divine Chicken Biryani on the show that left the judges speechless. She decorated and served the dish along with some green chutney and onion rings. Dipender also posted a video on her page, where she can be seen sharing some cooking tips with her followers.
Don't miss: Leaving Her Job Behind Shagun Singh -Founder Of Geeli Mitti, Started Making Mud Houses For A Living
Onion Pakodas
View this post on Instagram
Yes, you read that right! Our favourite tea-time snack also made its entry to Australia's MasterChef show. Dipender made the onion pakoras and served it along with her south Indian chicken curry.
The Indian Tiffin Box
View this post on Instagram
Dipender's Indian-style tiffin box made the MasterChef judges ask her to open a restaurant and make similar food. The judges even requested the Indian contestant if they can come to her house? Dipender's bento box included Chhole Sabzi, Gobhi Paratha, Kadhai Paneer along with a Pickle which she made by taking inspiration from her grandmother's recipe.
If you liked this article then please share your thoughts on our Facebook page. Stay tuned to Herzindagi for more such stories.