Getting lights for your home is easy when done online but the price difference burns a hole in our pockets even if it the word sale is written. Often sellers hike up their prices and then they cut off a little as if the sale price is very cheap. But why waste so much money if you can get the same quality, same kind of light be it hanging or floor lamp for a quarter of a price?
Whether you are shifting to a new place or simply bored of the old ones and need a change, I recommend that you take out a day from your daily life and head to some of these amazing hubs or markets where you will definitely go crazy with the options available. Some of the prettiest ones ad the classiest ones will fit in your budget which you did not expect. I recently bought a hanging fixture from one of these places and it cost me just Rs 1500 which otherwise online I saw was for Rs 4000. I checked the quality, it was identical! So take a look and go shopping with some water and snacks in your bag.
Bhagirath Palace
This place is among the largest electricals markets in Asia, and you get all kinds of lights here varying from the smallest surface lights to concealed LEDs to hanging. They even have so many fairy lights that I managed to get all that I needed for my new home. They basically sell at wholesale prices as they say and you can grab lovely chandeliers to wall lights here. My favourite shop here is the one with Turkish lights which look amazing. The lights you buy can go as low as Rs 200 and some ceiling lights they sell for Rs 1000 minimum, cost just Rs 300 here that I had to ask them to take them down so that I can see the quality.
Location: Bhagirath Palace Market, Chandni Chowk, Old Delhi
Lok Nayak Bhawan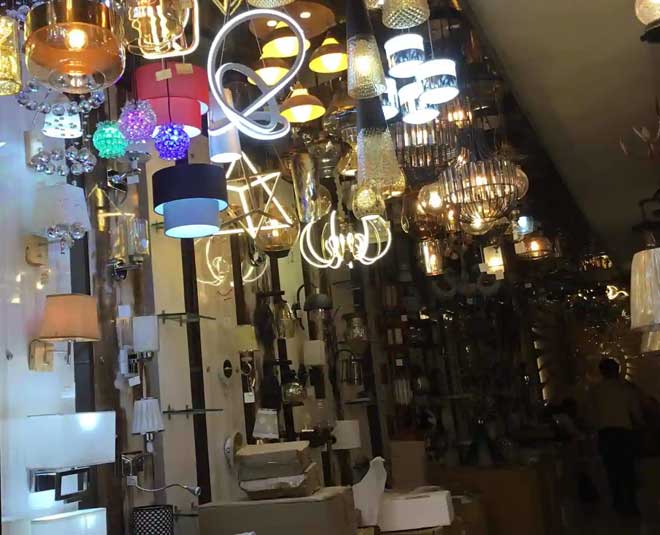 Get some truly classy lights here where after shopping you can grab a bite since it is like a wing dedicated to only lights known as Lok Nayak Bhawan. Some of the shops here even redo and polish your brass lacquer lights in case you want to simply revamp the old ones with brass holders. There are many local vendors as well in the inner lanes that sell a variety of fancy lights at affordable prices. Now, this is not a very cheap market but the options here are very classy.
Location: Lok Nayak Bhawan Khan Market, New Delhi
Kotla Mubarakpur
Kotla Mubarakpur is in south Delhi and is well known for trendy light fixtures. You get chandeliers, lamps, and wall lights. The prices are reasonable and it also depends on store to store. But yes, go in a cab or have a driver as parking here is an issue.
Location: Kotla Mubarakpur Light Market, South Extension, New Delhi
Don't Miss: Small Space Storage Hacks For Your Tiny Bathroom
Dilli Haat INA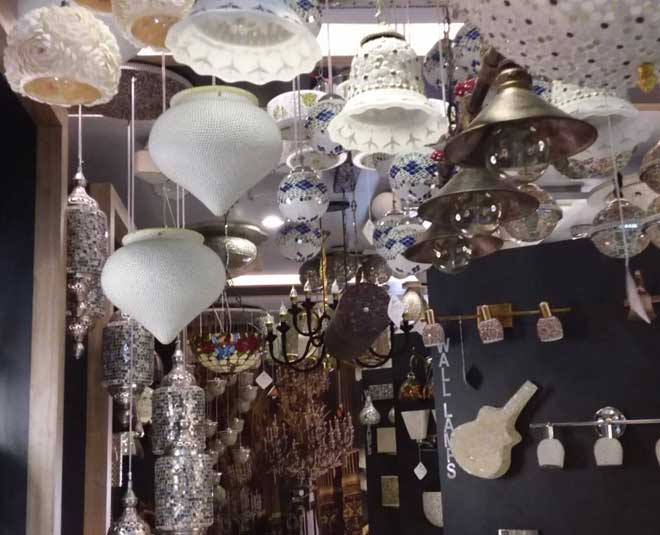 This may not be a hub but there many shops here that sell lovely lamps, especially floor lamps. This is like one place where you can chill with your friends and family, shop for clothes, footwear, beauty products, linen, and lights as well. Do take along someone who is great with bargaining. I once took my mother along and bought a Rs 700 floor lamp for Rs 400 and I am sure they had already marked up their price as they know customers will bargain. Do check for faults before you begin.
Location: Dilli Haat, INA, New Delhi
Don't Miss: Paint Old Trunks With These DIY Ideas
Kirti Nagar
This place is usually hailed for its furniture options but you will be amazed to see that there is a lot this place has to offer. It has everything you may need to make you home liveable. There are many stores which sell fanc fixtures but it has more jazzy options. It can get rather confusing as each looks amazing so keep in mind what you really want.
Location: Kirti Nagar, West Delhi
Get the lights you want, revamp your home and stay tuned to HerZindagi for more home decor ideas.