Home decor is more fun when you make things yourself and put in a little extra effort. Utilising old items and turning them into an art piece and involving yourself in the making makes it more special. I had a few old trunks which were once owned by my grandmother and my mother so some of them are maybe more than 70 years old. But with time they have rusted and now that we have bed boxes and fancy suitcases, they serve no purpose. Therefore, instead of selling them as scrap metal, I thought of utilising them as they have a history. I got down to painting them, taking inspiration from a few designs I have listed below.
Before you begin painting, it is important that you scrub old ones with sandpaper, wear a face mask as the rust blows into your face. In case you are using new plain trunks then you are sorted.
Buy different colour acrylic paints, different size paint brushes, stencils if you want and gather old plastic containers for the shade mixing. Do buy a varnish for the end coat and keep a clean dusting cloth with you. Spread some newspapers on the surface and then place your trunks on them so as not to ruin the flooring.
Aztec Designs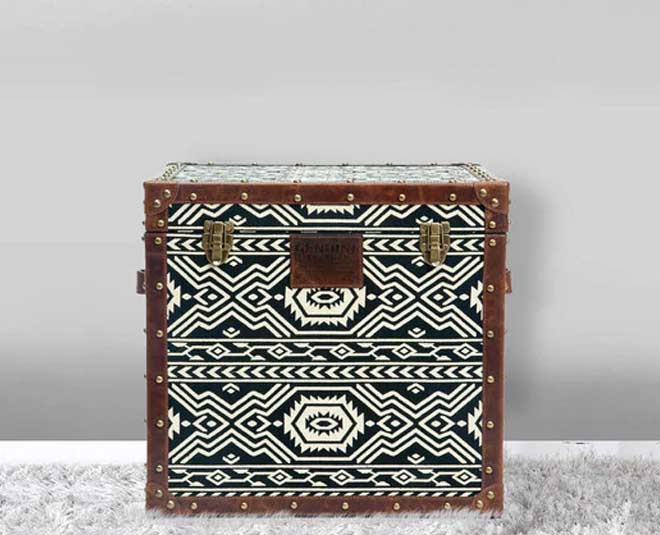 Image courtesy: pepperfry
If your taste is more bold and lines then Aztec designs look amazing! You could always first draw them out with a pencil and use a tape to make the lines clear and avoid painting on the other side. If you like it proportionate, then calculate it all and lay down the design on the entire trunk before you begin. Choose the colour scheme as per requirement and apply a coat or two of the varnish to give it a shine and keep it all intact.
Vintage Finish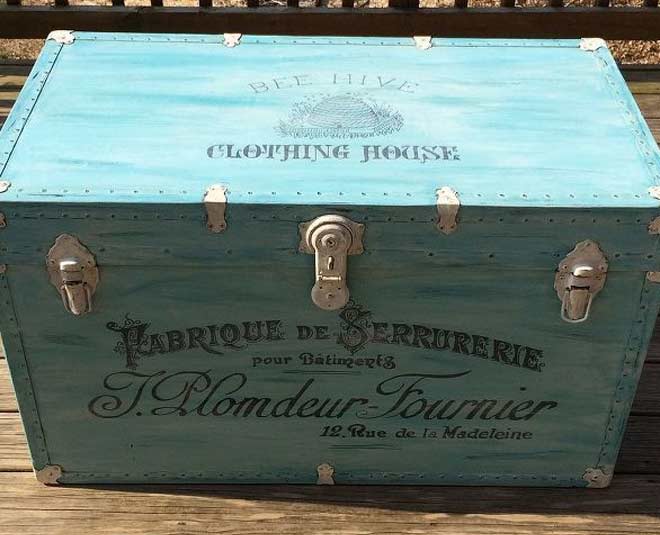 The vintage designs and finish are back in your homes and they look cosy for sure. The colour usage is very important here and they do not have to be very neat or else the whole idea of making it vintage goes. It is like antique jewellery which looks good with a little oxidisation and defaults in them.
If calligraphy is your thing then go ahead and first draw with a pencil and then paint over them. You could also invest in a marker be it black or different colours as per requirement and clean the lines to cover any imperfections in the strokes. The handles must be first cleaned to get rid of any rust and you can paint them a rustic shade or with a metallic colour of your choice.
Doodling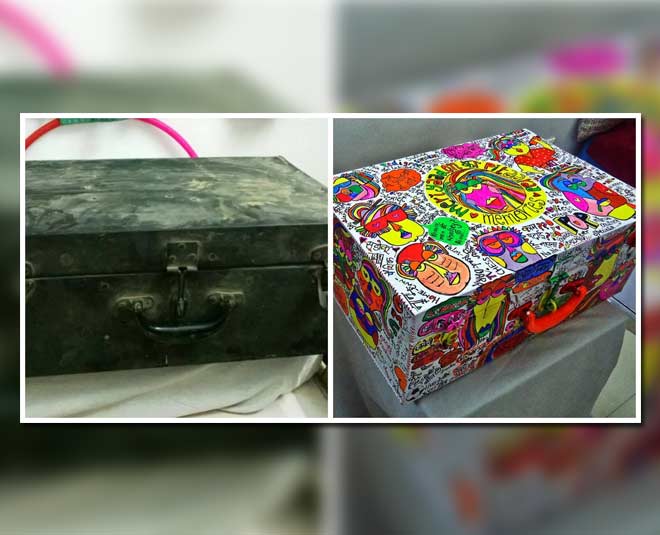 Image Courtesy: The Yellow Sparrow
An old trunk can be transformed and how! This trunk has cool doodling all over with a throw of vibrant colours in different ways. You just need to opt for a base paint and then begin with the doodling You will still need a pencil to map it out unless you are pro. The colour usage does not have to include all colours of the rainbow and in-between.
You could always stick to two-three colours which are a contrast to the base. Another combination could be using different shades of the same colour. If your base is dark blue, you could use different lighter hues of blue on top. Use your imagination and unleash the artistic side of you.
Don't Miss: Feng Shui Approved Plants That You Can Gift For Home
Monochrome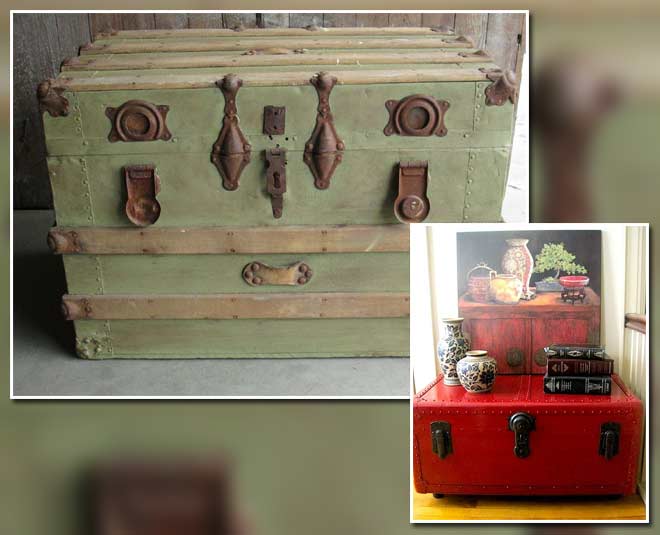 It is not necessary to make a design on your trunk if the space does not require it. You can easily use just one colour or two perhaps and revamp an old trunk. Place decor pieces on them and store whatever you want to in the trunk. It can also be turned into a center table. If the base is uneven then place a glass on it.
Don't Miss: Small Space Storage Hacks For Your Tiny Bathroom
Old School Indian Motif Paintings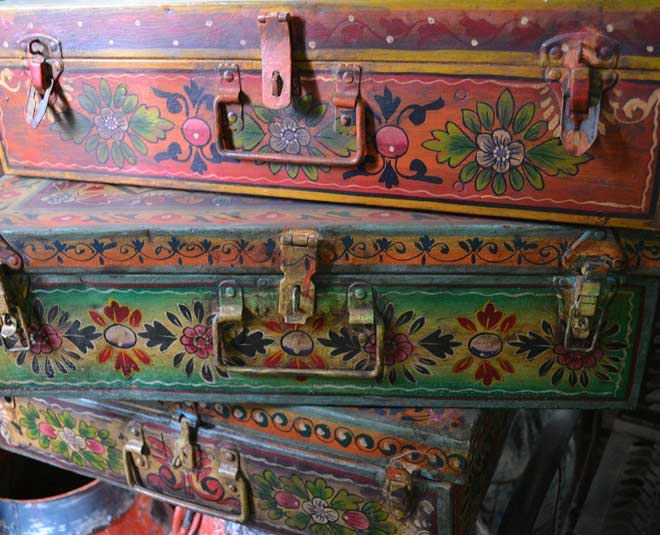 Now, these are trunks our ancestors may have unless they are super simple. You can also give the same finish and believe me, they look really cool in a simple drawing-room. They add vibrancy to the dullest of corners plus you can use the storage as well. Draw inspiration from the trucks you see on the highway! Ever noticed the throw of colours that they have?
Bring out the kid in you and go ahead with these small projects. They are amazing stress busters and a change from the everyday routine. That is how I began and it has a meditating effect on me. Put on some nice music, sip on the drink of your choice, make sure the area where you draw and paint is well lit and begin!
Stay tuned to HerZindagi for more such cool DIYs and stress buster solutions.