Picking out tiles for your bathroom isn't a simple task anymore as these tiles come in a variety of shapes, sizes and colours. A few years back, the only purpose of putting up tiles in the bathroom was its benefits like resistance to water, durability and low maintenance. However, in today's time, the main purpose of tiles is to provide a visual aid to the bathrooms.
This is the reason for the vast variety of tile designs available in the market. If you also want the best one and the large selection confuses you, then we are here to tell you the latest trends in bathroom tiles design.
Graphic Patterns
Whether you go for soft colours or bold ones, this pattern will surely enhance the look of your bathroom. This is the number one trend in bathroom tiles and it's getting even more popular with each passing day.
These graphic patterns give you a chance to get imaginative and bring out your creative side. Although, currently these are popular on ceramic tiles but soon, porcelain styles will be just as popular.
Matte Tiles
The craze for glossy tiles has gone and now, it's the time to put up matte tiles in your bathroom. These tiles don't look over-the-top and make your bathroom look elegant. The biggest reason to put up these tiles is that water stains (remove colour stains from the floor) or other marks do not show on them which makes these tiles perfect for bathrooms. However, you need to make sure that enough light reaches your bathroom as these tiles don't reflect light.
Hexagon Tiles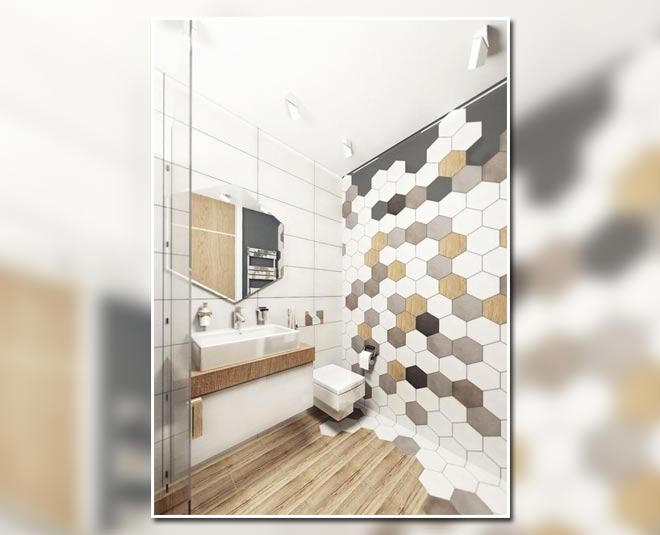 Not only do you get a huge variety in colours and patterns but also shapes. Among the variety of shapes, hexagon shapes seem to be the most popular. You can put these up in different sizes and colours. To take it to the next level, you can combine different colours to make visually appealing patterns.
Don't Miss: Some Amazing Hacks To Reduce The Cost Of Your Interiors
Textured Tiles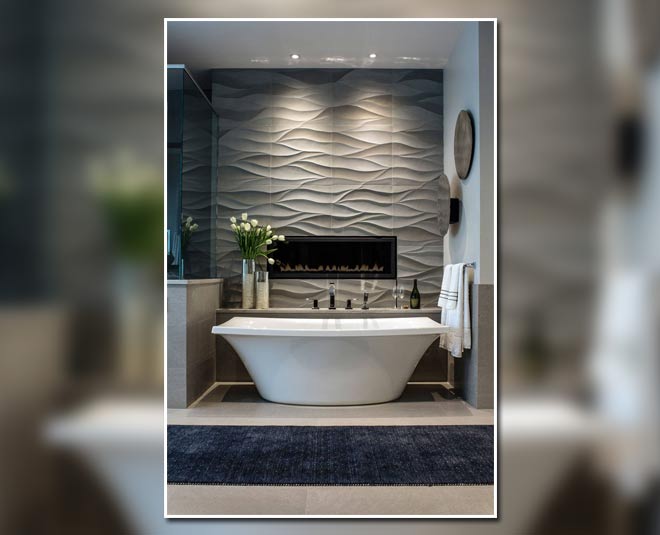 Different colours, shapes and sizes surely work as an interesting element in bathroom tiles but textured tiles are something that adds uniqueness to your bathroom. Texture may vary depending on factors like material and colour. These tiles will appear as if it's a piece of art. You can choose from all types of shapes, sizes and styles which can be combined together to get a variety of arrangements.
Don't Miss: Follow These Tips And Ideas To Decorate A Large Blank Wall In The House
Metal Finish
You might be surprised to read this but metallic finish is the new trend in bathroom tiles. Try them and you will surely fall in love with these tiles as the shiny and reflective material gives your bathroom a magnificent look. Although, these are not extremely popular as of now but are slowly making their mark.
Neutral Tiles
These days most people are going for neutral colours for tiles (remove rust from tiles), especially white colour. Bright colours like red and yellow are not usually used in the bathroom and will probably never be in trend. On the other hand, neutral colours are taking all the limelight. Bathrooms are designed for relaxation and colours like beige, grey, white, etc. are mostly used in the bathroom to create a calming atmosphere that allows you to relax.
If you are also planning to remodel your bathroom, then do take these trends into account. For more such stories, stay tuned to HerZindagi!