Barun Sobti and Pashmeen Manchanda were blessed with a baby girl in June, after 8 years of their marriage. The couple kept the news of pregnancy under wraps for a long time and broke it with a baby shower celebration.
Barun and Pashmeen named their little girl Sifat. In an interview, Barun Sobti shared the meaning of his daughter's name. He said, "We have named our daughter Sifat, which means praise. I can't describe my happiness in words. Like all parents, we just wanted our baby to be healthy. Pashmeen and I had secretly hoped for a girl."
Today, Barun Sobti took to his Instagram handle and posted some pictures of the little girl Sifat. Barun's little munchkin Sifat looks adorable in these pictures. Have a look: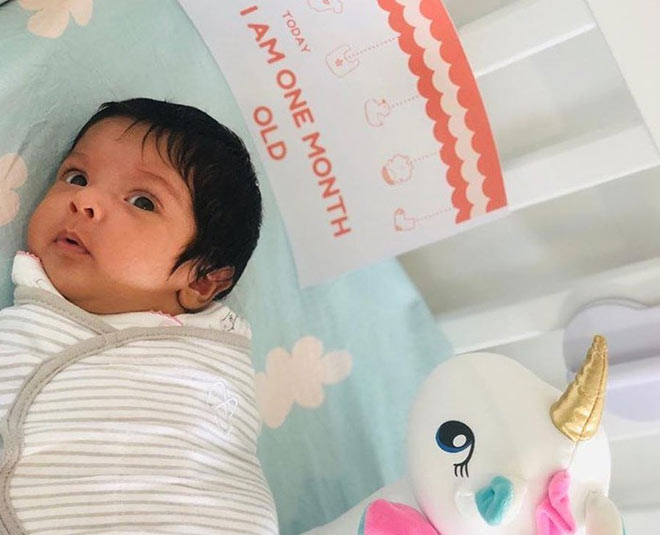 Barun gave us the first glimpse of his baby Sifat with these pictures.
Don't Miss: Barun Sobti To Turn Dad After 8 Years of Marriage, See Adorable Pics Of Wife Pashmeen Manchanda From Baby Shower
Sifat looks so adorable!
View this post on Instagram
Here is another picture Barun shared, giving a peck to her little one. Awww!
In an interview, Barun also shared how he balanced his work and personal life during Pashmeen's pregnancy. He said, "I am exhausted as I have been shooting and running around and taking care of my wife. But I am happy. Right now, we are both taking one day at a time instead of thinking too much about what will happen when the baby comes and other such kinds of questions."
Barun and Pashmeen
started prepping up for their baby a while back. Barun shared, I have not thought about what kind of a parent I would be but I think both of us are prepared in our own way. Moreover, I feel nothing can really prepare you for parenthood as you learn along the way when your baby comes and how you bring your child up. We are ready for the surprises that will come along the way (laughs). I am a realistic person so I think I will be a realistic kind of father to my child. Who knows how you handle the situation that you come across after you become a parent. Being a parent is a huge responsibility."
The two tied the knot in the year 2010 and became parents to a baby girl after 8 years. We are so happy to see the first pictures of Sifat, she looks so adorable! Hoping to see a family picture soon.
On the work front, Barun Sobti is missing from television for a long time now. His last movie, 22 Yards was premiered at the Bay Area South Asian Film Festival in California. He also won the Best Actor Award for performance in the film this year.