Green tea has become a favourite for many, especially for those watching their weight. We kickstart ourday with this drink and with so many options available in the market, we never get bored. While several people believe in the health benefits it has, celebrity nutritionist Rujuta Diwekar feels the other way.
On her Twitter handle, she stressed that green tea is excellent only for those who sell the tea. For everyone else, it is ginger or adrak tea which is highly beneficial! Besides health, it also has antioxidants which helps maintain your beauty as well.
Kareena Kapoor Khan' nutritionist had earlier smashed down a lot of myths that prevailed regarding the consumption of tea and coffee. She says you should avoid tea or coffee especially when you have just woken up, or are about to hit the sack and totally itch the beverage when it comes in the place of a meal during the day. Also, you can have 2 to 3 cups a day.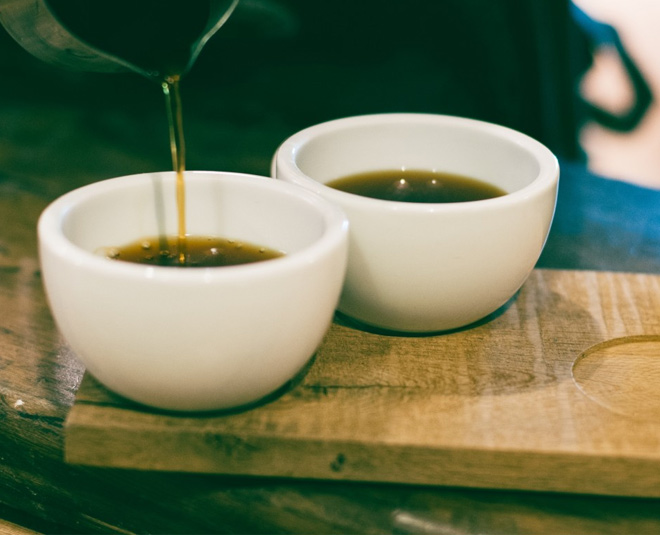 Here is a quick and easy recipe to make Ginger Tea at home.
Ingredients:
Ginger root fresh, raw, about 2 inches of ginger root, 2 tbsp
Water, 1 1/2 to 2 cups
Honey or agave nectar, to taste
Optional: 1 tablespoon fresh lime juice (juice of 1/2 lime)
Read More: Benefits Of 'Gur' or Jaggery That You Could Utilise This Festive Season
Method:
First, peel fresh ginger and slice it thinly. This will help you make a very flavorful ginger tea.
Boil the ginger in water for 10 minutes. For a stronger and tangier tea, allow to boil for 20 minutes or more, and use more slices of ginger.
Remove it from the heat and add the lime juice and honey (or agave nectar) to taste.
Enjoy your hot ginger tea. A homemade ginger tea is excellent in soothing stomach aches and in aiding digestion.
She also advised that you should avoid taking it with sugarfree.
4. With sugar or sugarfree?
Sugar for sure. WHO and other global diabetes organizations say 6-9 tsp of sugar a day is ok. Add sugar to your chai/coffee, avoid the invisible sugar from packaged food (breakfast cereals, fruit juice, biscuits, etc).

— Rujuta Diwekar (@RujutaDiwekar) April 4, 2018
There are several benefits that ginger has in addition to the beauty factor. Here are some of the important ones.
It's an anti-inflammatory
It relieves muscle pain
It settles the stomach
It can help regulate blood sugar
It helps prevent heart disease
It reduces the risk of diabetes
It reduces cancer risk
It eases menstrual pain
So make yourself a hot brew of ginger and a happy health to you from HerZindagi!