In order to function effectively and efficiently on a regular basis, our body needs a nutrient-dense diet. While it is okay to munch on unhealthy snacks once in a while, you certainly cannot rely on them to provide vitamins and minerals to your body. A well-balanced diet along with a light workout can keep our body fit. But what does a well-balanced diet means? A diet which comprises foods and drinks that are loaded with nutrients. One of the most important nutrients required by our body to perform daily tasks is protein, deficiency of which is called Kwashiorkor. Apart from giving us the energy to perform daily tasks, protein also helps in muscle growth and works efficiently in repairing tissues. It also helps in promoting hair growth and makes other body chemicals like hormones and enzymes. Moreover, it carries oxygen to all the cells of our body and vitamins and minerals to the cells that need them.
So, if you too want to add protein to your diet, here's a list of delicious and protein-rich chutney recipes that you should definitely include in your diet.
Roasted Chana Dal Chutney
Ingredients
1/4 cup chana dal
1 tsp mustard oil
6-7 curry leaves
Salt as required
A pinch of black pepper
1/4 tsp cumin seeds
2 red chili
A few drops of water
Method
To prepare this tasty chutney, start with roasting chana dal in a frying pan. Once it turns golden brown, switch off the flame and keep it aside.
Pour water in a blender and add roasted chana dal to it. Blend for 20-25 seconds.
In a separate pan, add oil, cumin seeds, red chilli and saute for a few seconds.
Add blended dal paste, salt, and pepper to it. Mix well and your chutney is ready!
Hummus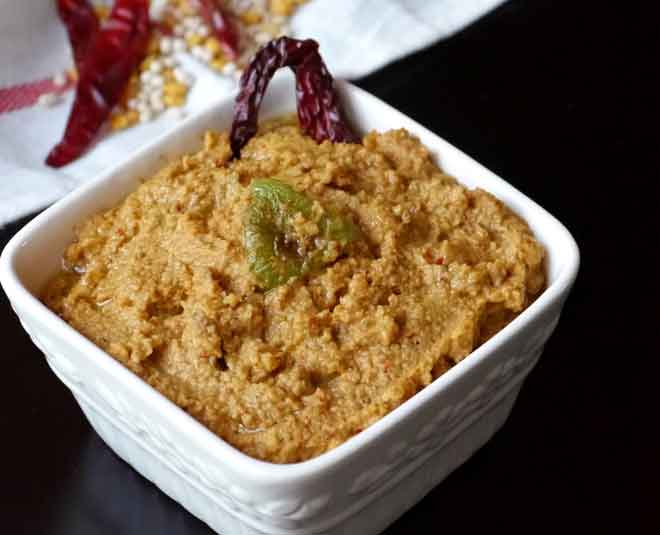 Ingredients
1 cup Chickpeas (kabuli chana)
1-2 garlic cloves
Salt to taste
1 tbsp tahini
2 tbsp olive oil 4 tablespoons
1/2 tbsp lemon juice 1 tablespoon
1/4 tsp red chilli powder
Method
To prepare this healthy chutney at home, boil overnight soaked chickpeas in a pressure cooker.
Once they are soft enough, add them to a blender along with all other ingredients. Blend well until you get a smooth mixture.
Transfer it to a bowl and serve with pita bread or apply it on sandwiches.
Don't Miss: 11 Variations Of Maggi For The Foodie Souls Under Quarantine
Onion & Urad Dal Chutney
Ingredients
1 large onion
1 tomato
4-5 curry leaves
1 tbsp oil
1 tsp tamarind
1 cup dry urad sal
1 tbsp flax seeds
Method
Heat oil in a pan over medium flame. Once it is hot enough, add curry leaves and chopped onion to it. Saute for 2-3 minutes or until onion starts to lose its colour.
Next, add chopped tomatoes and saute for a couple of minutes. Once done, turn off the flame and allow it to cool down.
In a separate pan, dry roast urad dal along with flax seeds.
Transfer the prepared mixture, roasted urad dal, and tamarind paste to a blender and blend until smooth.
So, prepare these chutneys for your loved ones and keep them fit and healthy. Also, don't forget to share your experience with us.
Say tuned to HerZindagi for more such articles.