Here Are Some Amazing Bitter Gourd Recipes By Chef Kaviraj Khialani
Check out and try some very easy and delicious bitter gourd recipes by none other than celebrity expert Chef Kaviraj Khialani.
Bitter gourd also called Karela in India has been said to be found originating in Kerala from where it was later introduced to china around 14th century making it one of the staple vegetables across cuisines around south Asian countries.
It is also called bitter melon; this bright green super bitter vegetable is perhaps the least favorite of all many around the world! Not to forget every coin has two sides while on one side most people put away karela and have a weird expression to simply its name being taken on the other hand it is loaded with goodness which can be helpful for our body in many ways.
We also come across conversations when we speak about karela where the elders in the house grandmothers and mums would speak about its benefits and include it in daily cooking once in a while the mere fact that the word bitter attached to it kept it away from many of us. In reality, I would personally recommend each one of us to try this vegetable and adapt to its taste and must include it in our routines since it is not fair being ignored or being kept away.
A Few Health Benefits Of Bitter Gourd Or Karela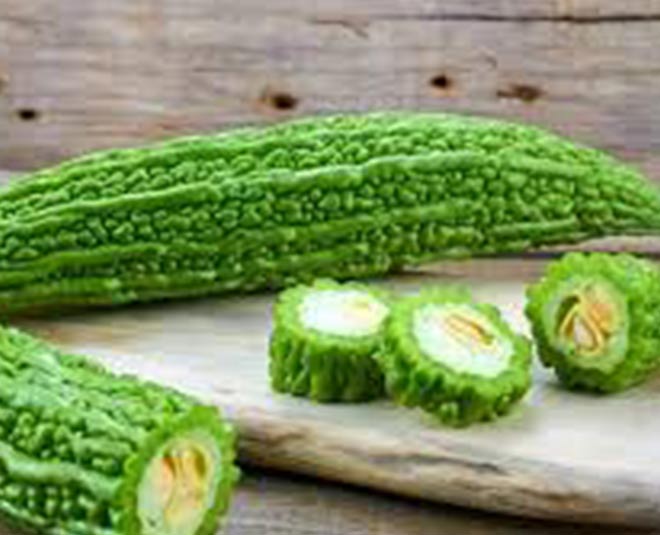 It comprises various vital nutrients including magnesium, iron, potassium. It is rich in Vitamin C, Vitamin B1, B2, B3 & B9.
Bitter gourd is a rich source of good dietary fiber.
It is said to bring down cholesterol levels in our body.
Bitter gourd is rich in iron content and also a good immunity booster besides being good for the heart as well.
Karela is also regarded as good for our eye health and vision.
It helps maintain blood sugar and is also a blood purifier.
Karela is said to be good for liver and gut health.
It is also considered good for our skin health & helps keep the glow on.
Karela is also good for weight management & loss.
It is also an anti-fungal agent in our body.
Culinary Uses Of Bitter Gourd Or Karela
Karela has been one of the most commonly used vegetables in our Indian kitchens and from simple karele ki subzi in pyaaz tamatar ka masala to bharwan or stuffed karela, karele ke chips are also popular.
Bitter gourd or karela has also been popularly used in making juice which is considered good for diabetic patients, besides we also have sukhe masale wala karela, karele ki tikiya, we also have a few recipes in which we use karela in curries as well in a nice mild gravy.
Karela muthiya, karele ka kofta, besan aur karele ka saalan, karela stuffing goes well into a paratha as well for a change, karele ka achaar, small baby karela can also be cooked in coriander and garlic masala too, karela batata nu shaak and karela with chana dal/ moong dal also comes out well.
Speaking of it on a global culinary platform it also has been recognized in many cuisines in the form of adding a good eye appeal in plating and decorating meals as well. A bitter gourd salsa with sun-dried tomatoes and garlic in olive oil tastes amazing with corn chips.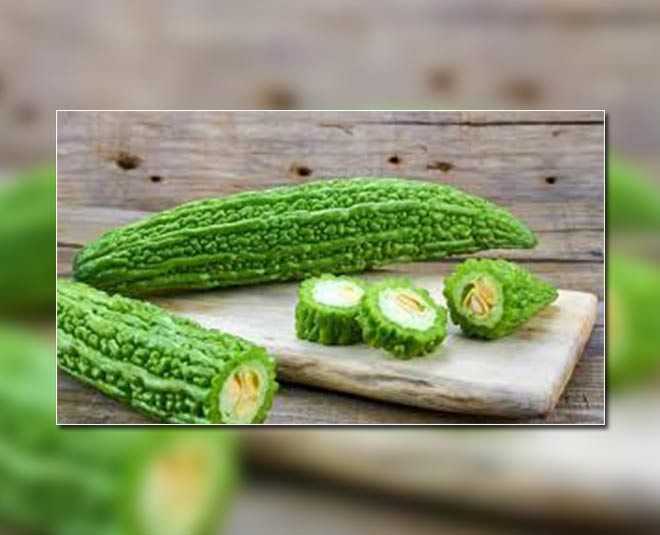 Stuffing of bitter gourd is followed internationally as well just that the fillings change into more exotic ingredients like cream cheese and wild mushrooms, chicken mince and olive and pepper stuffing.
Bitter gourd goes well in a fried rice and stir fried noodle concept as well combining it with a variety of flavors and veggies, sauces and condiments just brings out the taste. Exploring and experimenting is the key to adapting to this super beneficial ingredient and try doing it in variety of sauces in the form of baked dishes, stews combine it with chickpeas/beans of your choice too.
A bitter gourd salad is also popular and dressings includingmustard/vinegar/lime/seasonings like sea salt/ pink salt, crushed black pepper, add ons like jalapeno peppers, olives and gherkins also bring out its taste well.
I have also tried doing a stuffed karela with filling of boiled mashed potato and peas spiced Indian style and cooked it in an onion tomato masala and layered to into a dum biryani concept as well and served it with a birishta- brown onion raita with anar in it.
Recipes To Prepare With Bitter Gourd(Karela)
Achari Masti Wale Karele
Ingredients
Karela- 250gms( washed, do not peel, slice apply little salt and keep
aside for 20 minutes, scrub well with hands rinse under running water.)
Oil/Ghee- 2 tsp
Jeera- ½ tsp
Ginger- Garlic Paste- 1 tsp
Chop Green Chilies- 1 tsp
Onion Chopped- 1 cup
Tomato- ½ Cup Puree- Fresh
Salt To Taste
Turmeric Powder- ½ tsp
Red Chili Powder- ½ tsp
Dhaniya Powder- 1 tsp
Water As Needed
Aam Ka Achaar- 2 tbsp. chop
Fresh Coriander Leaves- 2 tbsp.
Lime Juice- 1 tsp
Sugar-1/2 tsp or Jaggery-1 tsp.
Method
Prepare all the ingredients for the recipe.
Heat oil/ghee and saute the ingredients one by one.
Light brown the onions, add tomato puree and salt, all masalas, and cook for 2-3 mins, add in the sliced karela, cover and simmer for 10 mins.
Add little water as needed to cook it in steam, once cooked after around 20 mins, add in the aam ka aachar and coriander and mix well and simmer for 2-3 mins more, sprinkle lime juice and add sugar or jaggery mix and serve hot with phulkas, rotis, parathas.
Karela Aur Chane Ki Dal Ka Dalcha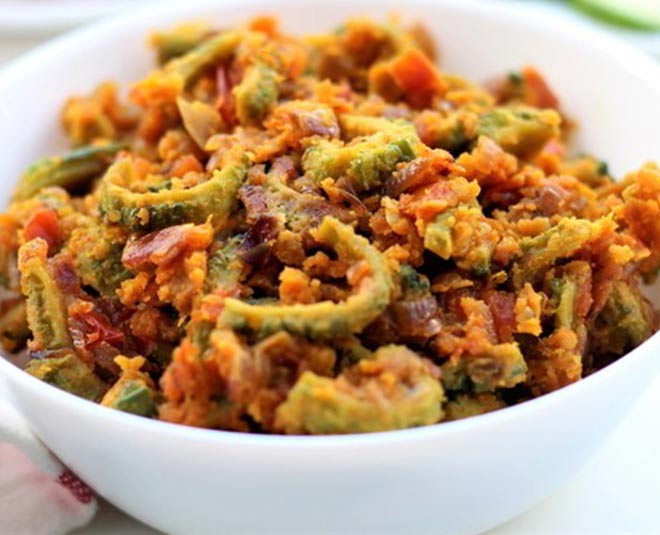 Ingredients
Karela-250 gms, (do not peel, wash and cut into cubes and apply salt
for 20 mins, scrub well and rinse under running water and use
Chana dal- ½ cup soaked for 30 minutes)
Oil/Ghee- 2 tsp
Hing- ¼ tsp
Jeera- ½ tsp
Curry Leaves- 5-6 no
Slit Red Chilies-2 nos
Ginger Garlic – 1 tsp chop
Chop Onions- ½ cup
Turmeric Powder-1/2 tsp
Garam Masala Powder-1/2 tsp
Dhaniya Powder- 1 tsp
Aamchur Powder- ½ tsp
Tamarind Pulp-2 tbsp
Sugar/Jaggery-1 tsp
Coriander Leaves- 2 tbsp chopped
Water As Needed.
Fried Brown Onions- 2 -3 tbsp. for garnish.
Method
Prepare all ingredients for the recipe.
Heat oil/ghee add in the tadka ingredients one by one and saute, add onions and lightly brown then add in the dal, karela and salt, powdered spices and bhunao for 1 -2 mins.
Add water as needed and using a steam pan/cooker allow the dish to cook for 15-20 mins.
Check if the dal and karela are soft in texture, now add in the tamarind and sugar/jaggery and mix well, check for salt.
Add in the coriander leaves and fried brown onions as well for garnish and serve hot with chapattis/ rice or missi rotis.
Indo-Fusion Karele Ki Subzi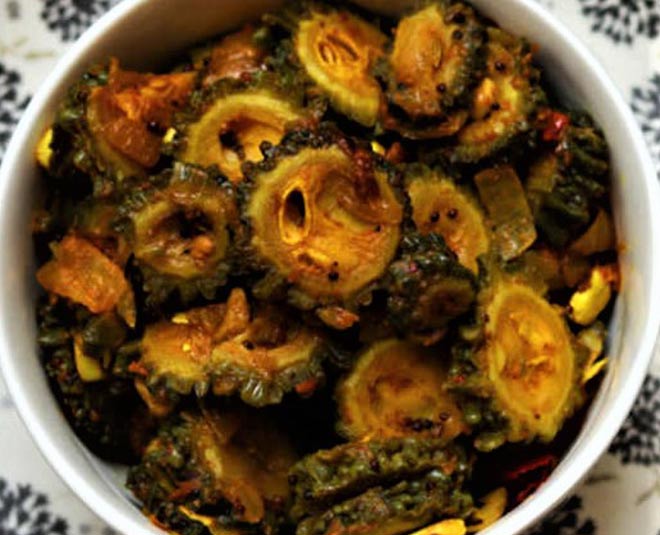 Ingredients
Karela-250gms (sliced and apply salt, keep aside for 20 minutes, scrub
well and rinse under running water and parboil for 10 minutes in water,
remove and keep aside.)
Oil/ Butter/Ghee- 1 tbsp.
Mustard Seeds- 1 tsp
Slit Green Chilies -2 no
Garlic Cloves-2-3 sliced
Ginger- 1 tsp sliced
Spring Onions- 2-3 chop
Potato- 1 Small Cubed And Boiled
Soy Sauce- 1 tsp
Red Chili Sauce- 1 tsp
Water- ¼ cup
Salt And Black Pepper To Taste
Roasted Peanuts-2 tbsp.
Green Capsicum Cubes- ¼ cup
Corn Flour Water Solution- 2 tsp to thicken if needed.
Chili Flakes And Herbs To Flavor
Fresh Basil/Coriander Leaves- 1 tbsp.
Sugar/ Honey- ½ tsp as needed
(Use schezuan sauce or sweet n sour sauce as well for options.)
Method
Prepare all the ingredients for the recipe.
Heat oil/butter add in the garlic, ginger, chili and onions and saute well for 1 min.
Add in the karela, potato, capsicums and seasonings, herbs, etc and saute well.
Cover and simmer for 4-5 mins, add in the sauces and little water and allow further cooking for 2 mins, add corn flour water solution to thicken slightly.
Garnish and serve hot with steamed bread/ garlic bread/ cheese kulchas.
Soy Aur Karele Ka Dumdaar Keema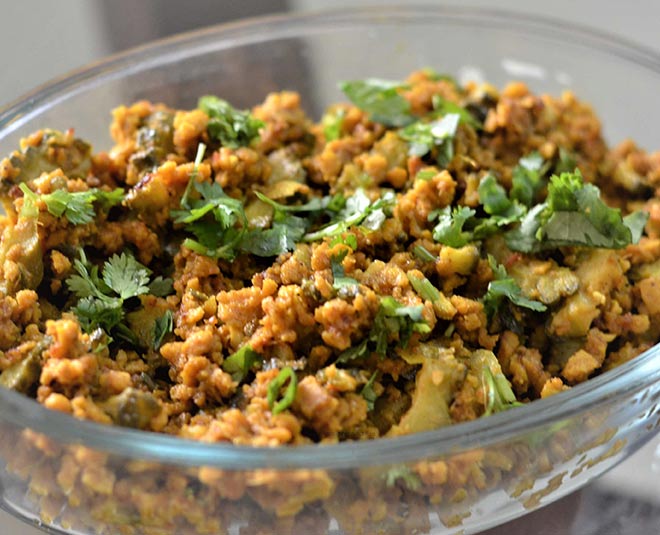 Ingredients
Karela- 250 gms (wash and roughly chop do not peel add little salt
and keep aside for 20 minutes, scrub well with hands and rinse under
running water and use.)
Oil/ Ghee- 1 tbsp.
Ginger-Garlic-Chili Paste- 1 tbsp.
Onion- 1 chop
Tomato- 2 chop
Salt to taste
Red And Green Chilies As Per Taste
Soy Keema- 100 gms, Soaked In Warm Water For 10 minutes.
Turmeric Powder-1/2 tsp
Red Chili Powder- ½ tsp
Dhaniya Jeera Powder- 1 tbsp. mix
Water As Needed
Kasuri Methi-1 tsp
Aamchur Powder- ½ tsp
Roasted Crushed Peanuts- 2-3 tbsp.
Coriander Leaves- 2 tbsp. garnish.
Method
Prepare all ingredients for the recipe.
Heat oil/ghee in a kadai add in the ingredients one at a time, lightly brown the onions, add tomato, methi, all masalas and salt.
Add soy keema and karela and bhunao for 2 mins, try using soy chunks as well and some veggies like carrots, peas etc as well, add little water and cover and cook in steam or pressure cook for 3
whistles.
Now check for salt, add aamchur power, coriander and peanuts and mix well. Serve hot with rotis/ makkai ki roti/ laccha parathas.
Don't miss:Chef Kaviraj Rolls Out Scrumptious Oats Recipes For A Healthy Soul
Dr. Kaviraj Khialani- Celebrity Master Chef, is based in Mumbai and is a Food Designer, Creative Cuisine Specialist, Author, Food Writer and Consultant. With his varied experience with Hotels and Airlines he has also mastered over 33 International Cuisines, has been featured on various food shows on Star Plus & Colors Television. He has also been awarded several National Awards and has also been recognised globally for his valuable contribution to the Food and Hospitality Industry since over two decades now.