Woman plays a significant role in shaping society. Time and time, women have proved, no matter if they are educated or not, have a professional degree or not, they hold the strength to succeed with strong determination and hard work.
Women's day happens to be just a mere occasion when we laud such inspiring souls. In reality, such motivational women must be acknowledged daily who keeps on encouraging us to do better in life without stopping.
Shell, one of the most diversified international oil companies in India has launched a campaign 'Great Things Happen When We Move'. This is to celebrate the indomitable spirit of Indians, their dreams, and aspirations along with their inspiring journeys.
Ahead of international women's day Shell launched a film to share the inspiring journey of Geeta Tandon, who is India's leading stunt woman. To know about her hardship and journey of reaching on top in detail, HerZindagi exclusively spoke to her.
Geeta Tandon's Childhood
Before Geeta's mother passed away, she had a normal childhood. However, her hardship started when there was no one to take care of her. "When I was young, I lost my mother. Thereafter, I saw and experienced a lot of hardship," told Geeta to Hz.
"None of my relatives were ready to keep me. Even if someone did, they used to make me work, such as picking cow dung, collecting woods for cooking, cleaning washing, etc. When I turned 14, my relatives and my father decided to marry me," she added.
Geeta Survived Child Marriage & Motherhood Before The Age Of 21

While being so young, Geeta didn't know about child marriage and the struggle that may come with it. All she thought about was a mother figure, food, and a home to stay. "I thought, I might get a figure, whom I may call mother, food, and a home, so, I was okay with the idea of marriage," she said.
"From the second day of my marriage, my husband started beating me, throwing food at me, abusing me and much more. I didn't know what marriage was supposed to be like. After a while, I became a mother. The only thing I knew that I wanted to give my children a better future. So, I decided to leave my husband and ran away," she added.
How Geeta Tandon Started Working?

Having never worked before, she had no idea how she was going to survive on the streets. In spite of never having danced before, she eventually landed a job as a bhangra dancer (rare pictures of Queen Harish, a folk dancer) and was thrilled.
"For a very long time, I didn't have any job. No one was ready to hire me. That's when I became more determined to do hard work. I started dancing in marriages as a bhangra dancer. The same group used to also dance in Bollywood. From there I made some contacts in the industry," she said.
Geeta Tondon's First Stunt Woman Job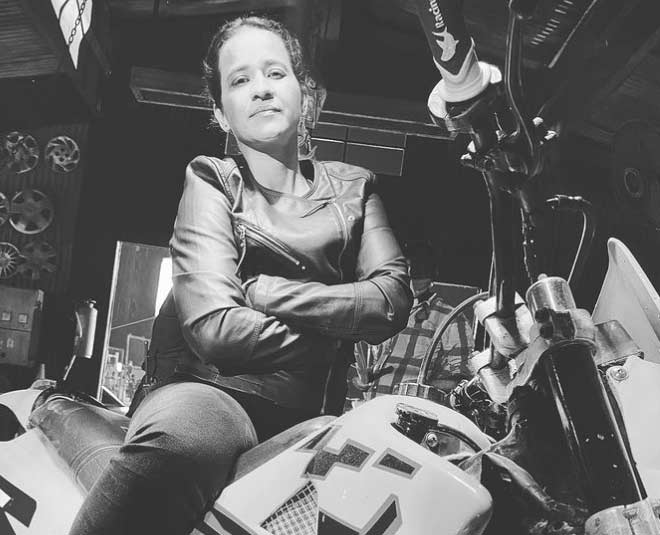 Her first stunt assignment in Ladakh involved her being set on fire. As her burns healed, so did Tandon's spirit. And that was the birth of the Bollywood stuntwomen.
"I did a couple of jobs as a stuntwoman. There were a couple of initials ones wherein my face got burned and I also experienced fractures. However, from there I began having a bit of stability in my life. I started having a sense of achievement," Geeta told Hz.
Don't Miss: Women's Day: Take Inspo From Yogita Raghuvanshi, India's First Woman Truck Driver
Geeta Tandon claims to be the only stuntwoman to have successfully attempted car chases (driving cars through objects like barricades or racing along narrow lanes), and that too with minimal training.
But then again, things like that probably come more easily to a person who has spent a greater part of their lives fighting tooth and nail just to stay alive.
Don't Miss: Women's Day Special: Ghoomar's National Award Winning Choreographer Jyothi Tommaar Opens Her Heart Out
Do let us know if you also have any inspiring stories to share with us by commenting on our Facebook page. Stay tuned to HerZindagi for more such stories.