Shelly-Ann Fraser Pryce, a Jamaican runner and two-time Olympic champion, just bagged the title of 'The Fastest Woman Alive'. She broke all records as she completed the sprint of 100m in just 10.63 seconds. With this record, she also became the second fastest runner of all time just after late Florence Griffin who made a record of 100m in 10.49 seconds!
Image Credit: world-track.org
In an interview with the Athletics Weekly, she said that she was just looking to break the mark of 10.7 seconds so she could make it to the Olympics. She also modestly added, "I can't get too complacent as I still have to make the national team."
Born and brought up in Jamaica, Pryce was raised by a single mother. She had been extremely interested in athletics since the age of 10. She was soon given the title of 'pocket rocket' by a journalist complimenting her speed on the track. Ever since, she has lived up to the tag. The woman who stands as the fastest woman alive today has many other achievements to add to her crown of victory. She has won six Olympic medals in total and eight World Championship medals overall.
Don't Miss- Waste On Streets? Assam Woman Is Turning It Into Traditional Handloom Products
This 34-year-old sprinter is not just breaking all records but all stereotypes as well. In the year 2017, Pryce announce the birth of her baby, Zyon. Upon birthing Zyon, she did not get back to the track till the next year. She was back with a bang as she won two golds in the Doha 2019 World Championship. She believes that with mental toughness, one can achieve anything. In same year, in an interview with UNICEF, she spoke about being a mother, her training never stops. However exhausted she would be after returning from her training, even after getting home the training went on. She told how her attention was no more on her own self but her child. The responsibility increases massively. Juggling between being a mother and an athlete, was not an easy task. It meant facing double the challenges. However, she believed that having a child is not an intimation of the end of your life. One can still go on to achieve great things in life, and that is exactly what she did by becoming the fasted runner alive.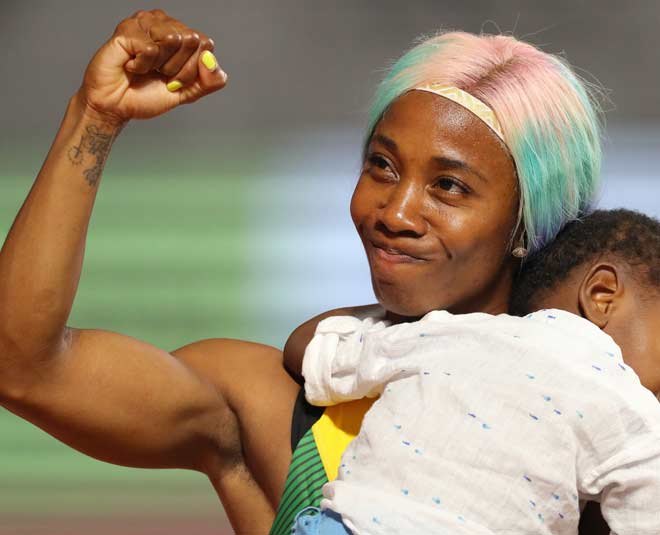 Image Credits: encrypted-tbn0.gstatic
Achievements such as these not only make the achiever proud but also the women throughout the world. How many times have we heard the phrase "runs like a girl!" used as a detrimental phrase to indicate a slow paced, funny run, it is high time to change the meaning of this phrase. With women like Shelly-Ann Fraser Pryce, now we know who to refer to when the world teases us with this phrase. Run like a girl, yes that's right, run the fastest you can, run with an ambition, run to make and break records every day, and run to change the world!
Don't Miss- Flying High! 2 Women Army Officers Selected To Train As Helicopter Pilots
Stay tuned to Her Zindagi for more such inspiring stories.