Our society is full of notions that are toxic and downgrading for the different sections. One such notion that is deeply rooted in society especially the Indian society is the double standards of beauty, body shaming that affect the women so miserably that can't even open up and vent out their feelings.
Therefore, considering it as our responsibility, we thought of bringing up the facts about the double beauty standards and exposing them to relieve many of those who suffer because of this.
In the wake of this, we organized Her Zindagi Dialogues SheSpeaks which was a web session questioning the unfit beauty standards. On the panel, with us, we had Dr, Falguni Vasavada, who is a well-known social media star, a TEDx speaker, and a double gold medalist. We also invited the owner of Plump To Pretty blog on Instagram, Neelakshi Singh who is a very well-known face in the country, she is a model, content creator, and the epitome of body positivity. The session was like an awakening and to more about the entire session take a look at this.
The Definition Of Beauty
Beauty is in the eyes of the beholder. And that's a fact, adding to that, Dr. Falguni said, "I think beauty is what you feel. So I will call everyone beautiful, who feels beautiful, respects his body and his journey. Identifying yourself as a superpower. You don't need to look like anyone else."
And Neelakshi described beauty as, "If you do not have the ability to talk, then you cannot be beautiful. You can be beautiful in your own way as you speak, as you feel."
The Availability Of Plus Sizes In India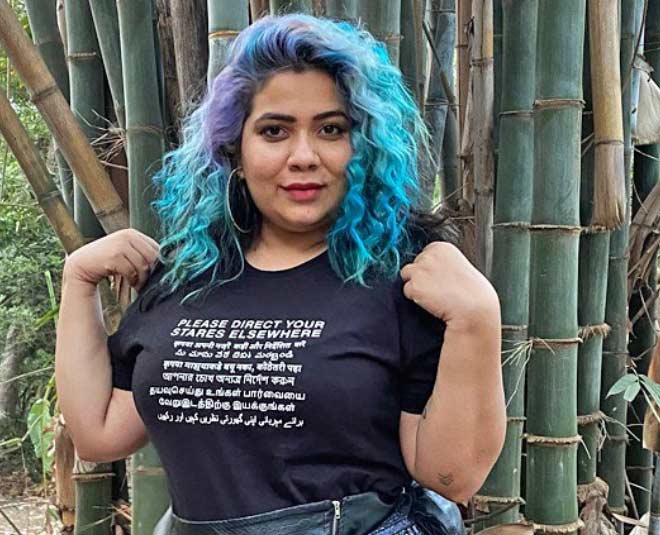 While the discussion was going on, we came to a question that was if India has plus sizes available readymade? To which the guests explained that in India we hardly get XXL or XXXL sizes Comparing this to foreign countries where 6XL and even bigger sizes are available, we must be ashamed of the hypocrisy that our society and beauty industry has been imposing on us.
It is to judge that a progressive country as India, does not pay attention to people who have plus sizes and this is just not right. We must be aware and accommodating, we must forget the discrimination that we do base on what we perceive.
More About Plus Size Modelling In India
Neelakshi, who had been exposed to the ins and outs of the modeling industry in India, regretfully claimed that plus-size models in India do not have any choice. All these get to shoot for are lingerie and swimsuits, even if they are not comfortable with it.
Whereas in other countries, all models' opinions and comfort are kept in mind while casting them for a shoot. Which is absolutely demoralizing and discouraging for those who are directly a part of such an industry. If India has to talk about body positivity, it will have to eliminate body shaming on all such levels.
Don't miss: HZ SheSpeaks: Dream Chasers Who Danced To Their Own Beats
Advertising And Impact Of Main Stream Media
Well, it wouldn't be wrong to say that body shaming and the double standards of beauty have become so prominent in society because of the unmonitored media and advertisements. Beauty product ads always try to insult someone who is dark-skinned, plump or has imperfections on the face or body. These years of conditioning the minds of the audience have resulted in the suppression of a section of women, making them vulnerable and conscious about themselves.
Neelakshi shared that the time she started gaining weight, she felt miserable and gloom, from drinking saltwater to trying all other remedies for losing weight, everything became too overwhelming for her and that is why she made it a point to uplift and make confident every woman who ever faces anything like this. We must remember that we are all very beautiful and all we need is that touch of confidence and a curvy smile to embrace ourselves as we are.
Don't miss: Hz Exclusive: It's Time That We Celebrate Menstruation
If you liked reading about this session, stay tuned to Her Zindagi.
(Image Courtesy: Instagram Neelakshi Singh, boldoutline.com, FeminisminIndia.com, tosshub.com)